By Kristen Mitchell
George Washington University students displayed the results of months and years of research during the School of Engineering and Applied Science's 12th annual Research and Development Showcase on Wednesday, where they contended for more than $80,000 in prizes.
Undergraduate and graduate students exhibited nearly 100 posters in Science and Engineering Hall. Judges evaluated the posters during two judging rounds on Wednesday, and the showcase was open for public viewing in the afternoon.
David Dolling, SEAS dean, said in his welcome address the presentations and quality of research improve every year, and he thanked the faculty and alumni who act as judges for the showcase. He introduced keynote speaker Anirudh Kulkarni, B.S. '86, M.S. '88 and founder and chief executive officer of CVP, a business and technology consulting firm.
Mr. Kulkarni said he is "continuously in awe" of the things SEAS and its students are achieving. He encouraged students, as they move into the professional world, to commit to every task— no matter how big or small—with the same level of integrity and drive.
"We're engineers, we have great ideas," he said. "It's really important to think about making commitments and following through on commitments because that, in the real world, is what counts. Ideas, trust me, are easy. It's the execution and the delivery of that with high integrity that really matters."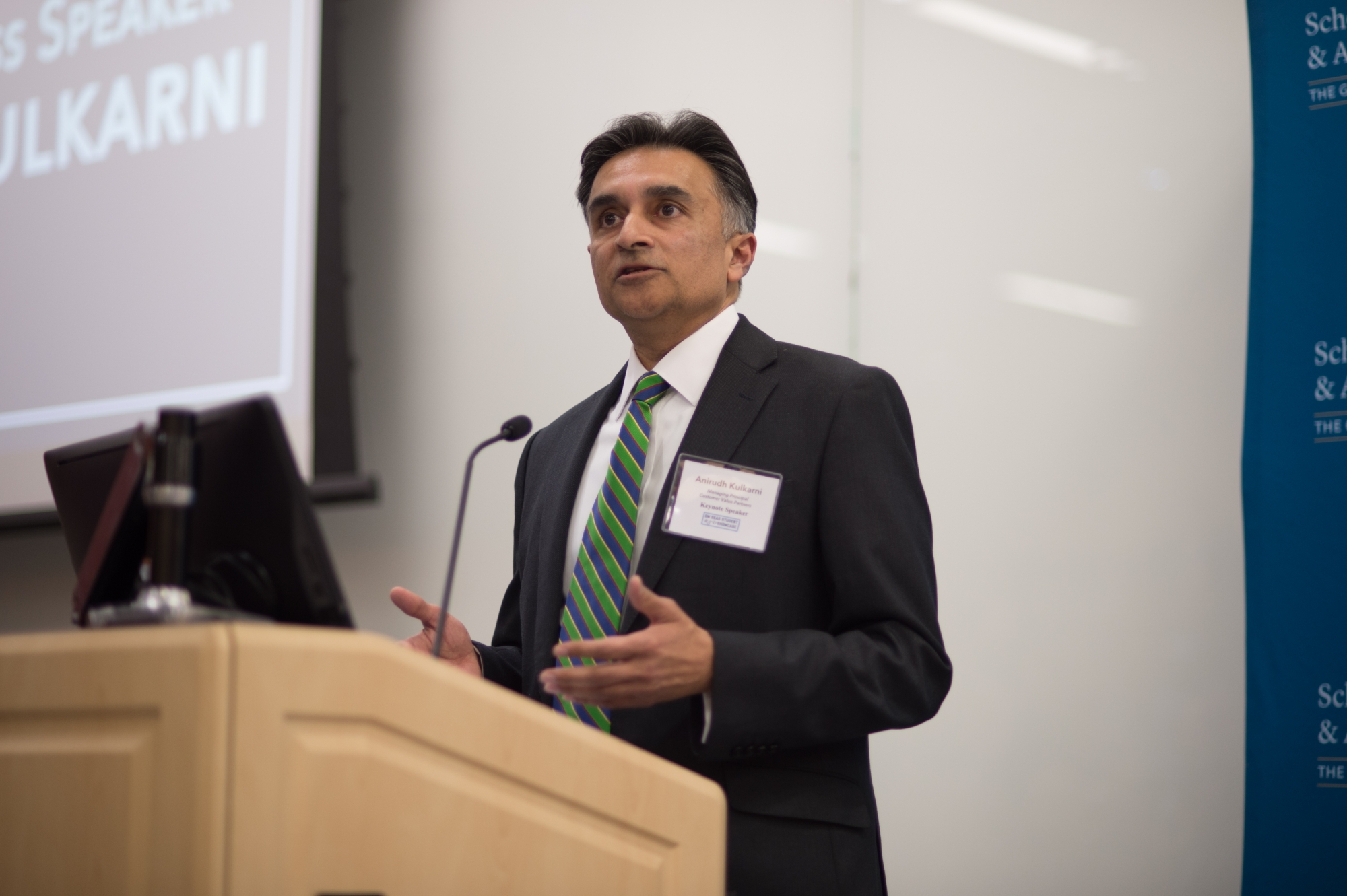 Keynote speaker Anirudh Kulkarni, B.S. '86, M.S. '88, told SEAS students to embrace the motivation to improve that comes with failure. (Photo by Eleanor Kaufman)
---
Awards were given out for the top posters following Mr. Kulkarni's remarks.
Boxiao Cao, a civil and environmental engineering graduate student, won the top prize of $5,000 in the theoretical research category for his project titled "Formation of 2D Ice Confined by Hydrophobic Nanopore." He was advised by Associate Professor Tianshu Li.
Mohamed ElGhoraiby, a civil and environmental engineering graduate student, won the top prize of $5,000 in the experimental research category for his project titled "Laboratory Characterization of a Liquefiable Soil." He was advised by Professor Majid Manzari.
Shannon Toole, Aidan Murray and Pannie Xu, undergraduate students in the Department of Biomedical Engineering, took home the $2,000 Best Undergraduate Poster for their project titled "Symmetrical Cluster Analysis for Thermographic Breast Cancer Detection."
Seventeen student teams were awarded $3,000 AccelerateGW I-Corps Site Program Grants. That funding can be used to cover travel expenses related to client interviews and limited prototyping.
Dietrich Reidenbaugh, a junior in the Department of Computer Science, was awarded the $500 Randolph A. Graves Founder's Award for implementing a digital scoring process used by the judges during the competition.
A full list of winners is available online. Here is a sample of the research projects showcased by GW students:
Sustainable Farming with Fish
Eden Smalley, a junior majoring in mechanical engineering, developed an aquaponic system for sustainable farming in the Wilbur V. Harlan Greenhouse on the eighth floor of the SEH. It is a system that capitalizes on the symbiotic relationship between fish, plants and growth. It uses waste from a tank of koi fish to fertilize plants in grow beds, which then clean the water the fish live in. It is a chemical free, low-energy way to grow fresh produce.
"The main thing we wanted to do with this is show there are ways to create sustainable farming, especially on a local level," she said. "We want to see it used in a classroom, in your backyard or even on the rooftop of every city building."
Ms. Smalley and her research partner senior Abigail DeMasi found that leafy plants like lettuce, kale and basil grew larger in the aquaponic system than those planted in fertilizer at the same time. Ms. Smalley wants to expand the system to grow larger root vegetables like beets.
The system uses minimal amounts of energy. Every three hours it uses about the same amount of energy consumed when a lamp is turned on for 10 minutes, Ms. Smalley said. This method of farming has been previously studied and established as an energy efficient option in the field.
Measuring the Shape of an Asteroid
Fourth-year doctoral student Shankar Kulumani developed a way to quickly and more efficiently discern the exact shape of an asteroid. Knowing the shape is important in determining the gravity around it and landing a spacecraft on an asteroid.
There is significant interest in traveling to asteroids for mining operations and understanding how to mitigate the hazardous impacts of asteroids that pass close to Earth.
"Regardless of why we want to go to the asteroid, what we really need is an accurate model of the gravity around the asteroid. What's cool is that if you know the shape of the asteroid, you can actually calculate the gravity. Once you have the gravity you can accurately predict your motion around the asteroid."
Mr. Kulumani developed a way to model a 3-D map of an asteroid using data points from powerful lasers. The lasers measure the distance from a spacecraft to the surface of an asteroid. This would allow a spacecraft to measure an asteroid on approach rather than the current method of collecting data over a series of months and processing that information on the ground.
"For some missions we can't spend all that time trying to calculate the shape model. Here we want to improve that," he said. "Rather than spending months just mapping, we can both get the shape and continue our mission."
Analyzing Online Photos
A group of GW students designed a system that identifies and classifies online content related to eating disorders that can be used by clinicians to assist patients in recovery avoid triggering images.
Online communities have formed around glorifying eating disorders and thin bodies. Users post photos and hashtags to talk about eating disorders on platforms like Tumblr and Twitter. Students built a tool that classifies these images and allows clinicians to easily analyze and monitor what kinds of content their patients are posting.
Using technology to track these images would allow clinicians to keep up with rapidly changing trends in how users communicate online.
"Images are consistent always for these communities. They're just going to have certain features you can't avoid," said Samsara Counts, a junior in computer science and math.
Ms. Counts and her research team worked with a specialist in adolescent eating disorders on the tool. The classifier could be used to build a browser extension for patients in recovery that filters out harmful images.
"If they are in recovery and are exposed to this content, the odds of them falling back are high," said Lulwah Alkulaib, a second-year master's student in computer science.