George Washington President Steven Knapp and Hee-Beom Lee, the president of the organizing committee for the 2018 Winter Olympics in Pyeongchang, South Korea, signed an agreement Tuesday that the university intends to provide up to 50 student volunteers for the games.
Volunteers will play a variety of roles, from press or language services to medical support. Those interested in participating will be chosen based on an application detailing their interests, experience and relevant coursework.
The university announced the agreement at an event, the "Summit on the State of South Korea: Challenges and Opportunities," hosted by the Korean Management Institute. Ayman El Tarabishy, executive director of the institute, served as the summit's moderator.
"This exciting partnership with the Pyeongchang Organizing Committee for the 2018 Olympic and Paralympic Winter Games will offer our students a unique opportunity to learn firsthand about how the games are organized, while also experiencing the riches of Korean life and culture," Dr. Knapp said.
Dr. Lee, M.B.A. '87, also gave a special lecture prior to signing the agreement. He discussed the economic history of South Korea and gave a brief overview of the upcoming games. Many audience members were GW students.
"Pyeongchang 2018 volunteers will come from many different backgrounds and cultures. I am confident that students from George Washington University will enjoy this special opportunity in Pyeongchang and bring their professionalism and passion to the games," said Dr. Lee, who provided Dr. Knapp with two stuffed animal mascots of the 2018 Olympic and Paralympic Winter Games.
Ahn Ho-Young, South Korea ambassador to the United States, also provided remarks, saying he appreciates the "special relationship" the United States and South Korea have thanks to the collaboration among both countries' people and institutions, such as GW.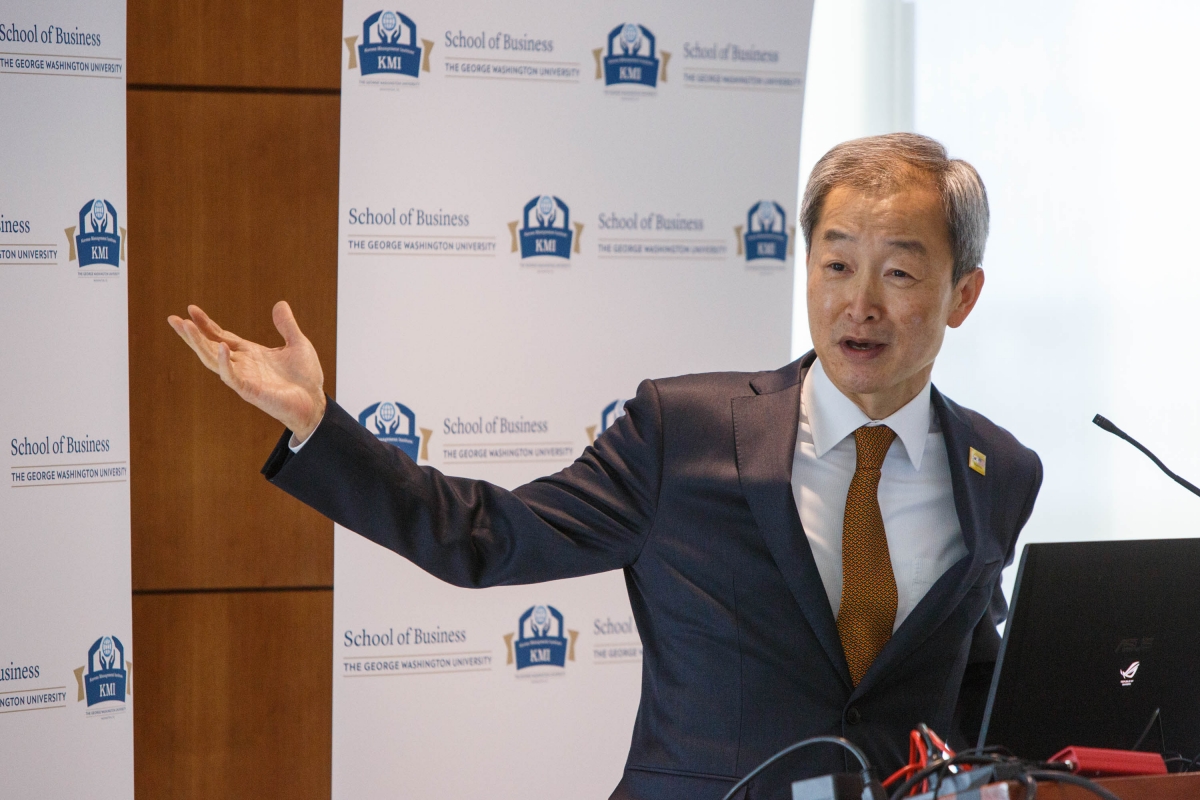 Ahn Ho-Young, South Korea ambassador to the United States, said Tuesday that the United States and South Korea have a "special relationship." (Logan Werlinger/GW Today)
---
GW has a long history with the Olympic Games as well as engagement with South Korea.
Associate Professor of Sport Management Lisa Delpy Neirotti leads a class trip to the games every two years, to both winter and summer events. Students meet with organizing executives, conduct on-site research, write term papers and study issues like transportation, media, marketing, event security and the ceremonies.
Regarding South Korea, GW launched the Institute for Korean Studies this month, the latest of many connections with the country. In 1892, Soh Jaipil received his medical degree from GW, becoming the first Korean to graduate from an American medical school. GW was also the first U.S. university to offer Korean language courses as part of its regular curriculum.
Today, GW's largest alumni community outside of the United States is in South Korea, and roughly 300 students from South Korea are currently studying at GW. Additionally, in 2012, GW held its third Global Forum in Seoul and in 2009 awarded Lee Myung-bak, the South Korea president from 2008 to 2013, with an honorary doctor of public service degree.
Details on how to apply to be a volunteer at the Pyeongchang Olympics will be provided when they are available.