By Kristen Mitchell
A group of George Washington University graduate students will collect data at the Winter Olympics in South Korea to help the International Olympic Committee run more efficient events in the future.
Lisa Delpy Neirotti, an associate professor of sports management in the GW School of Business, will lead a group of 22 GW students enrolled in her Olympic class to PyeongChang. As part of the class, students collect data for the International Olympic Committee every two years during Winter and Summer Olympics.
Dr. Neirotti's students will collect information on how space is utilized in all Olympic venues by spectators, athletes, and media. They will keep track of things like how many athletes are sitting in the designated athlete seating area, how many cars are parked in VIP parking lots, how full buses are to the different venues and media centers, and how quickly spectators pass through security lines.
After the Olympics are over, the IOC will share this information with future Olympic Organizing Committees. Dr. Neirotti's students have been collecting data on space utilization for two Olympic cycles at the IOC's request. All these different data points will help future organizers figure out if they can make the games more cost efficient by reducing spaces and resources, Dr. Neirotti said.
Aside from the time they will spend collecting data, the students will meet with Olympic sponsor executives and organizing committee officials to learn more about best practices in sports management and marketing around large athletic events. Meeting these speakers is also an good networking opportunity for the students, Dr. Neirotti said.
"They will return having a lot of experience and knowledge that will help land them a job in this area," she said. "The Olympic knowledge gained can be applied to working for the Super Bowl or NBA All-Star Game or any other large event."
The events in PyeongChang are the 14th consecutive Olympics that Dr. Neirotti has taken students to and are her 19th Olympic Games. Dr. Neirotti expects these Games to be smaller than some previous ones she has attended, which creates a more intimate and fun atmosphere, she said.
"Every Olympic Games is different, and it's interesting to see how the culture and the region's infrastructure impacts how the Games are organized," she said. "The volunteers can make or break the Games. If they are really excited and fun it makes a big difference to the spectator experience."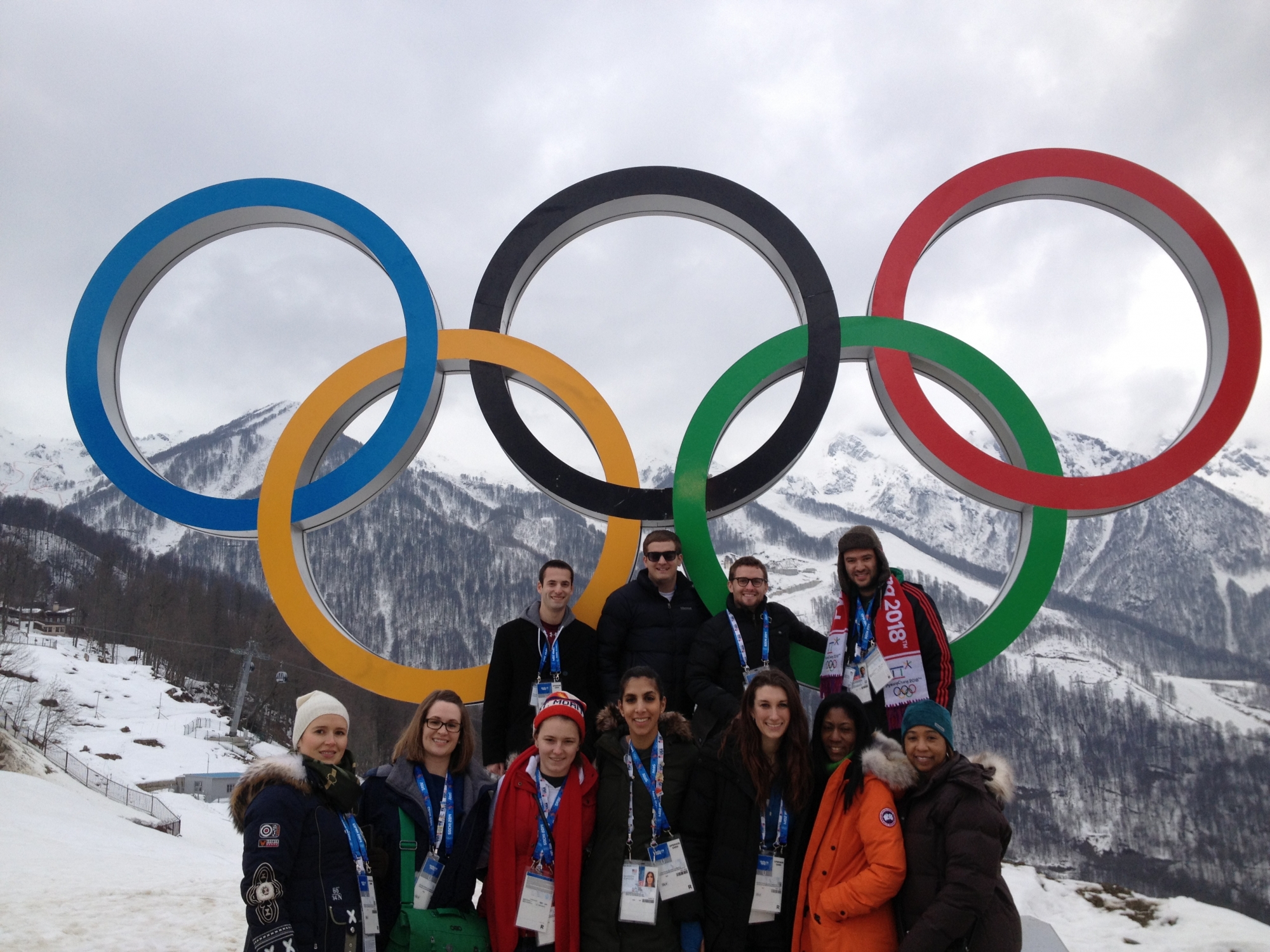 Dr. Neirotti's students pose in front of the Olympic rings in Sochi, Russia, during the 2014 Winter Olympics. (Photo provided by Lisa Delpy Neirotti)
---
Before leaving Washington, D.C., the class discussed safety and communication protocols, the cultural significance of the Olympics and the tension between South Korea and North Korea. Duane Tynes, a second-year graduate student in GWSB, said he felt more assured in his decision to travel after North Korea agreed to send a delegation of athletes to the Olympics and participate in some events alongside South Korea.
Mr. Tynes is excited to experience the "energy and spirit" surrounding the Olympics. A former college football coach, Mr. Tynes is pursuing a master's degree to learn more about how sports intersects with entertainment and media. Students, who come from a range of GW's graduate programs, had to apply to enroll in the course.
Mr. Tynes is looking forward to "working together and making our very small piece of the Olympics possible."
Leila Ahadi, a second-year graduate student studying sports management, said she is excited to hear from IOC officials and other class speakers about their career paths and how they got from "point A to point B."
"We college students have this idea of what our life is going to be like," she said. "I like learning about other people's path, you never know who you'll meet there. I'm looking forward to meeting people from all over the world."
Outside of her official data collecting duties, Ms. Ahadi is excited about exploring South Korea's culture and food and taking in the beautiful mountains. She has been studying South Korean cultural norms and attitudes so she can be a considerate guest in the country, she said.
Ms. Ahadi and her classmates will stay in South Korea for the duration of the Olympic Games. They will stay in dormitories at a nearby college outside the Olympic Village, where a contingent from the United States Olympic Committee is also staying.
Fourteen additional GW students will participate in the Olympic Games as volunteers with the organizing committee. Dr. Neirotti's students will document their time on a GW blog with photos and written entries about the experience while they are in South Korea.
---
In PyeongChang for the Olympic Games? Join students, alumni and parents for receptions on Feb. 17 in Gangneung Olympic Park and Feb. 20 in Seoul.