By Briahnna Brown
An unpaid summer internship to organize nonviolent political engagement in Cameroon quickly turned into a humanitarian relief effort for Max Bone, a junior at George Washington University, when conflict in the region began escalating toward war.
Mr. Bone, who studies international affairs, received a Knowledge in Action Career Internship Fund (KACIF) grant to pursue the internship with Reach Out Cameroon, a women and youth-focused nonprofit centered in Buea, Cameroon. He worked under threats of violence to help those displaced by the conflict and described the experience as "life-changing and life-altering, in a good way."
"I took away a lot about what it's like to actually work in a conflict zone and to actually work with displaced people," Mr. Bone said. "There's a lot of talk about refugees and displaced people, but I was able to work with them for an extended experience."
Since that internship this summer, Mr. Bone said he was able to get two paid internships because of his experience in Cameroon, one with Freedom House this fall and one with the Atlantic Council in the spring. He noted that the internship in Cameroon would not have been possible for him had he not received the KACIF grant.
The KACIF, which is overseen by the university-wide career services council, encourages students to pursue necessarily unpaid internships and enhance their experience at GW.
Scott Amey, M.S. '75, a member of the GW Board of Trustees, his wife, Debbie Amey, and former trustee Steven Ross, B.B.A. '81, who are among the largest supporters of the KACIF, recently hosted their fifth annual pizza dinner for KACIF recipients to share their experiences after receiving the grant.
Mr. Amey urged GW alumni and friends of the university to contribute to the KACIF so every student seeking invaluable experience from internships can pursue them.
"Every year I am amazed at the quality and variety of these internships," Mr. Amey said. "It is incredible when [students] report what they learned through the internship, and many times the internship has led to a paid full-time job of their dreams upon their graduation."
---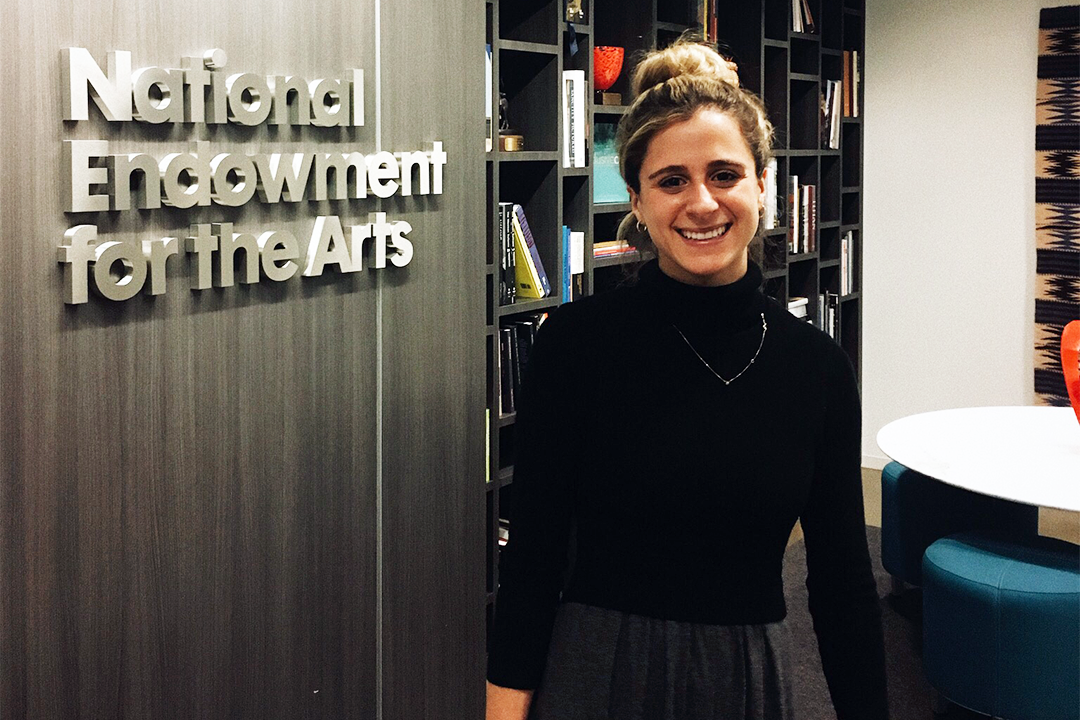 SMPA senior Isabel Pellegrino has interned with the National Endowment for the Arts and the Federal Communications Commission with the KACIF grant. (Courtesy photo)
---
Isabel Pellegrino, a senior studying journalism, said the pizza dinner humanized the stipend for her. She received the travel KACIF grant this summer for an internship with the Federal Communications Commission, and the standard KACIF grant this semester for an internship with the National Endowment for the Arts. Ms. Pellegrino also plans to graduate early, and with a full course load, she said she was glad she could focus on her studies rather than another job because she received the KACIF grant.
"Beyond even just having the monetary support, it's really nice to see that GW has this fund because it means that they care, and they're recognizing that it's really difficult to take GW classes and also have an internship," Ms. Pellegrino said. "The fund really allows you to embark on every opportunity there is in DC, which otherwise wouldn't be possible."
Travel KACIF recipient Steven Chao, B.A. '18, a graduate student studying geography, said he was able to intern with the Senate Committee on Agriculture, Nutrition and Forestry in the spring because of the grant. He said the grant took away the stress of commuting four times a week from Foggy Bottom to Union Station so he could be excited about going to his internship. Mr. Chao added he was happy that the pizza dinner gave him the opportunity to thank the donors directly for their support.
"I participated in a bunch of thank you note writing sessions through Career Services for KACIF donors, but I just feel like being able to stand up, look them in the eye and say, 'thank you for supporting me,' was much more powerful," Mr. Chao said. "I told them I'm appreciative that they're supporting students like me who are trying to pursue their goals."
For 2019 summer internships, the early application period for KACIF grants will be from February 15 – March 1, with regular applications running from April 1 – April 15.
Between the summer 2017 and spring 2018 semesters, GW awarded nearly $230,000 in grant funding through KACIF and KACIF travel grants to more than 250 GW students to support them in their necessarily unpaid internships, predominately with government agencies and nonprofit organizations. Since 2013, the KACIF program has awarded over $775,000 in grants to more than 650 GW students, roughly 12 percent of which have participated in international internships.
"There's no better way to pursue one's dreams through an internship opportunity where sources of funds don't entirely rule the roost," Mr. Ross said of the KACIF. "We only ask that our students and alumni 'pay it forward' so future students might have the same opportunities."