By Briahnna Brown
George Washington University administrators on Thursday debuted the newly-remodeled Student Services Hub during a ribbon-cutting ceremony in the Marvin Center.
The Student Services Hub - formerly Colonial Central - located on the ground floor of the Marvin Center is a shared services center where students, families and other members of the GW community can receive support related to financial assistance, student accounts and registration inquiries.
Student Financial and Registration Services - formerly Colonial Student Services - provides in-person, phone and email support for financial assistance, student accounts and the registrar and works closely with those offices to address student questions or concerns.
The new names for the center and customer service unit reflect the work of the team and the collaborative nature of the work that takes place to support students. The Office of Military and Veteran Student Services area also was enhanced with a direct entrance and expanded dedicated space.
The new space was celebrated Thursday, as university officials—including GW President Thomas LeBlanc, students and staff filled the new space for the official opening ceremony.
"I'm so pleased that we're now giving our students—and their families, frankly—a better experience, so that not only can you get your services and your problems solved in one place, you can do it with the appropriate respect for your privacy," Dr. LeBlanc said.
"We will continue to try and create more of these spaces," he said. "We hope this will become another part of your home here on campus and that you'll be comfortable coming here for your services." 
---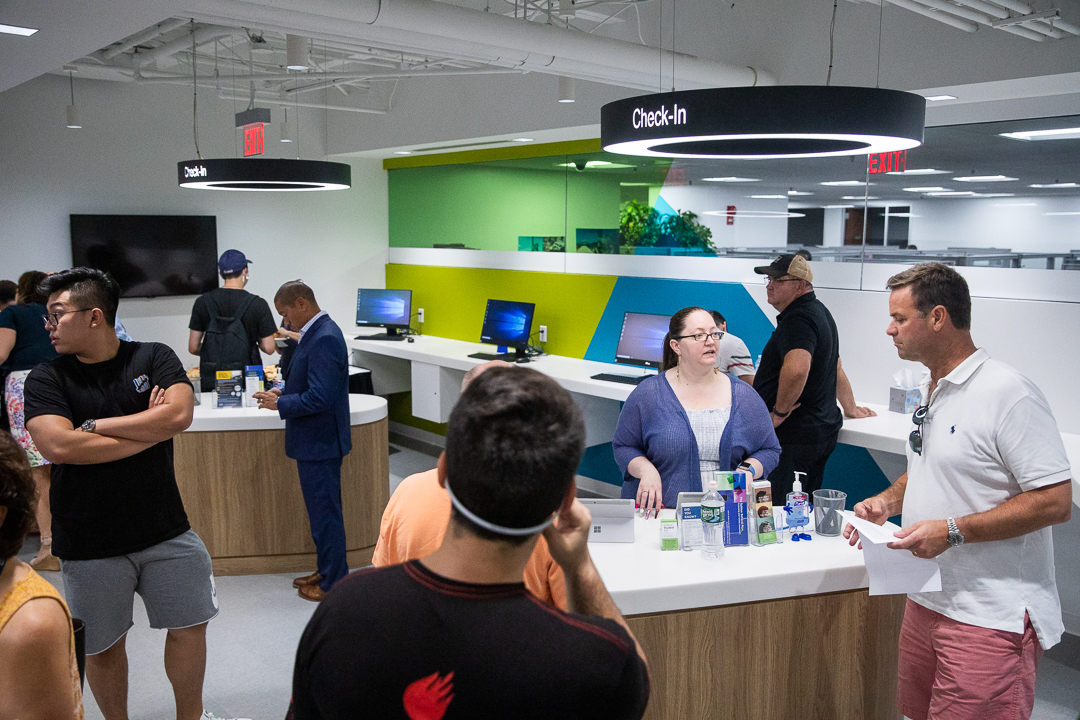 Updates to the space include an enhanced reception process, self-service computers and a lounge in the waiting area.
---
Erika Ogedegbe, associate vice provost for student systems, services and analytics, said that many of the changes to the center came directly from student feedback. She said the aim was to make the space more welcoming and in conjunction with other process and system improvements, reduce the time students spend on conducting business with the university so they can focus on why they came to GW, to learn and grow.
"Our goal is really to try to make sure that students can get answers to their questions as seamlessly as possible," Ms. Ogedegbe said. "Having an appropriate space for students or families who need to come and talk about sensitive issues, provides a better feeling for them."
Enhanced privacy
The biggest update to the space is the shift from a more exposed counter-service experience to secluded cubicles that offer additional privacy. Jennifer Vaden, director of Student Financial and Registration Services, said that in this new configuration, students are called from the waiting area to go back to a cubicle area where they can discuss their needs in a space that can also accommodate family members when necessary.
"We wanted to support having more open conversations, but in a private space that allows us to keep as much confidentiality around the sensitive topics we're discussing as possible," Ms. Vaden said.
Drew Amstutz, a sophomore studying political communications in the School of Media and Public Affairs, gave input during a focus group while administrators were still making final decisions. He said the students in the focus group emphasized the need for privacy in a space that also feels like home.
"It's great that the university is listening to the student voice and that, for something as important as financial aid, the university is willing to give students what they deserve, and that's the privacy that is necessary for discussing these intimate details," Mr. Amstutz said.
"I think this is going to be a space that students are going to love," he added, "both when they're going to the Student Services Hub and when they're hanging out to study." 
Improved experience
The Student Services Hub also features an enhanced, more personalized reception process. Student and staff workers will greet those who visit the hub and guide them through the check-in process. The greeters also will ensure that students are seeing the right person to meet their needs and guide students to alternate resources when necessary.
Ms. Ogedegbe said a primary goal with the new space was to provide a more personalized experience, and the new reception process will help with that.
The Student Services Hub is also launching an online chat bot to help with general questions about deadlines, how to complete required tasks, and general navigational guidance. The chatbot will be available on the Financial Assistance, Registrar and Student Accounts' websites.
Expanded student space
The new space is multipurpose, with couches and tables for students to use as lounge space when waiting to be seen at the Student Services Hub. The student lounge, which is open as late as the Marvin Center is open, also will feature a printing kiosk for student use. Provost Forrest Maltzman advocated for a plan to incorporate a student lounge space in the redesign to meet student needs for expanded space.
"This is now new, additional study space for our students with power all over the place along with places to just hang out and have that sort of informal interaction," Dr. Maltzman said at the ribbon cutting. "This is just a tip of an iceberg in the president's effort to really enhance the experience at the university."