By Kristen Mitchell
As an undergraduate researcher at George Washington University, junior Chloe King applied her passion for ocean conservation to understanding how advocacy organizations can best promote sustainable fishing practices in coastal communities around the world.
Ms. King, a student in international affairs and environmental studies, spent last summer in East Flores, Indonesia, conducting field work and collecting data about the efforts of conservation organizations.
She developed a questionnaire that asked local fishers to identify protected marine animals and what they do when they see illegal fishing practices and administered it within the local community as part of her field work. In Indonesia, she also led dives for a reef conservation organization that tracks large marine animals.
Advocacy and non-governmental organizations based in Indonesia aim to improve ecosystem sustainability by empowering local fishers with information about best fishing practices, laws on protected species and how to report violations. These groups encourage locals to preserve marine life and develop sustainable livelihoods through ecotourism.
Indonesian waters are home to the manta ray, a harmless relative of the stingray. Indonesia implemented a national ban on fishing Manta rays in 2014, but the species is still fished and sold into the Asian market, where their gills are used in traditional Chinese medicine. Since the ban was implemented, many advocacy groups have focused on discouraging this practice, Ms. King said. Divers from around the world travel to Indonesia to dive with manta rays.
Illegal dynamite fishing that uses explosives to stun or kill fish for easy collection is also a significant problem that destroys the ecosystem.
"The result of the survey showed there was a significant improvement in awareness of conservation and likelihood of reporting illegal fishing activities after NGO intervention," Ms. King said.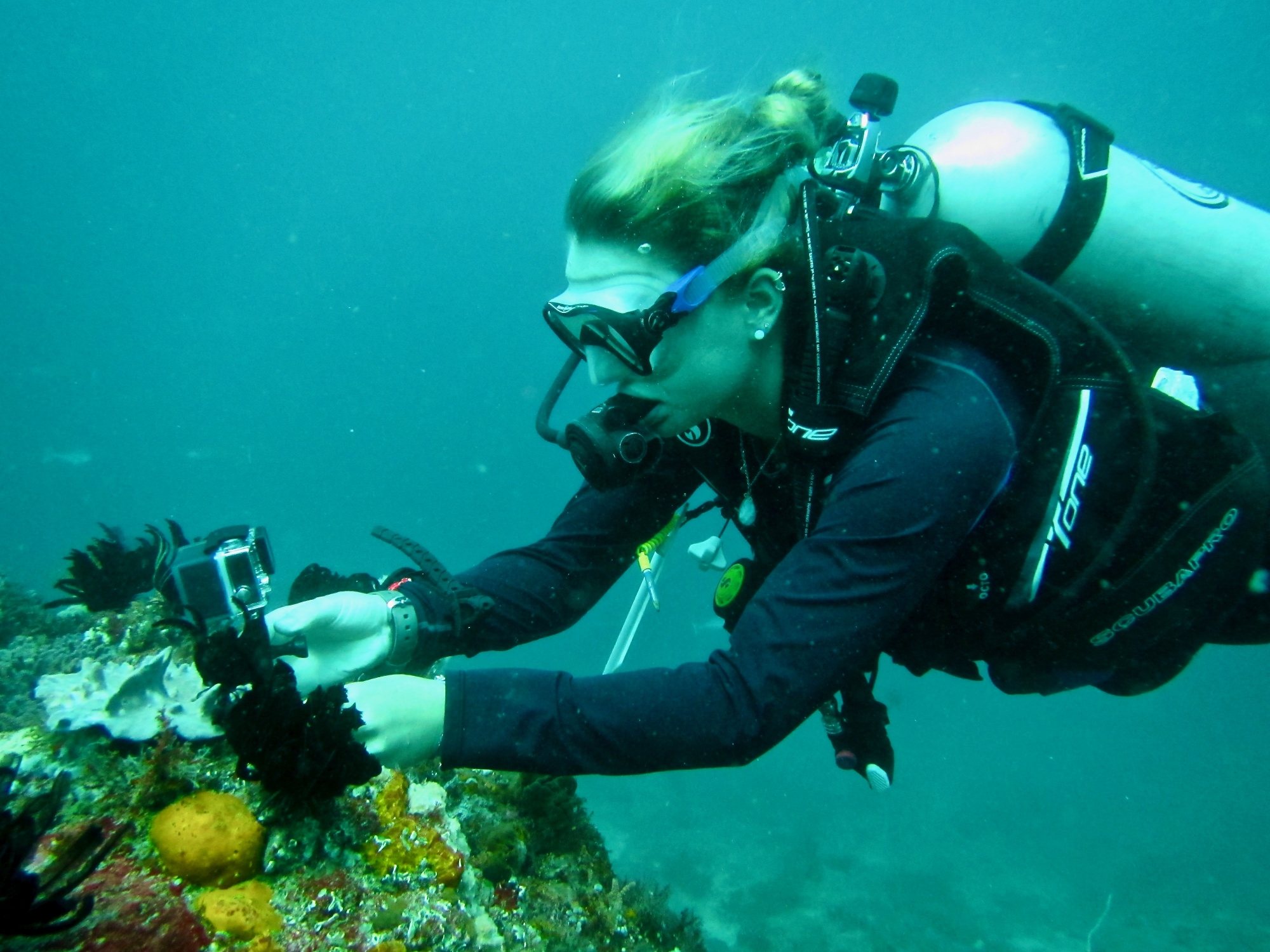 Ms. King is a certified divemaster and worked alongside an all-Indonesia marine research team on a daily survey of large marine animals. (Photo provided by Chloe King)
---
During her time in Indonesia, Ms. King worked as a divemaster for Misool Baseftin, a marine conservation organization. She worked alongside an all-Indonesia marine research team on a daily survey of large marine animals. Ms. King became a certified divemaster during a gap year after high school, where she was trained to lead and organize group dives. When she wasn't in the water, Ms. King was working on her independent research project, which was funded through the GW Undergraduate Research Award and the Elliott School of International Affairs Undergraduate Research Award.
Ms. King was interested in seeing how local dive shops were training members of the community to become more engaged in conservation initiatives and ecotourism. Local communities need to be invested in sustainable practices in order for them to take hold and be successful, she said.
How to report rule breaking and education on what species are protected and what fishing methods are forbidden are important components advocacy organizations can share with locals. Organizations also need to empower communities to understand ecological concerns without imposing their ideology or agendas, Ms. King said. She plans to present on these key findings during Research Days in April.
Ms. King's passion for promoting marine conservation led her to develop a research question for this project, she said.
"The ocean is my biggest passion, and preserving it in any shape, way or form is really important to know how to do in various places and various contexts around the globe," she said. "I think that's kind of the joy of research, you just start with something that you're really interested in, and you kind of let it lead you from there."
Defining the scope of her research was a challenge at times, Ms. King said. More than once, Ms. King was discouraged after finding published studies that were similar to the research she was doing.
"I came to learn that no matter what, your research is valid because no one has done it quite like you before," she said. "No matter how you came up with your findings, they are worth talking about, they are worth seeking publication, and they are worth presenting on."
Ms. King has been enrolled in an Elliott School Undergraduate Scholars Program this academic year. Annelle Sheline, director of the Elliott School Undergraduate Scholars Program, said Ms. King improved her analytical skills through peer feedback and refined her research question in the class.
"She already had a very interesting project and had definitely gathered really great data. We would have conversations where she felt like she had all this info but didn't know how to make heads or tails of it," Dr. Sheline said. "That skill is what can take time to develop. Part of the anxiety researchers experience is, you kind of just have to dive in and take a stab at it. Posit a possible research question and just work from there."
She plans to return to Indonesia this summer with either a language immersion scholarship or the remainder of her Undergraduate Research Award funding.
Ms. King's involvement in research transformed her undergraduate experience. She encourages other students to pursue their own projects.
"Whether it's surveying people on campus or going to another country and doing field research, those opportunities are valuable," Ms. King said. "It doesn't matter where or how or when you're doing research, if you feel like it's something you are interested in doing, I would definitely say do it."
---
To learn more about available research opportunities contact the GW Center for Undergraduate Fellowships and Research.