By James Irwin
Luke Corbett had no idea what to expect when he arrived last month at Carly Fiorina's campaign headquarters in Manchester, N.H.
Mr. Corbett, a sophomore at St. Louis University, is enrolled in the George Washington University's Semester in Washington program, which provides a hands-on experience for students interested in the political process. He and his classmates were in New Hampshire Oct. 19-23 to work on presidential campaigns.
What they found was an election scene in high gear.
"And not just [Fiorina's] campaign, but the New Hampshire environment," said Mr. Corbett. "Everything is so organized—coordinating volunteers, hosting events, getting people to sign up for the campaign. It was very energetic. And people in New Hampshire love it. They are into it. It's part of their culture."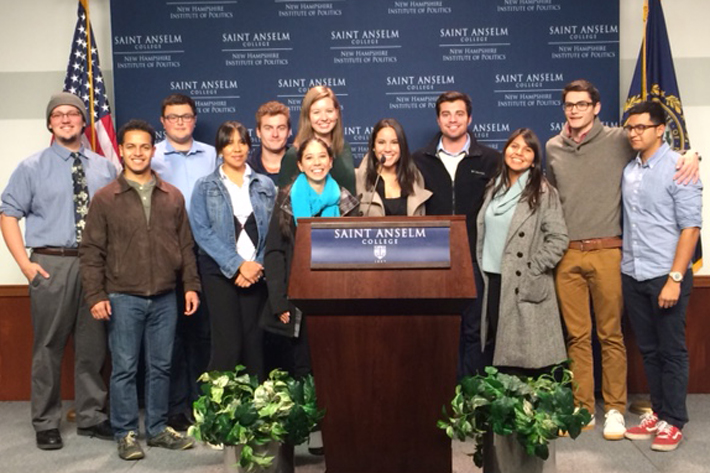 Semester in Washington students pose for a photo at Saint Anselm. (Gregory Lebel/For GW Today)
---
Mr. Corbett is one of 12 students enrolled in Semester in Washington this fall. The New Hampshire trip was part of a new partnership announced in July between GW, the Bipartisan Policy Center and Saint Anselm College that connects courses at GW and Saint Anselm.
The collaboration was something GW had looked to do for some time, said Greg Lebel, director of the Semester in Washington program. A New Hampshire native, Mr. Lebel knows the value of a hands-on campaign experience.
"The two-site thing has really worked well," he said. "One student came up to me and said, 'I understand why New Hampshire is so early in the process because people seem so plugged in.'"
Students in the GW cohort volunteered with five different campaigns—Democratic candidates Hillary Clinton and Bernie Sanders and Republican candidates Donald Trump, Marco Rubio and Ms. Fiorina. They spent the week canvassing, making posters and assisting with events.
"It complements this [class] experience because instead of just learning about the New Hampshire primary during class or through assigned readings, we were able to actually experience the New Hampshire primary," said Reid Truett, a sophomore at Stockton University.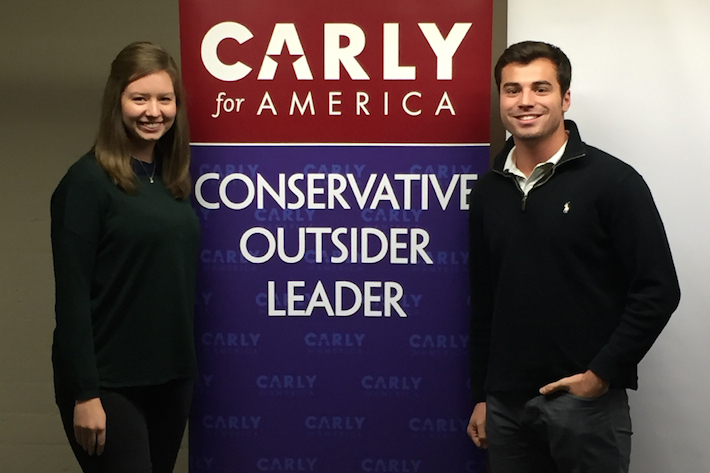 Students Rebecca Seewald and Luke Corbett. Mr. Corbett chose to volunteer on Carly Fiorina's campaign after her performance at the second GOP debate in September. (Kevin Fairbrother/For GW Today)
---
Guest speakers—among them Democratic strategist James Carville, former Mitt Romney campaign manager Matt Rhoades, M.A. '99, and Emily's List President Stephanie Schriock—have been a featured part of the class, delivering lectures from both Washington and New Hampshire. Former Democratic presidential nominee Michael Dukakis spoke to the two cohorts in Manchester.
"He spoke to a more personal side of running for president," Mr. Corbett said. "The first thing he said was he knew that he had the support and the donors but the major factor was his family. He also spoke about integrity. He spoke about staying true to yourself and 'finding you' before you decide to run."
Longtime politico Tom Rath also spoke to the GW group. Mr. Rath began his career in New Hampshire politics by knocking on doors for then-New York Gov. Nelson Rockefeller (R) in 1963. That form of retail politics still holds up, said Chancellor Dennison, deputy director of the Semester in Washington program.
"It was all walking on foot, knocking on doors, making calls," Mr. Dennison said. "Fifty years later, that's still what matters in New Hampshire and Iowa."
That's what Mr. Corbett noticed. He waited until after the second Republican debate before choosing to volunteer for Ms. Fiorina over Mr. Rubio. Voters in New Hampshire, he said, are meticulous about choosing their candidate.
"I was canvassing one day and talking to a voter who said he hadn't yet made up his mind," he said. "And when I asked him why, he said he liked to meet every candidate three or four times before he voted. These people really want to know the candidates. They want to meet them several times. They want candidates to know them by name."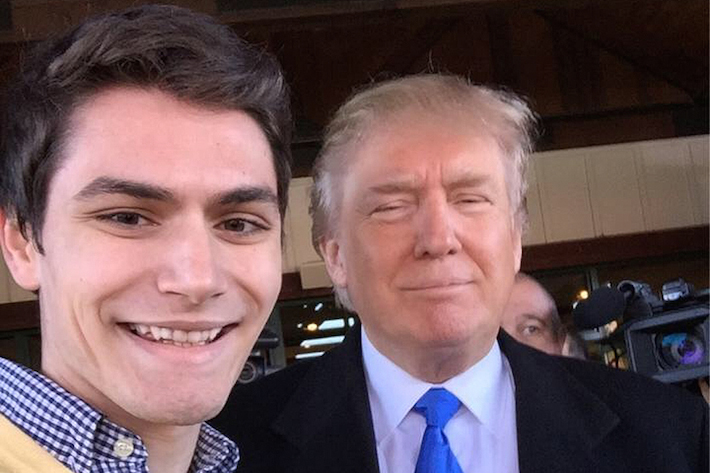 Reid Truett volunteered on Donald Trump's campaign—and got to meet the candidate. "I thought it would be interesting to see what kind of campaign a candidate like Donald Trump would be in charge of," he said. He has found that Trump is doing things differently in New Hampshire. (Reid Truett/For GW Today)
---
But Mr. Truett, volunteering with Mr. Trump's campaign, said he noticed tactics that also run in reverse to traditional retail politics. He found that Mr. Trump—an atypical candidate—is running an atypical New Hampshire campaign, holding massive rallies and turning them into pledges of support, instead of having volunteers go door to door canvassing for the candidate.
"It's not the traditional way it's done. Usually, you reach out to individuals and use them to build crowds," Mr. Lebel said. "It's going to be really interesting to see how this works. Trump is doing things differently."