By Tatyana Hopkins
As scientists and researchers work quickly to detect, treat, and prevent COVID-19, a George Washington University research team has answered a call issued by the White House to tame the fast-growing body of research and data around the disease for more efficient searching and easier understanding.
"Given the recent influx of research papers written about the novel coronavirus, it is vital for the medical researchers to be able to stay current and take advantage of the latest result," said Howie Huang, a professor of electrical and computer engineering in the School of Engineering and Applied Science.
Through his Graph Computing Lab, Dr. Huang and his doctoral student Isaiah King are developing Graggle, a unique visual search engine, as part of a competition initiated by the White House, the National Institutes of Health and a coalition of other leading research institutions. 
The competition's call to action challenges experts in artificial intelligence to develop text and data mining tools to help the medical research community keep up with the rapidly increasing coronavirus literature. Graggle uses the competition's open research dataset that consists of more than 150,000 scholarly articles written about COVID-19 and related coronaviruses.
"We are building a customized search engine for COVID-19 research papers so that researchers can quickly identify the papers they are looking for and understand what others have already discovered in that domain," Dr. Huang said. "It's like Google Scholar but just for COVID-19 research."
Graggle utilizes powerful graph representation and machine learning techniques to capture the complex contextual relationships between the hundreds of thousands of documents, allowing researchers faster, more informative access to knowledge that they can explore visually.
---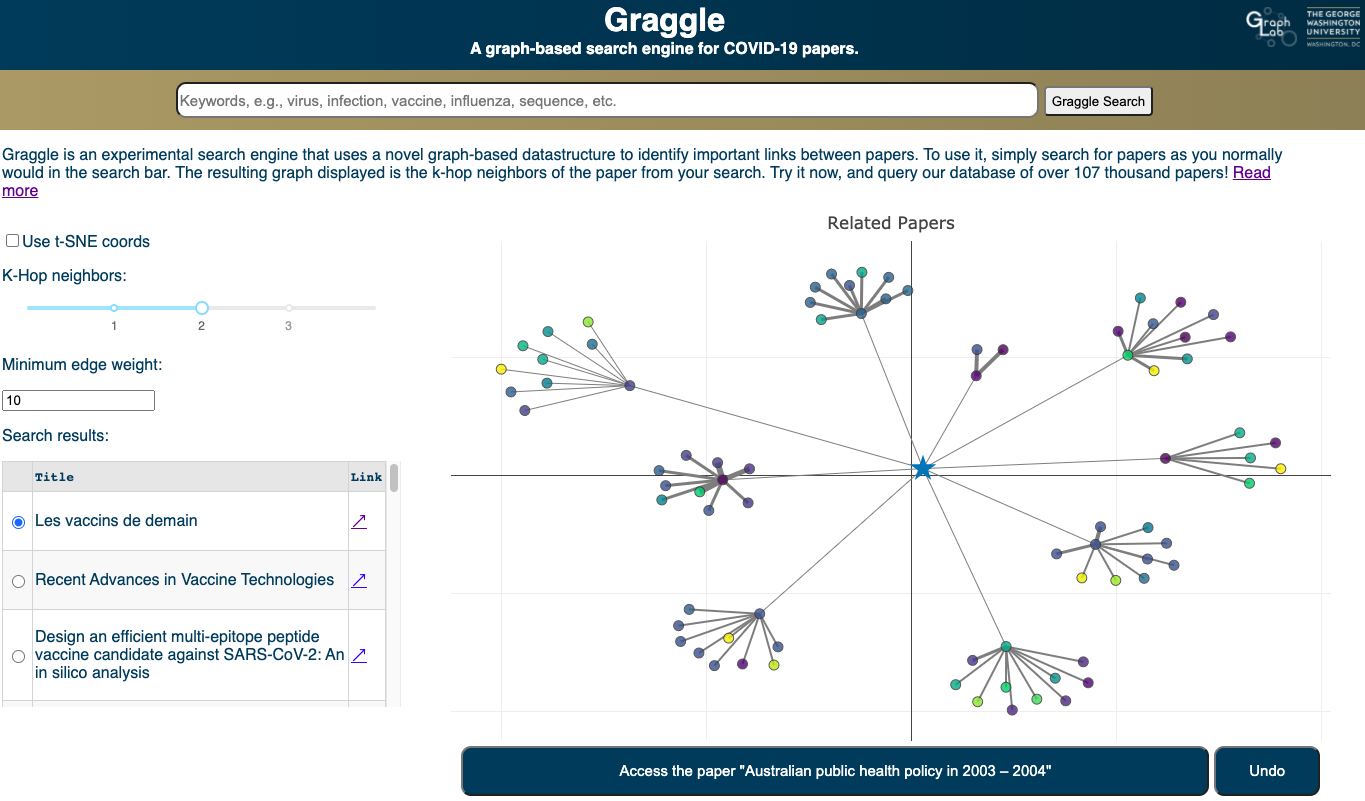 Graggle offers a visual graph representation of search results to help users find the most relevant research available. 
---
Although several other search engines for research related to COVID-19 have emerged—including Google AI's COVID-19 Research Explorer, the Lawrence Berkeley National Lab's COVIDscholar, and Verizon's SciSight—Dr. Huang said his research is unique because of not only the visual connections it makes between papers but also more importantly its central graph technology.
"With Graggle, one can easily see which papers are most relevant to the topic and how they are related to each other," he said. "This is all enabled by the underlying graph representation whose nodes are the papers and edges are highly important words shared between them."
"Traditional document recommendation systems relied on high-dimensional vector representations that scale poorly in a corpora with diverse vocabulary," Dr. Huang said.
However, Graggle's approach has the ability to create low-dimensional vector embeddings using graph learning techniques, which makes it faster than traditional approaches and better suited to find relationships among various papers.
"Unlike others, we are not simply showing a list of papers," he said. "Rather, our graph interface is both powerful and aesthetically pleasing for one to explore the body of search in a certain area." 
The closer a paper is to another on Graggle in color and distance, the more similar they are likely in topic, and when users click on a paper, the algorithm recalculates, allowing them to follow their interests and find papers on the same topic in different contexts.
"Graggle provides a visual, interactive web of interrelations between papers so that one may understand the context of each individual paper's contribution," Mr. King said. "It's a great research tool for visual learners like myself, and I hope it will help anyone out there researching the virus."
Dr. Huang has won numerous awards for his extensive research on graph computing, an emerging technology with a growing impact on the development of artificial intelligence and machine learning. A recipient of the prestigious National Science Foundation CAREER Award, he also led a team that made it to the 2020 GW New Venture Competition finals for their development of a graph-based cybersecurity system.
Aside from winning awards and competitions, Dr. Huang said he hopes Graggle will help medical researchers in our fight against the coronavirus, as well as offer new insights into the broad application of graph technology.