By Ruth Steinhardt
Sara Pool is on track to change lives.
She is completing a master's degree in speech-language pathology at the George Washington University's Columbian College of Arts and Sciences, where her research focuses on transgender voices and listener perception.
She has a clinical externship in acute care at the Johns Hopkins Hospital, where she helps patients regain the ability to speak and swallow. She volunteers at a homeless shelter. In September, she will take a job at a Seattle veterans' hospital.
But her journey has not been easy. Her father has been incarcerated for attempted murder since she was six. Her mother died of an overdose in 2010. Ms. Pool had to drop out of high school at the age of 15 to earn enough money to survive.
She fought to continue her education, but it was an uphill struggle.
"Do I pay to rent my textbook, or do I buy groceries?" Ms. Pool remembered asking herself.
But as she told listeners at Friday's Power & Promise Scholarships and Fellowships Dinner, that changed when she received the Lambert Graduate Stipend in Arts and Sciences. Funded by Janet Lambert and her late husband Eugene Lambert, B.A. '57, the award goes to a continuing graduate student who is at risk of leaving GW due to financial hardship.
"I don't have to make those choices anymore," Ms. Pool said, blinking back tears. From the podium, she looked directly at the woman who had made that possible.
"Behind all of this, it's you, Mrs. Lambert," she said. "Your generosity amazes me."
Scholarship support is a key priority of Making History: The Campaign for GW, the university's $1 billion philanthropic campaign. Power & Promise, launched in 2009 by George Washington President Steven Knapp, helps lower the cost of a GW education and reduce loan burdens by providing scholarships to qualified students, regardless of their financial resources.
In the 2014-15 academic year, GW provided more than $174 million in undergraduate assistance, with an average need-based award of more than $29,000.
At the annual dinner and celebration, donors met the students who benefit from their gifts, while students who have received scholarships and fellowships shared what their sponsors have made possible. Over 400 attendees ate, laughed and shared stories, pausing briefly to watch speeches and video presentations from their fellow donors and students.
"That's what Power & Promise is about. The power of education and the promise for the future—for all of our futures—that our students mean to us," Dr. Knapp said. "And the fact that we can display even a little of that tonight is what makes this occasion so special."
Jordan Williams, who opened and closed the program with performances of piano pieces by Jerome Kern and Cedar Walton, is another such promising student. Like a music-world version of Peter Parker—alias Spiderman—Mr. Williams said he grew up living an unusual double life.
"High school science nerd by day, aspiring jazz musician by night," he said.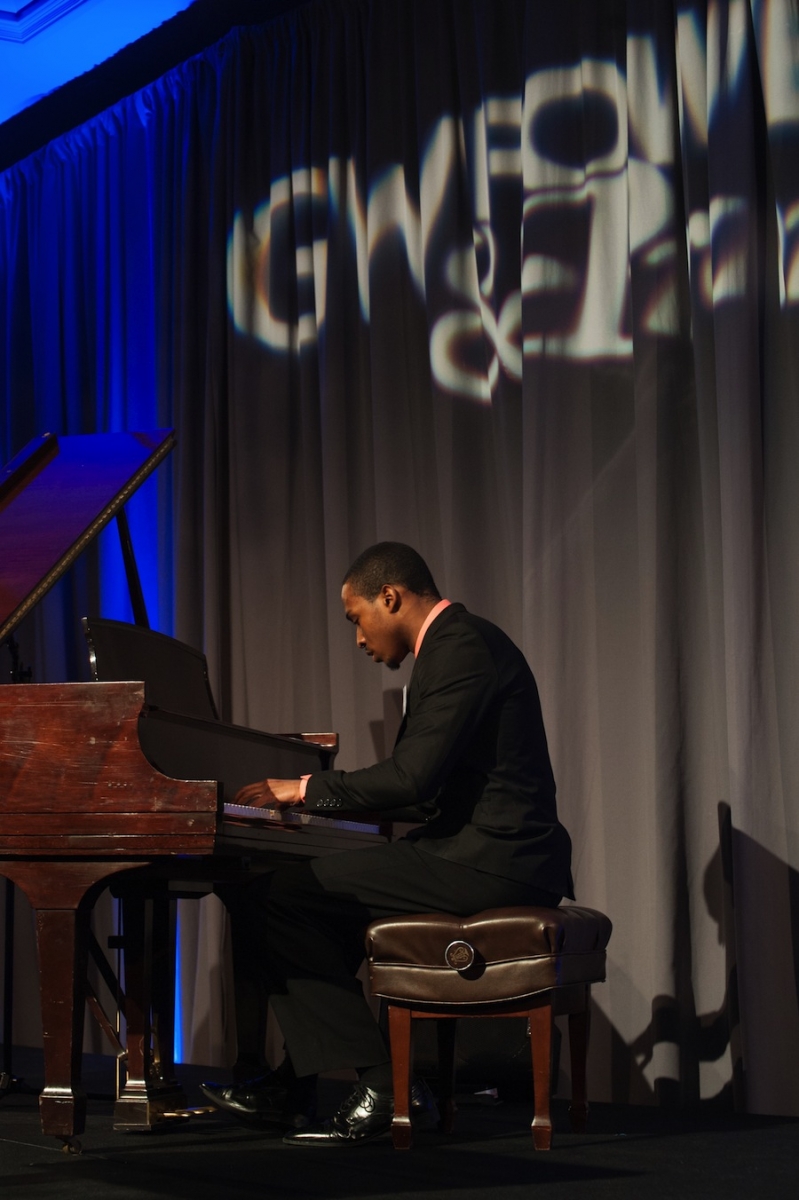 Jordan Williams performs at the Power & Promise celebration. (Julie Ann Woodford/GW Development and Alumni Relations)
Mr. Williams is no dilettante in either arena. He is a member of the Biomedical Engineering Society and the National Society of Black Engineers, and his electric, intelligent musicianship won him both a Presidential Arts Scholarship and one of only 24 places in an international jazz residency at the Kennedy Center this year. The program culminated in performances at the Kennedy Center and at New York's legendary Apollo Theater.
"Only GW welcomed both my science and musical persona[s] [when] other schools asked me to choose between engineering or music," said Mr. Williams, who will complete his degree in bioengineering, with a minor in jazz studies, in 2017.
Other speakers included Margarita Ramos, a fourth-year medical student beginning a residency at the Children's National Medical Center in June, and parent Quintilla Shott Whitman, who was encouraged by her son Corey Whitman, a junior in CCAS, to become involved with GW's LGBT Health Policy and Practice Program. She has since become an active supporter of the program and advocate for philanthropy.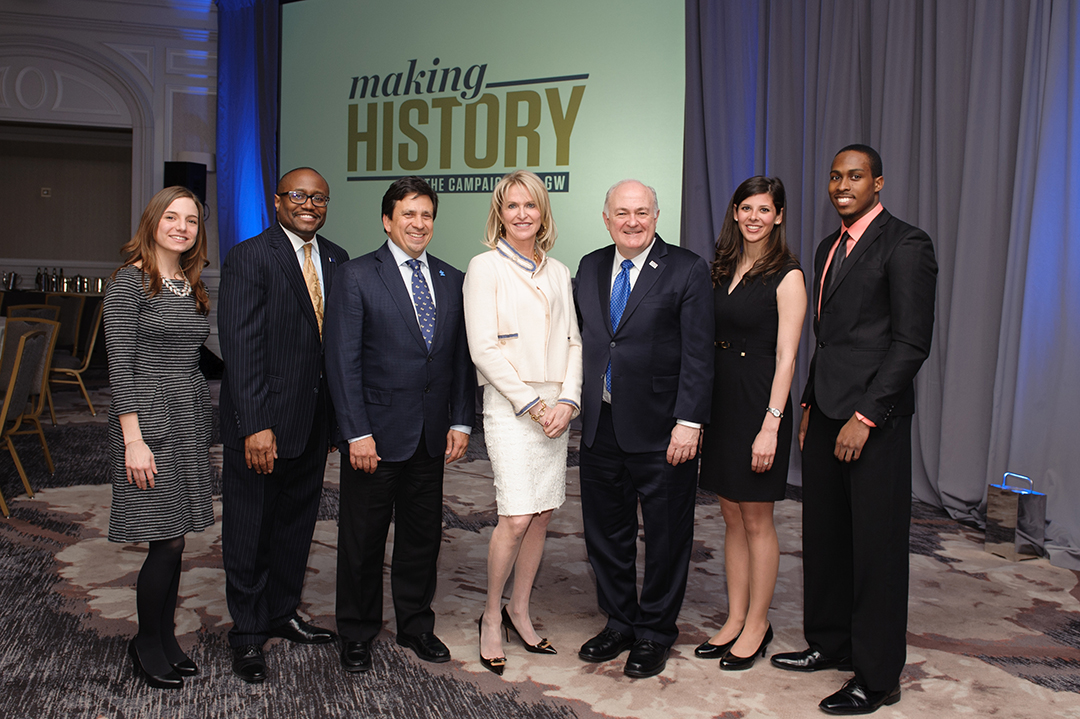 (From left) Sara Pool; Aristide Collins, vice president for development and alumni relations; Nelson Carbonell, B.S. '85, chairman of the GW Board of Trustees; Quintilla Shott Whitman; George Washington President Steven Knapp; Margarita Ramos; Jordan Williams. (Julie Ann Woodford/GW Development and Alumni Relations)
This year, for the first time, the Power & Promise dinner was preceded by a special event focused on GWTeach. Approximately 40 invited guests had the opportunity to learn more about GW's new initiative, which provides students with the knowledge and skills needed to prepare them to teach STEM subjects at the K-12 level.
Not all donors could be present, but even so the relationships were strongly felt. Nada Kamona is a beneficiary of the Dirk S. Brady Endowed Scholarship Fund, which awards scholarships to students who have left their country of origin because of ethnic, political, or religious persecution. Mr. Brady, himself an emigrant from Nazi Germany, passed away in 2012. But Ms. Kamona—who left Iraq as a young teenager with her family—said she corresponds regularly with Mr. Brady's widow, Judith, writing her at holidays and after a recent surgery.
"She made everything possible for me," said Ms. Kamona, who hopes one day to visit Ms. Brady at her home in Florida. "So it's important to me to have that relationship, to express my gratitude."
That gratitude goes both ways. After the ceremony ended, as the crowd swirled boisterously around them, Sara Pool sat quietly at her table with sponsor Janet Lambert. Ms. Lambert's silver-ringed hand rested on Ms. Pool's cheek. Both were smiling, a little misty-eyed. They had, Ms. Lambert said, "bonded immediately."
"I'm so proud of Sara," she said.