By Briahnna Brown
Bringing together communicators and innovators, the 2018 Planet Forward Summit sought to discover ways to make facts, data and ideas in sustainability both fascinating and informative to the public.
About 500 registrants came to George Washington University's Jack Morton Auditorium and Marvin Center on Thursday and Friday to participate in panel discussions, presentations and break-out sessions to learn about utilizing digital storytelling to engage audiences.
By engaging the public in the necessary and urgent facts about these environmental issues, Frank Sesno, director of the School of Media and Public Affairs and founder and host of the Planet Forward Summit, said storytellers can help their audiences better understand the importance and urgency of these issues.
"There is misinformation and disinformation out there, undermining facts, undermining evidence, undermining science. It's not a good thing," Mr. Sesno said. "More than ever, we need to find new ways to communicate and connect, to reach and teach and tell stories to compel public audiences on science, sustainability and everything in between."
The first presentation of the conference was "Eyes on Earth: Inspiring a New Generation of Storytellers," which featured National Geographic Editor Emeritus Dennis Dimick and National Geographic Photographer Jim Richardson. They explored questions on how human civilization got to this point of environmental crisis and introduced the Anthropocene period, which describes a new geological epic where human activity has the largest impact on the planet.
Urbanization transforming rural landscapes to urban landscapes has been a significant factor in this impact, Mr. Dimick explained through photos, as well as the need for energy to power the modernized civilization, which calls for mining mountains for coal and digging for oil.
"We live in a world of more, really," Mr. Dimick said. "More food, more people, more growth, and it's all underpinned by more energy—that's the root source of the prosperity that we enjoy today. We're digging holes in the ground, we're moving mountains, this is how we power the modern world."
---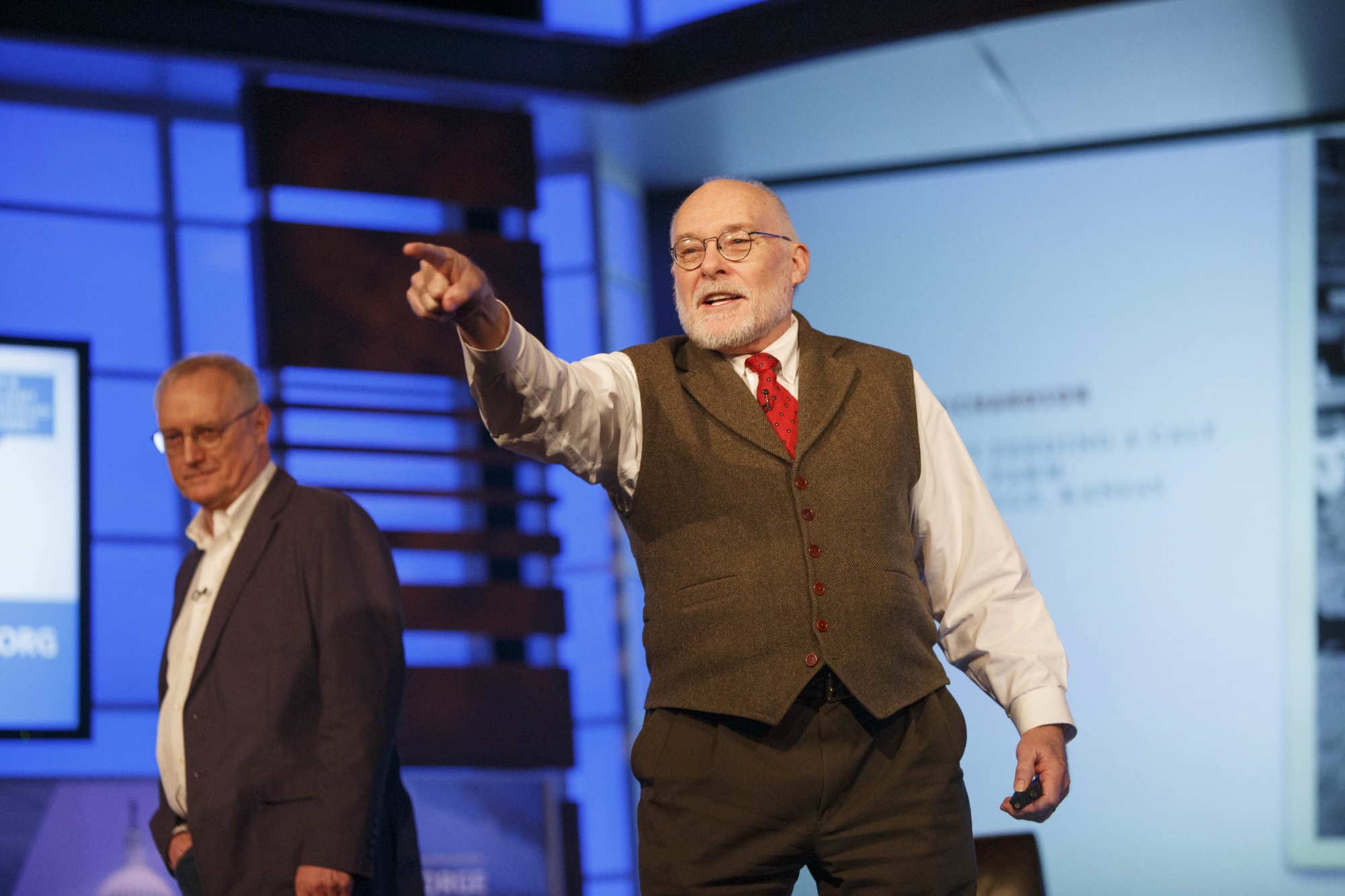 Dennis Dimick (l) and Jim Richardson give a charge to the storytellers in the audience during the 2018 Planet Forward Summit.
---
Mr. Richardson explained the growing number of endangered species through photos and infographics that show how humans are using the planet's productivity for themselves and the species humans have domesticated as livestock. Going into the future, Mr. Richardson explained, the young storytellers and innovators in the audience will need to find ways to save the planet and get the public involved in that effort.
"You are at an incredible crux of history, and we need you to make it your own—to become the eyes on earth that will watch over it and tell those stories and bring that information to people, a world that needs you to make that all real to them and to help us guide into the future as we go forward," Mr. Richardson said.
During the "Find Your Voice, Raise Your Voice: Student Storytellers" panel, current and former Planet Forward correspondents discussed the sustainability stories they were able to capture, like a video story on Sudan, the last male northern white rhino, before his passing, as well as written, visual and audio stories on the habitat fragmentation in the Amazon rainforest.
Anna Sumi, a 2017 SMPA graduate and a former participant in the Land O'Lakes Global Food Challenge, was able to travel to Malawi, Botswana, Zambia and farms in the United States to talk to farmers about struggles they faced. That experience was her first taste of traveling and telling stories, and she learned that food was the one of the most successful ways to talk about the earth.
She traveled to Siberia last summer to create video and photo stories on the decreasing permafrost. Ms. Sumi showed how the country's infrastructure is dependent on the presence of permafrost, and she talked to multiple scientists about the issue. She doesn't have a science background, so she made the scientific concepts accessible to a broad audience by asking straight-forward questions.
"I had to ask those questions so I understood it," Ms. Sumi said. "I liked that I came from that role because I came at the stories the same way the viewers would—if I didn't understand it, how would people watching and reading what I produce understand it?"
Chris Policinski, the CEO of Land O'Lakes, explained during the "What's Your Sustainability Story? High-Impact Leaders in Sustainability" panel that good and innovative storytelling necessary to help share the stories of the 1.4 percent of Americans who farm and how they are finding ways to feed the growing world population with strictly limited resources.
The 98 percent of Americans that depend on those farmers are unable to understand these farming innovations without diverse storytelling that enriches the dialogue about where food comes from, Mr. Policinski said, because farmers will tell these stories through the language of a farmer rather than the language of a consumer.
"[Farmers] don't talk about how they grow more with less, how they really are using big data and remote sensing and lots of modern technology to feed the current population and put ourselves in position to feed the soon-to-be 10 billion," Mr. Policinski said. "To do that, they have to have permission, and storytelling is central to getting that permission from the 98 percent."