Frustration was beginning to show on Shannon Quinn's face.
It was 6 p.m., start time for a workshop aimed at generating discussion about sexual violence in the LGBTQA+ community. Organizers from several student organizations at the George Washington University reserved a room for 60 people.
But as minutes ticked past the advertised start time, Ms. Quinn, one of the workshop organizers, could count the students in attendance on one hand.
"I'm definitely disappointed," said Ms. Quinn, a student activist who co-chairs the GW chapter of the Roosevelt Institute's rape culture awareness committee. "Not just in other people for not showing up, but even people in our own organization that I think should be here."
Combating unwanted sexual behavior has gained momentum on college campuses nationally, especially after the White House made ending sexual assault on campuses a priority for the Department of Education and released the It's On Us Campaign. "Climate surveys" conducted by universities—including GW—have measured student opinions on policies regarding sexual assault prevention and response, frequency of unwanted sexual incidents and raising awareness of unwanted sexual behavior issues.
But when it comes to discussing the issues at stake, seats can be hard to fill. A telling result from the GW survey: Only 31 percent of GW students reported participating in programming related to GW's policies on unwanted sexual behavior on campus.
Student activists—and experts on the issue—say that relatively low participation rates, both at GW and elsewhere, are unsurprising. Engaging peers in productive conversations about unwanted sexual behavior can be complicated, discouraging and—frankly—hard.
"The people who aren't already involved aren't getting involved," said Kirsten Dimovitz, co-president of Students Against Sexual Assault at GW. "It's unfortunate because the people who aren't there are the people who are so close to having a light-bulb moment.
"They're people who might be vulnerable to perpetuating an unhealthy culture on campus, not because they're bad people—they're not—but because they haven't thought about things like consent and being aware of their partner's feelings."
Mandatory or Optional Sessions
Sarah McMahon, associate director of Rutgers University's Center on Violence Against Women and Children, says talking about unwanted sexual behavior makes people uncomfortable. In part this is because the discussion historically has been aimed mostly at two groups with whom a community at large may not want to identify or engage: potential victims, who are generally women, and potential perpetrators, identified largely as men.
"Most people are not victims and are not perpetrators, so they don't feel it's relevant to them," Dr. McMahon said. "People often don't want to talk about it."
The issues also are complex, calling for deep self-examination and for openness to shattering long-held attitudes.
"It's really challenging sometimes…to understand the levels of victim-blaming that go on, and to think about not just why a victim experiences sexual violence but why a perpetrator perpetrated it," Dr. McMahon said. "That's shifting huge social norms and deeply-ingrained beliefs, not just on college campuses but throughout our society."
And even when an audience attends programs, organizers must choose the right message and delivery method. Ms. Dimovitz recalled a recent mandatory Greek Life new member training session that seemed to fall short of meeting its goals.
"It was a great talk about alcohol and its interaction with sexual assault, but people were restless and they weren't really listening," she said. "One of the messages of the talk was this red light/green light metaphor, and you could hear it becoming a joke: 'Hey babe, can I get your green light?'"
Large, compulsory trainings are not the only way to raise consciousness. Spencer Perry, grand master of ceremonies in charge of pledging and rushing for the Kappa Sigma fraternity and a member of the Inter-Fraternity Council, worked with Ms. Dimovitz to organize an alternative: a small SASA training for the fraternity's pledge class.
---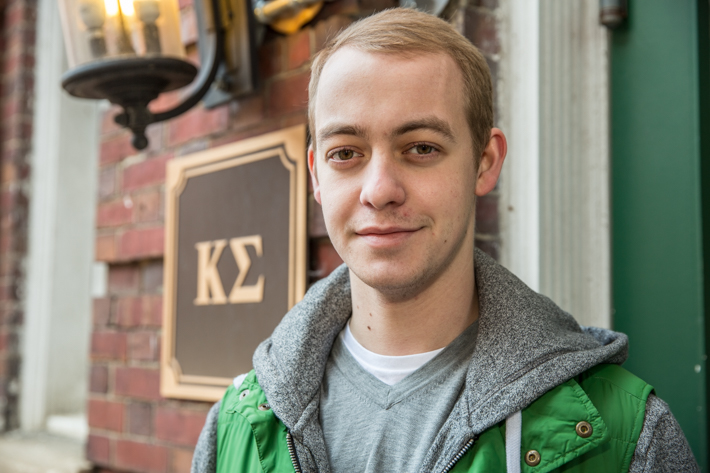 Spencer Perry. (Photo: William Atkins for GW Today)
---
The small size and intimate nature of the session was definitely effective in stimulating frank and productive conversations among the pledges, Mr. Perry said—but figuring out how to make sure similar conversations take place in other organizations is difficult.
"Often when something's required, people don't engage," he pointed out in a December interview. "In the future what we should start working towards is having sort of the same sort of [training] available for all frats."
Student Association President Nick Gumas believes sexual assault awareness training should be mandatory. Otherwise, he said, people might not show. An optional event for students at the start of the fall 2014 semester—this one on bystander intervention—was booked in a room that could hold several hundred people: only about 40 students attended.
"So [optional training] is not a model that is working right now," Mr. Gumas said.
What Programming Works
---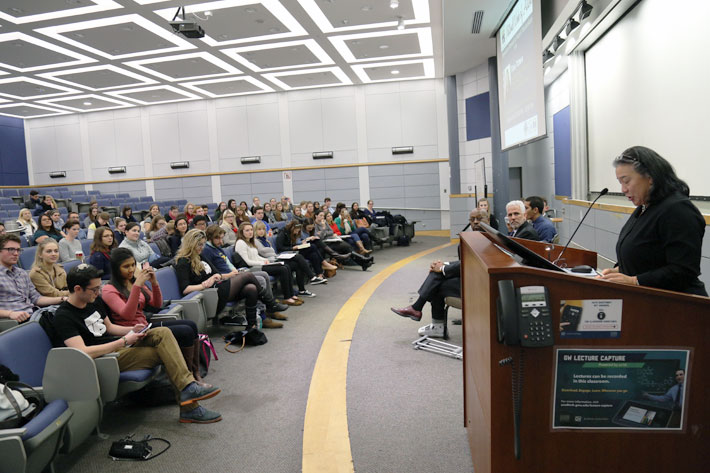 A November 'It's On Us' event at GW featuring Tina Tchen, chief of staff to First Lady Michelle Obama, attracted a relatively large crowd but still left seats unfilled. (Photo: Rob Stewart for GW Today)
---
Rory Muhammad, GW's Title IX coordinator, oversees the university's policies and programs on preventing sexual assault and supporting survivors. He also takes the lead in investigating reported incidents. Additionally, Mr. Muhammad chairs the Committee on Sexual Assault Prevention and Response, a group of students, faculty and staff who are working on focusing the university's response, training and communication resources on this topic.
In addition to Mr. Muhammad, the university is in the process of hiring a second full-time staff member to support Title IX activities. The person hired for the position will report to Mr. Muhammad, and will be responsible for working with students involved in sexual assault incidents and implementing a multifaceted training program for the university community.
Mr. Muhammad said that it's important to ensure that educational efforts are comprehensive and inclusive of all members of the GW community, not just first-year students, although he believes that providing training to all new students makes sense because it "saturates them with knowledge immediately when they step foot on our campuses." 
However, he cautioned that it's important to ensure that students are in a position to absorb and understand information. He emphasized that an effective message should be sent in several formats and could include written materials, large presentations, small discussion groups and individually paced online courses and modules.
"As a community, it should be at the forefront of our consciousness, and that requires a holistic approach," he said.
In Ms. Dimovitz's experience, the most effective workshops target small groups and are led by peers. She, like Mr. Perry, remembers the training with the pledge class at Kappa Sigma as very successful.
"It was small, about 12 guys," she recalled. "Someone they respected was there—their pledge educator—and me and my peer educator team were leading it. We're all the same age. I'm in a sorority too. We get it. I'm not lecturing you, I'm not here to be accusatory."
She said, at least in this case, those circumstances helped spark audience engagement. The group talked more and asked difficult questions, she said, "like 'What happens if we're both blacked out?' 'What if we're high?' We could get into those gray areas. It was much more real."
Mark Levine, senior associate dean of students, co-chairs—with GW junior Maya Weinstein, director of policy and community outreach at SASA—one subcommittee of the school's Committee on Sexual Assault Prevention and Response, and said students have "coalesced" around the issue in recent years. He believes that peer-to-peer interaction will be one of the strongest tools for changing the national culture, partly because it happens in a variety of settings.
"Students supporting other students happens both formally and informally," he said.
That's the idea behind the White House's "It's On Us" campaign against sexual violence, a highly visible bystander education initiative that gives student leaders the tools to engage their own campuses.
Kyle Lierman, B.B.A. '10, an associate director in the White House Office of Public Engagement, helped to develop and implement the campaign. Mr. Lierman said it was key that "It's On Us" be "student driven and student led."
"[That] allows the conversation about sexual assault prevention to be had with a broader group of people," he said. "We wanted to make the conversations not just for activists and survivors, but for all members of a community to understand that it's our issue too."
One way to trigger this community involvement—and to reduce the strain on the limited number of activists—may be an initiative called SASAmbassadors, which Ms. Dimovitz hopes to put into action in the next months. It would be a model of what Dr. McMahon calls "diffusing of innovations."
"If you can engage leaders in a community advocating for certain changes, that spreads out like a ripple effect," Dr. McMahon explained.
The idea is for SASA to train a representative from each of the major student organizations on campus in counseling, bystander intervention and dealing with assault.
"Then [the representative] will go back to their organization and build a safe space," Ms. Dimovitz explained. "So if people don't know anyone in SASA, there will be someone they're in a group with—because almost everyone [at GW] is in some kind of student organization—that they might feel more comfortable talking with. Hopefully there will be [an ambassador] in every community.
"I'm hopeful," she said. "I just don't want the discussion to stop."