In August 2020, a devastating warehouse explosion killed more than 215 people in Laila's* home city of Beirut, Lebanon. It was only the latest blow to a city with a centuries-long history of regeneration after tragedy. Though only a teenager, Laila knew better than to wait for the government or other authorities to spearhead recovery efforts. She gathered a group of friends and neighbors of all ages and joined thousands of other Lebanese citizens clearing rubble and glass from the streets.
"The government basically did nothing, so the responsibility fell to the citizens, and this isn't the first time," said Laila, now a first-year student at the George Washington University. "The city has been destroyed several times throughout history, and it's been rebuilt by the people each and every time. I don't want to say we expect [disasters] to happen, but people are familiar with them, and that's why people mobilized so quickly—everyone figured out how they wanted to help and the role they wanted to play in helping rebuild."
But in the traumatic aftermath, things felt even more uncertain for Laila and her family. The explosion exacerbated existing political and economic instability in Lebanon, which was made worse by the ongoing COVID-19 pandemic. Lebanese currency has lost 90 percent of its value in a crisis the World Bank has called one of the deepest national depressions in modern history.
"It was extremely difficult and beyond traumatic to me and my family," Laila said. "At one point I was not even sure if attending GW would be an option for me for financial reasons."
Then Laila received unexpected news: She'd been chosen to receive funding from the Anne and Thomas LeBlanc Endowed Scholarship. Established in 2018 by GW President Thomas J. LeBlanc and his wife, Anne LeBlanc, the LeBlanc Scholars program included both an endowed fund and a current-use gift to immediately support undergraduate students facing financial need. Seven students have so far been recipients.
"Being among the first in our families to attend college, and being scholarship recipients ourselves, Anne and I know firsthand the power that scholarships have in giving the next generation of leaders the opportunities to attend and take full advantage of a college experience," Dr. LeBlanc said. "We are proud to support need-based undergraduate students at GW through the LeBlanc Scholars fund."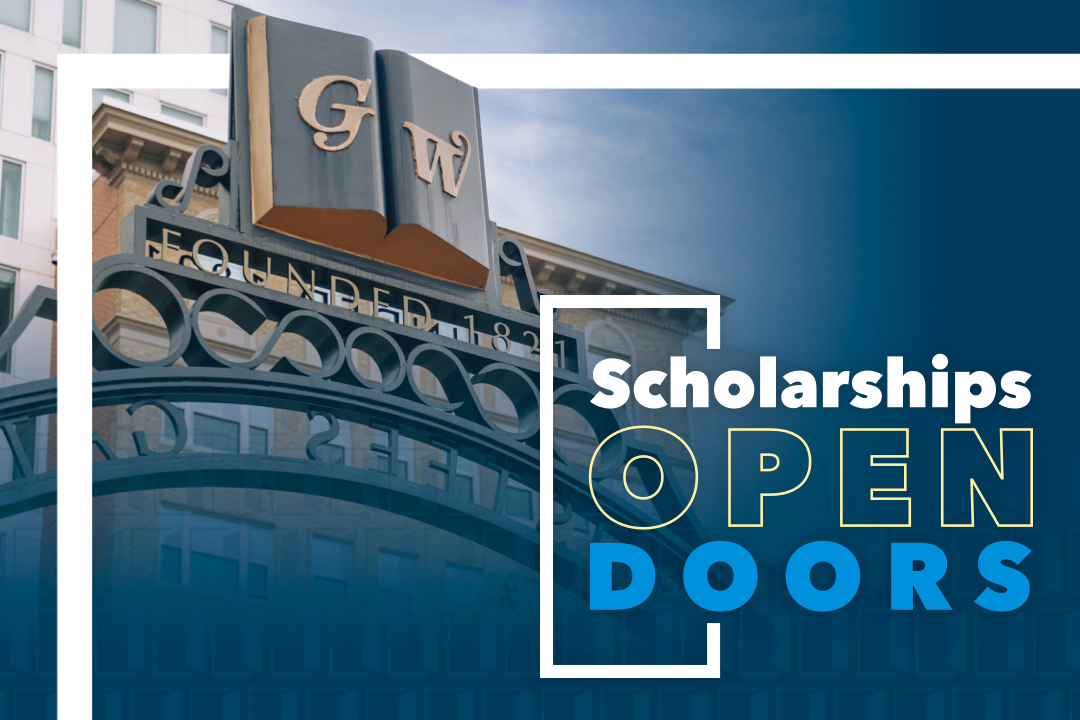 For Laila, an accomplished student who spent much of her extracurricular time in high school helping refugees in Lebanon get access to education, the funding was a weight lifted. After her arrival in the United States, a LeBlanc Scholarship also helped relieve some of her fears about her family's struggles.
"It gave me a feeling of security that I would be able to make ends meet," Laila said.
Now, with generous gifts from the GW Board of Trustees, key volunteers and university leadership, the LeBlanc Scholars program will be able to expand to fund a minimum of two additional students every year.
This goal is part of GW's long-term commitment to increasing access to a GW education, said GW Board of Trustees Chair Grace Speights, J.D. '82. Fundraising from Open Doors: The Centuries Initiative for Scholarships & Fellowships will provide consistent, ongoing support so talented students can access a GW education.
"To advance our society and meet the challenges of today—and tomorrow—we must engage the full diversity of future talent in our world," Ms. Speights said. "Leaders come from all walks of life and all corners of the map, but not everyone has the same opportunity. Scholarships and fellowships increase access to the transformative power of higher education and open the doors of opportunity for deserving students at GW. We are grateful to have so many within our community support this critical initiative."
Laila is already taking advantage of the opportunities her hard work and the LeBlanc Scholars program have made possible. She is working toward the Elliott School of International Affairs' Bachelor of Science in international affairs, possibly with a double major in business and even a minor in communications. It's early to start thinking about where that degree will lead her, but she hopes the breadth of her education makes many career paths viable. Just as importantly, she's making close friends at GW—made easier by the return to in-person learning.
The LeBlanc Scholars funding makes it possible for Laila to focus on her education instead of       working a part-time job or taking out potentially devastating loans, she said. In combination with the stress of her concern about her family and her home city, that financial burden might have been too much to bear.
"To say that being awarded this scholarship has made my year would be an understatement," she said.    
Open Doors: The Centuries Initiative for Scholarships & Fellowships charts a course to increase access to the transformative power of a GW degree. Learn more about how GW is expanding opportunity for the next generation of leaders.
*At the student's request, GW Today used a pseudonym to protect her privacy.