By B.L. Wilson
Winners of Planet Forward's Storyfest 2019 competition and two students sponsored by the George Washington University Biology Department went on a 10-day storytelling expedition to the Galápagos Islands, a World Heritage Site known for a rich diversity of species found no other place on earth.
Henry Becker, a junior biology major, had heard natural historian and broadcaster David Attenborough talk about the Galápagos Islands most of his childhood, he said.
"But to get the 360-degree view of the place, feel the heat of that sun and actually get to walk right by these islands up close and personal was a once in a lifetime experience," Mr. Becker said.
In its second year of Storyfest sponsorship, Lindblad Expeditions hosted seven Planet Forward Storyfest winners — including Guy Ginsberg and Ellen Wang from GW, and students from Reed College, University of Arkansas, University of Mississippi and University of Wisconsin-Madison — aboard the National Geographic Endeavour II in late August.
Compelled by the Storyfest Award to the Galápagos, Columbian College Dean Paul Wahlbeck supported the travel of two biology students, Mr. Becker and graduate student Corinne Tarantino, for the experiential learning opportunity. This brought the group of student storytellers traveling with Planet Forward to nine.
Daniel Reed, executive director of Planet Forward, said climate was the most common theme among Storyfest submissions last year. He said all student Storyfest travelers created content while on this summer's storytelling expedition, and their stories from the Galápagos cover themes of "biological diversity, evolution, invasive species, parasitic flies and Darwin's finches."
Mr. Becker said he did not expect the islands to be "so sparse, without greenery" and have a landscape of "barren rocky outcrops."
"There were isolated explosions of life…teeming with animals running across your path and cutting you off," he said. "We had to stop for iguanas and get out of the way of sea lions and blue-footed boobies, but it was very much like a battleground between life and the harsh environment."
Ms. Wang, M.A. '19, one of the two GW Storyfest winners, studied environmental resource policy at the Trachtenberg School of Public Policy. She said what impressed her most during the visit to Galápagos was "the fearlessness of the wildlife."
"They didn't mind humans getting up close to them," Ms. Wang said. "The boobies showed their blue feet and spread their wings in a mating ritual.  That was very cool."
The Galápagos Islands, along with the Brazilian Amazon and Southeastern Alaska, the last two areas where Storyfest winners traveled, gave students an opportunity to learn firsthand about the human impact on ecosystems.
Frank Sesno, the director of the School of Media and Public Affairs, came up with the idea for Planet Forward 10 years ago to train, equip and support the next generation of environmental storytellers.
"With this and other experiential learning that Planet Forward leads, we bring students to remarkable places and introduce them to remarkable people to learn what is really at stake on our planet," Mr. Sesno said.
"In all of our activities we are trying to find and tell the stories that will raise awareness, inspire action and move the planet forward."  
---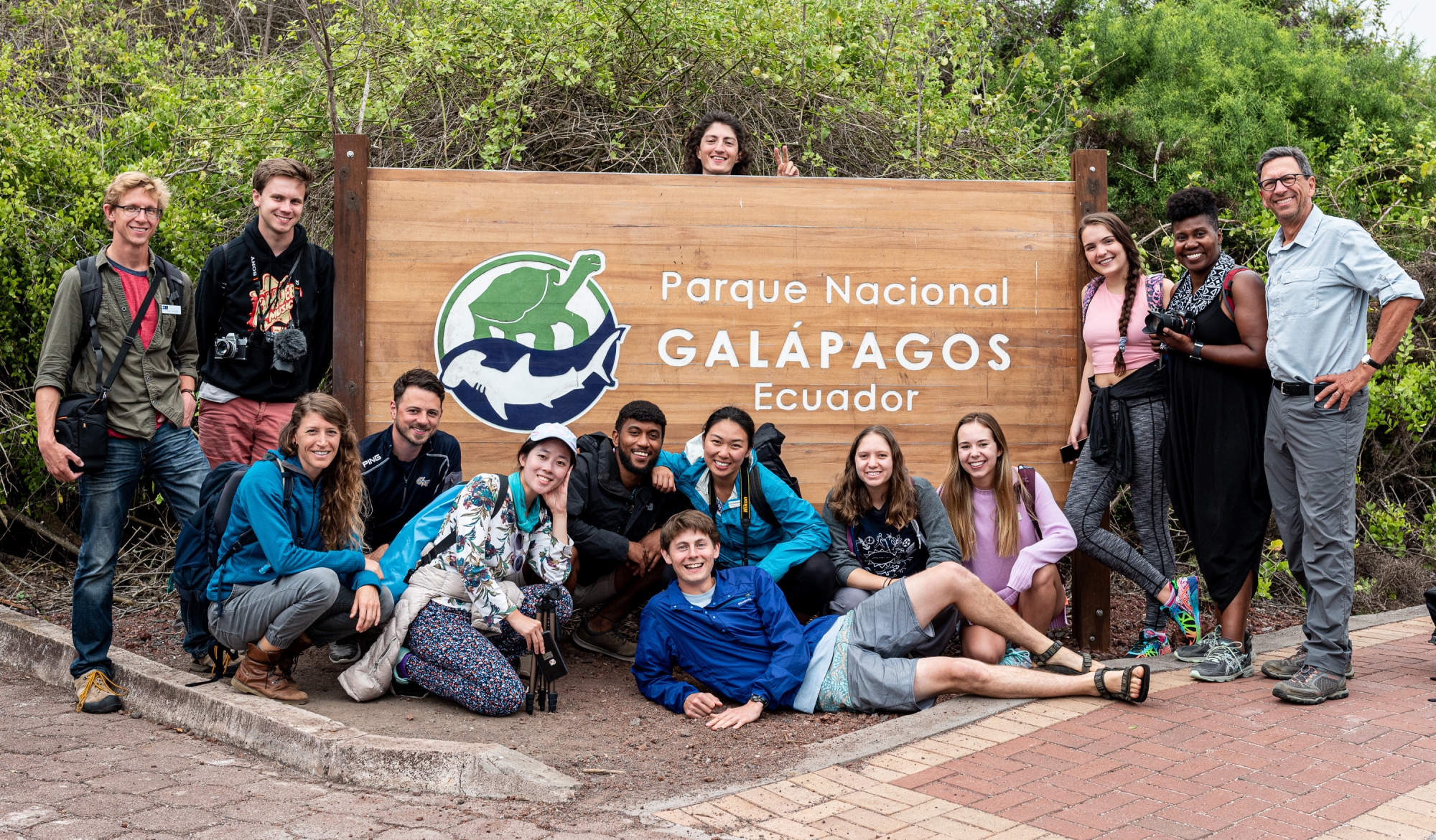 Planet Forward 2019 Storyfest winners at Galapagos, Ecuador. (Photo courtesy of Alexandra Daley-Clark/Lindblad Expeditions)
---
SMPA associate professor Imani Cheers, who also is Planet Forward's director of educational excursions, said the group was shepherded daily by five Lindblad Expedition naturalists who also are part of the Galápagos' Ecuadorian National Park Service.
"[Lindblad Expeditions] hires a crew that is local, from the Galápagos Islands," Dr. Cheers said. "They are committed to sharing their culture and amazing stories." These stories were woven into many Storyfest projects, one student writing about an epidemic invasion of goats on the islands that a guide had shared with them.
Ms. Wang produced a video incorporating animation and footage of interviews with the naturalists, talking about life on the islands, how it differs from Ecuador's mainland and the push for development that threatens wildlife.
"There's a push-pull situation going on," Ms. Wang said. Where there were once 600 people and "no electricity, no cars or air conditioning," there are now 1,600 people, "who want more development."
With more people and development come invasive species. Mr. Becker spoke to park guides and interviewed a senior researcher who has worked for decades at the Charles Darwin Research Center for his article about eradicating invasive species in the Galápagos. 
Mr. Becker said he was fascinated that the researcher is introducing another non-native species, a fungus, to target a blackberry bush brought to the islands by humans that is taking over and destroying native tree species.
More than anything Mr. Becker said, he and the other students "felt incredibly grateful" to Lindblad Expeditions and Planet Forward.