By Eliza Ward
New gifts of world-class artwork and endowment support are expanding the reach and impact of The George Washington University Museum and The Textile Museum. The museum is now home to one of the world's most significant collections of global equestrian textiles, thanks to the donation of 100 historical saddle blankets and other horse trappings, along with an accompanying endowment, from university friends Allen R. Freedman and Judy Brick Freedman, a former trustee of The Textile Museum.
The museum has also received a generous bequest from Joseph W. Fell, another former trustee, to boost The Textile Museum Endowment. Together, these gifts will expand opportunities for students, faculty, scholars and the public to learn about global cultures through their textile traditions.
"The Freedman and Fell families' philanthropy has bolstered The George Washington University Museum and The Textile Museum's global profile and secured its future as a destination for experiencing art and textiles from around the world," said Mark S. Wrighton, president of GW. "We extend our gratitude for their support and commitment to the museum."
A longtime rider and competitor, Judy Freedman assembled her equestrian textiles collection over 30 years in recognition of historical horse costumes as markers of place, identity and migration. "For millennia, horses were central to cultural, social, military and spiritual events, and dressing up the horse was a part of those events," said Judy Freedman. "Any single piece represents cultural history. Altogether, the collection shows the breadth of diversity in the use and admiration for the horse."
Sumru Belger Krody, senior curator of The Textile Museum Collection, noted that the horse has played a key role in world cultures since the dawn of civilization and is revered accordingly.  "Equestrian textiles were embellished with utmost care and attention using high-quality material, design, color and technical skill, all of which are present in this diverse collection of textiles from across time and geography," Krody said.
When considering the ultimate placement for her equestrian textiles, Judy Freedman felt confident that the curators at The George Washington University Museum and The Textile Museum would be capable of interpreting both the geographical and technical diversity of these artworks. The museum's academic setting was also a draw, as Judy Freedman valued "the relation with students and training, so this becomes an area for future study."
​This semester, funding from the Freedmans supported a part-time position for Emma Cieslik, an M.A. student in GW's Museum Studies program, who helped prepare the Brick Freedman Collection for archival storage at the museum's Avenir Foundation Conservation and Collections Resource Center.
"The chance to gain hands-on experience preparing objects to enter the permanent Textile Museum ​Collection provided me with a wealth of technical, hands-on skills that strengthened and reinforced my coursework," said Cieslik. "A​s a student eager for a career in anthropology collections management, the opportunity to gain this experience at a museum affiliated with my university has allowed me to integrate this position into my learning."
---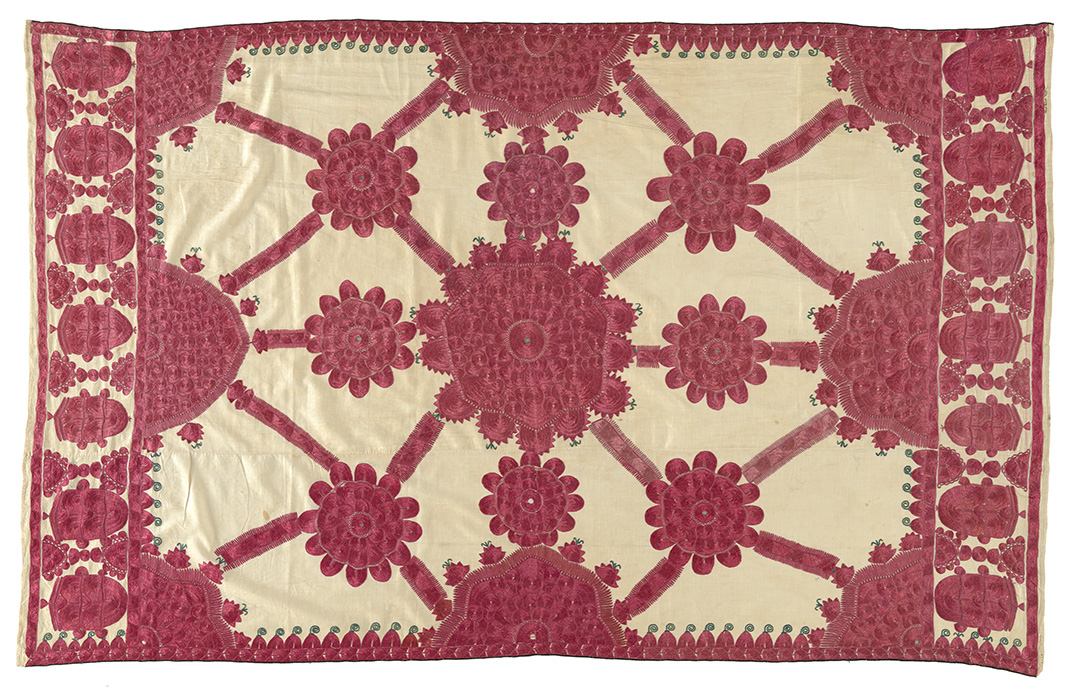 Bridal shawl (abochhini), Thar Parkar, Sindh, Pakistan, late 19th century to early 20th century. Silk, cotton, plain weave, embroidery. The Textile Museum Collection 2006.25.1. Gift of Mr. and Mrs. Joseph Fell.
---
To sustain care and activity with these artworks, the Freedmans created the Brick Freedman Endowment for Equestrian Textiles. Their endowment will support the display, storage, conservation and digitization of these artworks as well as student internships and graduate fellowships to allow emerging scholars to research the Brick Freedman Collection and related artworks. It also supports lectures, symposia, publications, digital initiatives and other educational activities inspired by these works.
To celebrate this influential gift, the museum is organizing a major exhibition on the subject of equestrian textiles for 2026, which is the Year of the Horse, according to the Chinese zodiac. The museum will publish an accompanying catalog that will become a prominent scholarly resource on global equestrian textiles.
"The best decision collectors can make is to determine the most appropriate long-term home for their collection, make a plan with that museum to maximize its educational and cultural potential and commit financial resources to fulfill that potential," said John Wetenhall, director of The George Washington University Museum and The Textile Museum. "The endowment that Judy and Allen Freedman have established, together with their funding for the 2026 exhibition and publication, will ensure that these magnificent works will be studied and displayed for generations to come."
Joseph W. Fell (1936-2021) was also a discerning collector who, together with his wife, Judy Fell, donated 65 textiles to The Textile Museum during his lifetime. The Fells' collection included rugs and textiles from regions as diverse as Iran, Anatolia and Myanmar. This winter, a significant bequest from Fell's estate has added new funding to The Textile Museum Endowment, providing ongoing support for museum staff, collections, exhibitions, scholarship and education.
"Endowment support is the key to sustaining a museum's impact for the long term," said Wetenhall. "We are honored that Joe Fell named The Textile Museum as a major beneficiary of his estate. "His bequest ensures that our museum can continue its work to celebrate cultural diversity while cultivating future generations of textile scholars and museum professionals."
Fell was known by the museum community for his refined taste and extensive knowledge of antique rugs and textiles. From 1970 to 1998, he owned Joseph W. Fell Ltd. Antique Oriental Rugs in Chicago. A former magazine editor, Fell shared his knowledge with the textile community through articles in Hali Magazine and lectures at national and international Oriental rug conferences.
 "The George Washington University Museum and The Textile Museum is one of the treasures of our university, offering unique hands-on experiences for our students and faculty," said Donna Arbide, vice president for Development and Alumni Relations at GW. "The art is also available for public access, not just locally, but worldwide thanks to the museum's strong online engagement programs. We are grateful to the Freedman and Fell families for their philanthropy, for their support, and most of all, entrusting our museum as the permanent home to care for personal art collections they spent decades building."
Beyond collecting, both the Freedmans and the Fells demonstrated their commitment to textile studies through philanthropy and volunteer service. Joseph Fell served on The Textile Museum Advisory Council from 1992 to 1997, and The Textile Museum Board of Trustees from 1999 to 2005. Judy Freedman served on The Textile Museum Advisory Council from 2004 to 2010 and on The Textile Museum Board of Trustees from 2010 to 2015.
---