By John DiConsiglio
In Indiana, a recently deceased man's life was celebrated with a parade through his hometown, as fire trucks led lines of cars decked with balloons and banners. In New Jersey, mourners climbed to the top of a cemetery fence to catch a distant glimpse of a loved one being laid to rest. And in Pennsylvania, a husband guided friends and family on a virtual tour of his late wife's favorite hiking path, a commemorative journey he dubbed "Ruby's memory trail."
As the world approaches 50 million COVID-19 cases, the coronavirus hasn't just altered the way people live. It's also changed the ways we deal with death. With crowded in-person ceremonies often giving way to Zoom funerals and socially distanced memorials, end-of-life rituals have been dramatically transformed.
But how do we balance the needs of the grieving with the risk of spreading a deadly contagion? That's the question faculty, students and alumni from the George Washington University Anthropology Department are asking in a one-year, $100,000 National Science Foundation (NSF)-funded study.
The 12-person research team is examining "the creative acts of resilience through which many have adapted and reimagined mourning" amid COVID restrictions, said Associate Professor of Anthropology Sarah Wagner, one of five principal investigators (PI) on the study. In addition to interviewing more than 100 mourners, faith leaders and funeral directors, the group is viewing video-recorded funerals and virtual memorials while also attending some in-person events. The study, titled "Rituals in the Making," will be completed in May 2021.
"As anthropologists, we are uniquely situated to look at the human dimension of how people respond in times of crisis," said co-PI Roy Richard Grinker, professor of anthropology and international affairs. "We sometimes focus on the science and statistics [of public health emergencies] and lose sight of the everyday behavior that can't be seen through a microscope."
The study is also looking at the emerging role of digital technology in memorial rituals and the ways that communities of color are disproportionately affected by the virus. "We are very aware that general pandemic conditions are impacting everyone. But we're also aware that they are not impacting everyone equally," said Project Manager Tariq Adely, a first-year anthropology PhD student.
Recrafting Rituals
To many mourners, COVID has severely disrupted traditions. Funeral rituals, while cordoned off by quarantines and social distancing, continue in the face of the pandemic, Dr. Wagner emphasized.
The lack of physical expressions—a hug or kiss or, as one mourner told Dr. Wagner, the inability to touch a beloved uncle's face in his casket—has left a void in the way many process mourning. For a 26-year-old graduate student in New York City, COVID upended the Jewish tradition of sitting Shiva for her deceased grandmother. "There was no collaborative feeling, no real sharing of emotions together," she told Dr. Wagner. "Except for tears, I couldn't see anyone's emotions because we were all wearing masks."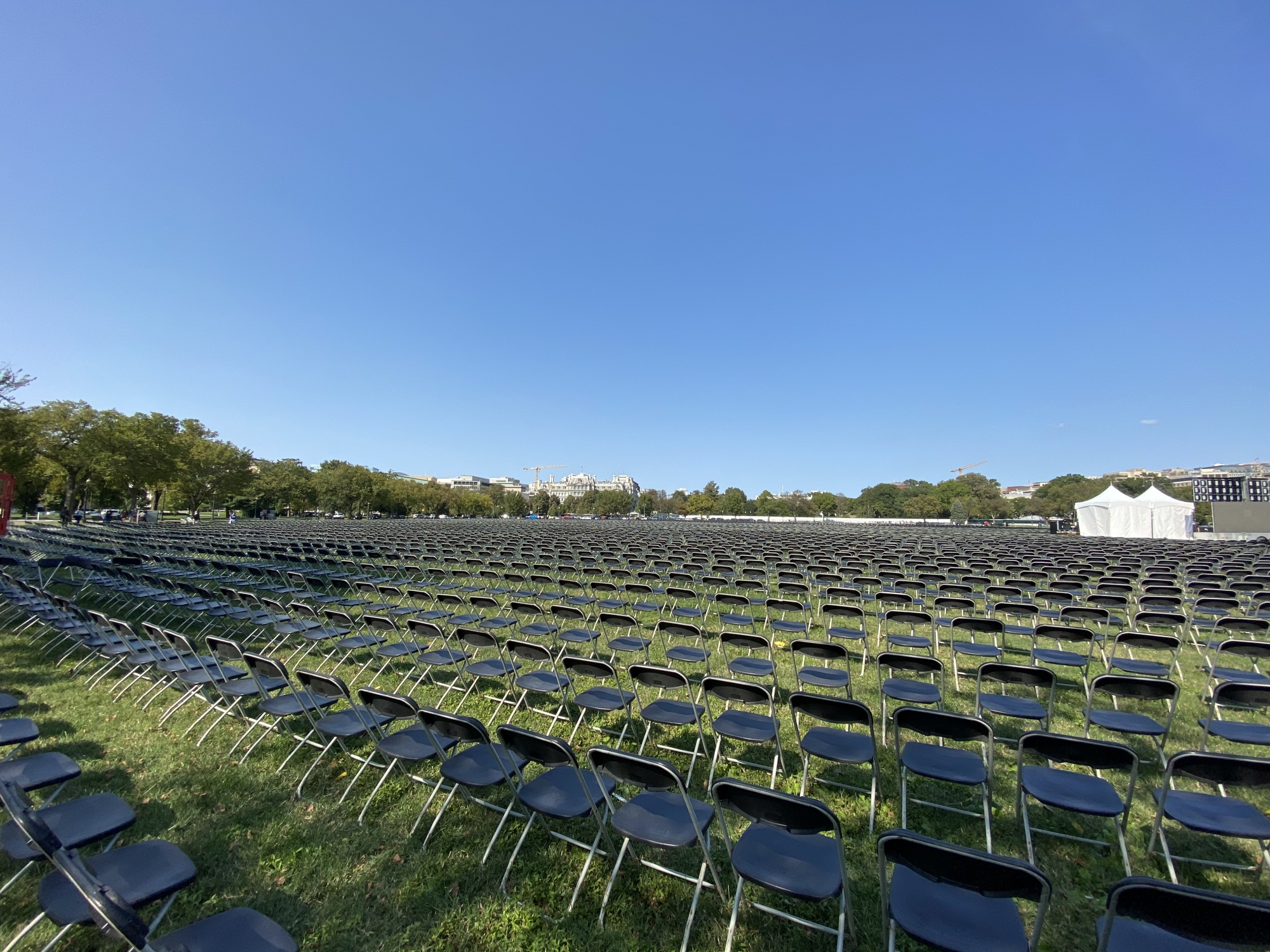 At the National COVID-19 Remembrance ceremony in October, organizers lined 20,000 empty chairs along the Ellipse in Washington, D.C., memorializing the more than 200,000 American lives lost to the pandemic. (Photo: Soumitra Thorat)
In some cases, the study found funerals that flouted COVID recommendations, like a Virginia indoor service that featured more than 100 mourners with few masks, no social distancing and an open buffet. But more often, Dr. Grinker said, health guidelines fostered creative adaptations. In Buffalo, N.Y., for example, researchers spoke to a funeral director who captured a tangible remembrance of a deceased football coach by distributing whistles to socially distanced and masked mourners. Through international colleagues, they learned of a Muslim funeral director in Sydney, Australia, who shipped bottles of fragrances to family members, reminding them of the Islamic ritual of ceremonially washing bodies before burial. And researchers studied an Oklahoma funeral where transparent masks allowed deaf mourners to lipread during the ceremony.
While COVID has changed some funeral rituals, the consequences have often been uneven, researchers said. The increased reliance on technology, for example, excludes some historically marginalized communities. Glitches during services, from internet lags to dropped connections, can turn technological inconveniences into painful obstacles. Still, Dr. Grinker noted, it has also expanded access to distant loved ones and people with disabilities.
"It may not be possible to do rituals in a way that both feels fitting to mourners and also abides by public health guidelines and policies," he said. "But if we accept that we can't do things now the way we used to, we can see a recrafting of our rituals that compels innovation."
In addition to Dr. Grinker and Dr. Wagner, the PIs on the study are Professor of Anthropology and International Affairs Joel Kuipers; PhD candidate Jorge Benavides-Rawson; and Devin Proctor, PhD '19, assistant professor of anthropology at Elon University.
The study also hired student researchers, many of whose research activities were disrupted because of the pandemic. They include anthropology graduate students Kai Blevins, Ruthie Flynn, Samuel-Mayes Mathews, Soumitra Thorat and Briana Wojcik, and Ariel Santikarma, an undergraduate student in anthropology.
The Rituals in the Making website is still soliciting volunteer participants to discuss their experiences with mourning during the pandemic, and to complete an online survey. The NSF title for the study is "Funerary Practices, Pandemic Confinement, and the Implications for COVID-19 Transmission (BCS-2029839)."