By Kristen Mitchell
The United States needs to foster radical changes in technology and increase partnerships with industry and university leaders to reach its goal of putting an astronaut on Mars in the 2030s, said Dava Newman, former deputy administrator of NASA.
"Excellence demands that we have diversity and inclusion," she said. "That's the only way I know how to get to Mars, through excellence."
Dr. Newman spoke about NASA's mission at George Washington University Monday as part of the annual School of Engineering and Applied Science Frank Howard Distinguished Lecture.  She was appointed NASA's deputy administrator by President Barack Obama and confirmed in April 2015. She resigned at the end of Mr. Obama's administration.
During her talk "Human Exploration from Inner to Outer Space," Dr. Newman said she has spent her whole career in science, technology, engineering and math (STEM) fields. The American education system, however, has discouraged students from pursuing STEM, she said.
"I was taught it was that you had to be the best at math, the best at physics, the best at chemistry. Well, how intimidating is that?" she asked. "We were filtering out all these great minds."
Space exploration requires talents from artists who can illustrate the places humanity has never traveled, and NASA needs historians who can recount where we have been, Dr. Newman said.
"We're all in this together because, surely, if we include everyone and we're inclusive, then we'll have the effect on STEM education that we want to," she said. "But not until we filter everyone in instead of telling anyone it's not for them."
David Dolling, SEAS dean, opened the event and said GW is leading the way for women in engineering and computer science. SEAS is among the top five schools in the United States for graduating women with bachelor's degrees in engineering and computer science and currently awards 41 percent of undergraduate degrees in those fields to women, twice the national average.
He said Dr. Newman was an example of the significant contributions women make to the engineering field.
"This is a glimpse, I hope, into the future of engineering, a future where a much larger fraction of our engineering workforce and its leadership ranks will be populated by women," he said.
Serena Auñón-Chancellor, B.S. '97 and a NASA astronaut who will embark on a space mission in November 2018, introduced Dr. Newman to the crowd at the Science and Engineering Hall. She applauded Dr. Newman's ability to get non-scientists excited about space exploration.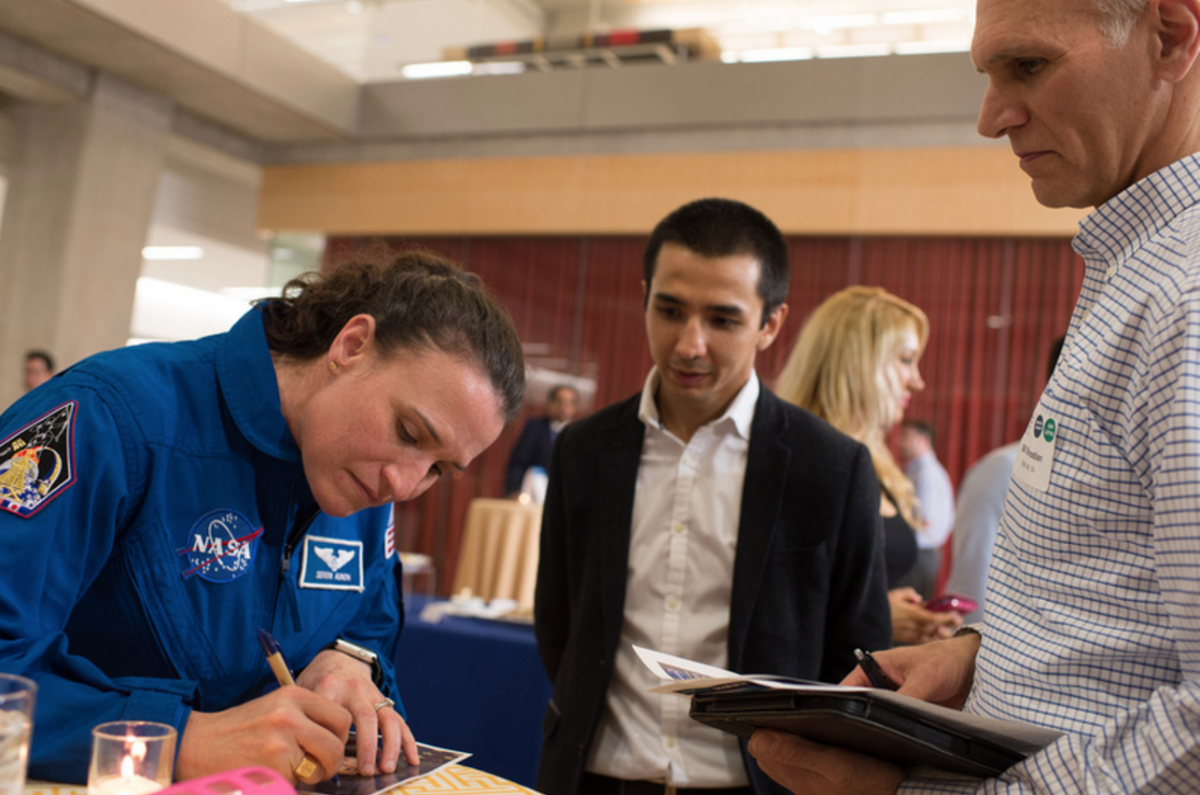 Serena Auñón-Chancellor, B.S. '97, is a NASA astronaut who will go on a space mission in November 2018. She autographed photos following the 2017 Frank Howard Distinguished Lecture. (Photo: Eleanor Kaufman Khan)
---
Since the 1960s, humans have pushed the boundaries of technology, attempting to learn more about Mars and have often failed, Dr. Newman said. In the past 15 years, however, humanity has made significant knowledge leaps.
Scientists have discovered signs of seasonal water on Mars, which points to the possibility of life. Without an atmosphere, however, Mars is a hostile environment. Scientists believe Mars' atmosphere was destroyed 3.5 billion years ago by solar winds and radiation.
Any life found on Mars is likely to be long gone, Dr. Newman said, but finding fossils would rewrite the world's history and science books. When it comes to space exploration, the geopolitical boundaries that typically define our world do not matter.
"When anyone succeeds in a Mars mission, then we all succeed," she said. "This is the world working together."
NASA is funding industry leaders like SpaceX to improve technology, which fosters a competitive business environment where innovation thrives, Dr. Newman said. NASA needs to figure out how to land a craft carrying four to six astronauts on Mars and take off at the end of the mission.
NASA also needs to develop a lighter suit with better mobility that can be used on more than 1,000 spacewalks and find ways for astronauts to build a habitat, supplies, infrastructure they don't need to bring from Earth, Dr. Newman said.
If life is ever found in deep space, there are ethical questions that will be raised over the risks of biocontamination.
"We want to search all over, we want to find life," Dr. Newman said. "But we better be prepared when we do find life. Or it finds us."