As we countdown to the opening of the George Washington University Museum and The Textile Museum March 21, GW Today is giving readers a sneak peek at the newest arts hub on campus. 
When the new
George Washington University Museum and The Textile Museum
opens its doors this weekend, it will mark the end of a two-year construction process that yielded a 46,000-square-foot museum complex on the corner of 21st and G streets NW, a newly renovated historic Woodhull House and a textile conservation facility on the Virginia Science and Technology Campus. It is also the culmination of a years-long integration that has united The Textile Museum's world-renowned collection of more than 19,000 textiles dating back to 3000 BC with Albert H. Small's assemblage of a thousand maps, prints and other documents that chronicle the history of 18th- and 19th-century Washington. 
Staff members have been working toward the museum's opening for months and are now in the final stretch of installing the first three exhibitions. These include "Unraveling Identity: Our Textiles, Our Stories," the largest exhibition in The Textile Museum's 90-year history; "Seat
 of Empire: Planning Washington, 1790-1801," which uses maps from the university's Albert H. Small Washingtoniana Collection to depict how early urban designs shaped the nation's capital; and "The Civil War and the Making of Modern Washington," a look at how D.C. transformed throughout the 1800s to become what it is today.
Below are some snapshots of what it takes to open a museum on campus.
Students in the museum studies program helped design 3D models that curators use to install exhibitions.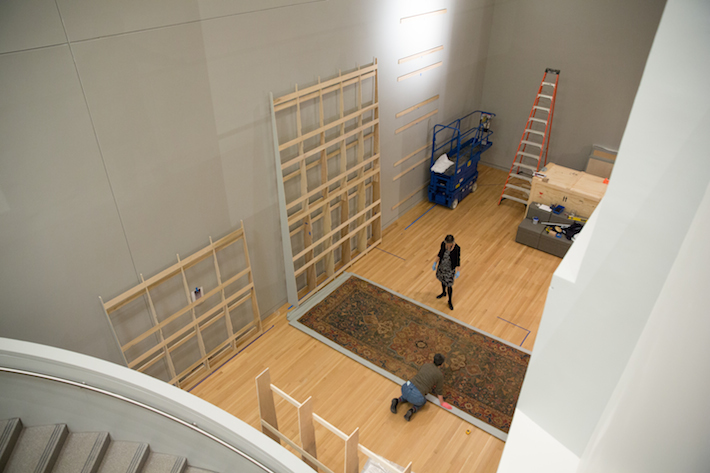 Chief conservator Esther Méthé and Senior Curator Sumru Belger Krody inspect the carpet before it is mounted on the wall.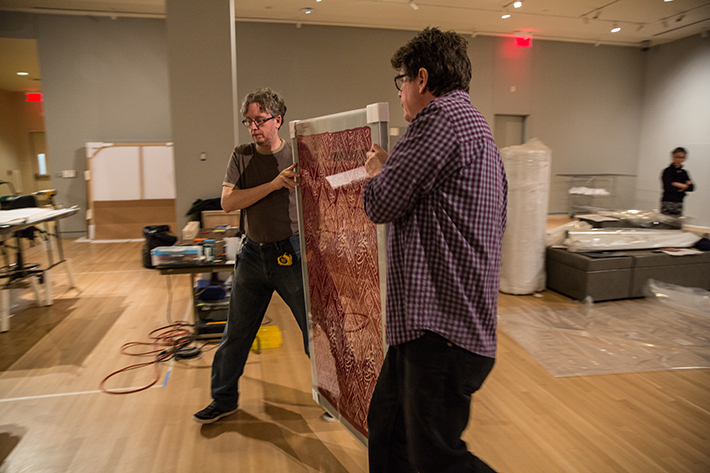 Exhibition production staff members Doug Anderson and Scott Brouard install objects for "Unraveling Identity: Our Textiles, Our Stories." It features more than 100 textiles. Fabric for Ravza-i Mutahhara, Ottoman Empire, Istanbul, Turkey, 18th century. The Textile Museum 1.84. Gift of Mrs. Hoffman Philip.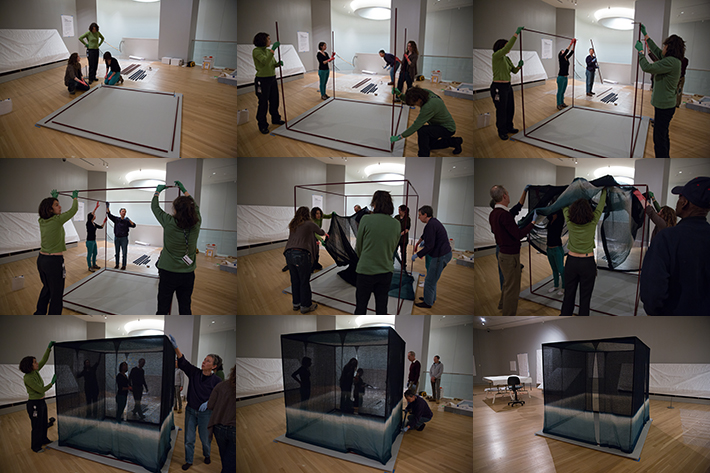 The exhibition will include a linen tea ceremony room made by artist Shihoko Fukumoto. The piece represents customary tea rooms in Japan, where friends gather to take a serene break from daily life. Shihoko Fukumoto, The Tea Ceremony Room, Japan, 1999. Museum of Arts and Design 2001.35. Museum purchase with funds provided by David and Sara Lieberman, 2001.