Four incoming George Washington University doctoral students have been selected as the inaugural cohort of Michael and Lori Milken Public Health Scholars.
The scholarship program is funded by a generous $10 million gift from the Milken Family Foundation, which was awarded to the Milken Institute School of Public Health in March.
As the Milken Institute SPH continues to increase its global presence and address the world's most challenging public health issues, the new funding will allow the school to recruit and retain top candidates in the field, said Lynn R. Goldman, the Michael and Lori Milken Dean of Public Health.  
"The scholarship program allows us to offer outstanding students from diverse backgrounds the financial support to work toward an advanced degree in public health," said Dr. Goldman. "For the first time in our school's history, we are able to recruit the most talented scholars in the world into our graduate programs. These students will be the public health leaders of tomorrow."
Learn more about the Milken Public Health Scholars: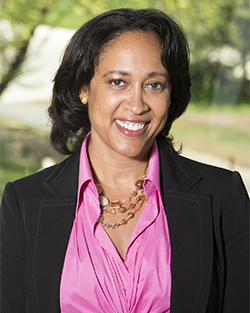 Wendy Ellis
Pursuing: Doctor of Public Health, Health Policy
Academic Background:
B.S. Chemistry/Biology, Seattle University
M.P.H., University of Washington
Currently: Manager of Child Health Policy in Nemours' Office of Child Health Policy and Advocacy
Wendy Ellis' path to public health had an unorthodox beginning. At age 19, she interned at a radio station, which led her to a 15-year career in broadcast journalism. It was while she was covering a child abuse case in Seattle for a television news station that her professional journey took a turn in a different direction. She was reporting about a young girl who had been failed by "every point in the system" when Ms. Ellis discovered Child Haven—an organization that provides therapeutic daycare for children who have been abused. Ms. Ellis began volunteering for the organization and eventually became president of its leadership board. 
"I just decided that this was where my heart was, that writing two-minute news stories was not going to have much of an impact," Ms. Ellis said. "In order to have an impact on our communities, I knew I needed to step away from what I was doing, roll up my sleeves and get involved."
Ms. Ellis returned to school in 2009 to pursue a Master of Public Health and then moved to Washington, D.C. She is now the manager of child health policy in the Office of Child Health Policy and Advocacy at Nemours, a children's health system. In this role, she focuses on leading policy research and development efforts in healthy childhood development and prevention. Ms. Ellis said she considers public health a social justice issue.
"We all have the right to life, liberty and the pursuit of happiness. But if you can't be healthy, how can you have those rights? That is what has very much informed my work, leveraging my communications experience with rigorous research," she said. "The power of the evidence coupled with the power of the message put me square into health policy."
Her desire to obtain a leadership position in public health led her to apply to the Doctor of Public Health program in health policy at the Milken Institute SPH. She said the program was unique, because it would allow her to work full time while obtaining her degree. When Dr. Goldman called Ms. Ellis to tell her she was the recipient of a Milken Public Health scholarship, "it made the choice very clear that GW was the right place for me," Ms. Ellis said.
"For health policy, you couldn't be in a better place than Washington, D.C., to study it from an academic perspective but also to see it in action on a daily basis. You've got proximity to experts at all levels, and you've got this stellar faculty at GW," Ms. Ellis said. "So to have all those things come together, and then to hear, 'Oh by the way, you're funded'—it is overwhelming. I'm still pinching myself."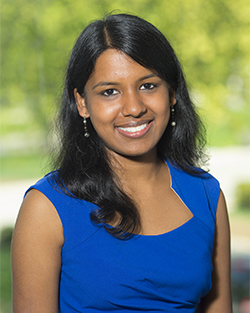 Vinu Ilakkuvan
Pursuing: Doctor of Public Health, Health Behavior
Academic Background:
B.S. Biomedical Engineering/Economics, University of Virginia
M.S., Harvard School of Public Health
Currently: Research Associate at American Legacy Foundation
After graduating from the University of Virginia with dual degrees in biomedical engineering and economics, Ms. Ilakkuvan geared her focus toward public health.
"What truly defines an engineer is a systems-level approach to viewing the world and solving its problems,"  Ms. Ilakkuvan said. "This is the very essence of public health, and the key thread linking my undergraduate engineering background to my graduate work and career in public health."
Ms. Ilakkuvan's love for communications, stemming from many years of involvement in dance and journalism, led her to seek out a public health career focused on health communications and marketing.
She was accepted into the Harvard School of Public Health, where she earned a master's degree and became interested in the idea of changing systems in order to prevent disease and improve health on a large scale. She then served as program coordinator for bullying and youth violence prevention at the Virginia Department of Health, and now works at Legacy, a nonprofit organization in D.C. devoted to preventing smoking and helping people quit. At Legacy, Ms. Ilakkuvan works on tobacco-related research and evaluation of the youth tobacco prevention campaign, truth.
Ms. Ilakkuvan's ultimate career goal is to manage large-scale public health programs that integrate across different health outcomes. For this type of position, she knew she would need the grounding of a doctoral degree. Ms. Ilakkuvan was drawn to the Doctor of Public Health degree in health behavior at GW because of the Department of Prevention and Community Health's emphasis on communication and marketing, as well as the school's professional focus, flexible structure and location. One research area Ms. Ilakkuvan is interested in exploring at GW is the application of communication technologies to promote health behavior change and inform and evaluate public health programs.
Ms. Ilakkuvan said the donation from the Milken Family Foundation is not only personally beneficial, but it also shines a light on the significance of public health efforts.
"Often in public health we work behind the scenes—the idea of our job is to prevent things from happening. If we're doing it well, then the payoff is hard to see," Ms. Ilakkuvan said. "So, public health does not always get the kinds of resources that it needs. It was exciting to hear about the donation and then really special to be part of it personally."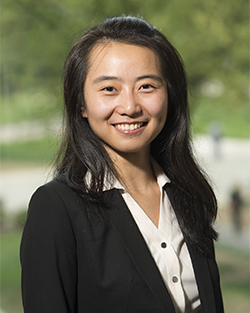 Qiushi Huang
Pursuing: Ph.D. Epidemiology
Academic Background:
B.S. Biology, Peking University of China
M.S. Food Science, Cornell University
M.P.H., Milken Institute School of Public Health at GW
Currently: M.P.H. Student at GW, Intern at Integrity Management Services
Originally from Beijing, Qiushi Huang began her studies at the prestigious Peking University in China. She came to the United States to earn her master's degree in food science at Cornell University.
During her final semester at Cornell, Ms. Huang took an epidemiology course and realized that this where her true passion was. Prior to moving to Washington, D.C., Ms. Huang worked as a research and teaching assistant at the Department of Food Science and Technology at Cornell and interned at the Chinese Center for Disease Control and Prevention. She is a current M.P.H. student in the Department of Epidemiology and Biostatistics at the Milken Institute SPH and will begin her Ph.D. program this August.
Ms. Huang said she "loves the faculty" at GW and wanted to stay at the university because she is familiar with the available research opportunities and academic community. Ms. Huang said the breadth of expertise and professional experience that her professors at GW bring to the classroom has continually impressed her.
"You get to see how the things you are learning can be applied to real careers," Ms. Huang said. "I love GW, and I love D.C., along with all the opportunities this city and this university can offer me."
She is particularly interested in lifestyle interventions in cancer prevention and treatment. In the future, she hopes to return to China to apply what she has learned to improve the health of communities in her home country.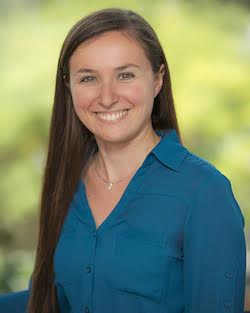 Jennifer Schindler-Ruwisch
Pursuing: Doctor of Public Health, Health Behavior
Academic Background:
B.S. Public Health/Psychology, College of William and Mary,
M.P.H./C.P.H., Sociomedical Sciences, Columbia University Mailman School of Public Health
Currently: Contractor with BLH Technologies, Inc., for the National Cancer Institute.
Ms. Schindler-Ruwisch has made it her mission to improve others' health through education.
While an M.P.H. student at Columbia University, she worked as a research assistant on food policy and obesity prevention efforts at the New York University School of Medicine and also provided technical assistance in wellness programming to schools for the NYC Department of Health. In her own neighborhood of Washington Heights, she had the opportunity to design and deliver a nutrition curriculum for youth that is still being implemented today.
She currently works with BLH Technologies, Inc. as a contractor for the National Cancer Institute. In this role, she helps to develop tobacco control publications and provides research support on tobacco prevention related projects. During the evenings, she is back in the classroom teaching a GED class to young parents and pregnant young adults.
"I have really seen the inextricable connection between education and health," she said. "I really enjoy working with this motivated group of young people as they pursue their degree."
Ms. Schindler-Ruwisch said she chose the Milken Institute SPH, because she wanted an environment that would foster her growth as both a student and as a public health professional.
"GW seemed like a great fit for me and for my research interests," she said. "Prevention is the key to a healthier future, and I am excited to have the opportunity to work on developing public health efforts that will hopefully decrease disease mortality in the foreseeable future."