By Lauren Ingeno 
Photos by William Atkins 
A ceremony Wednesday will mark the official opening of the George Washington University's new Science and Engineering Hall. The 500,000-square-foot space, which spans an entire city block, is the largest academic building of its kind in the nation's capital.
The building currently houses 10 departments and about 140 faculty members from the Columbian College of Arts and Sciences and the School of Engineering and Applied Science. Researchers from the School of Medicine and Health Sciences' Cancer Center and the Milken Institute School of Public Health are scheduled to follow in summer 2016.
Science and Engineering Hall brings together research and teaching spaces previously spread across a dozen buildings and nearly doubles the space on the Foggy Bottom Campus available to science and engineering programs. Its four specialized "core facilities," or cutting-edge labs shared by researchers across the university, include a factory-like "clean room" for building nano-scale devices, a microscopy suite, a three-story tall high bay for testing enormous structures and a greenhouse coming in 2016.
Since construction began in 2011, university officials envisioned Science and Engineering Hall as a collaborative place where researchers design new technologies and make discoveries that could have impact far beyond the building's walls. For students, modern teaching laboratories provide hands-on learning opportunities and attract them into high-demand fields, like biomedical engineering and computer science.
Already, as faculty and students settle into their new home, that vision is taking shape. Look inside this state-of-the-art building: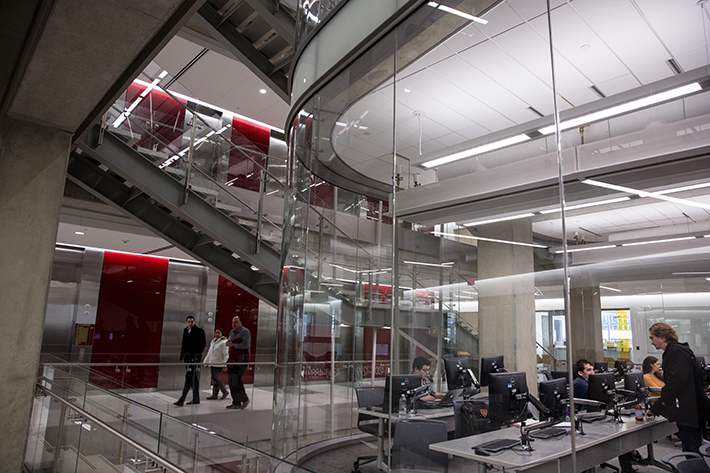 One of the most striking details of Science and Engineering Hall is its transparency. Most labs and workspaces are surrounded by glass, putting research and learning literally on display. Pictured here is one of six 1,000-square-foot teaching labs, stacked from the third to eight floors at the center of the building. The so-called "teaching tower" includes spaces for software engineering, circuitry and robotics.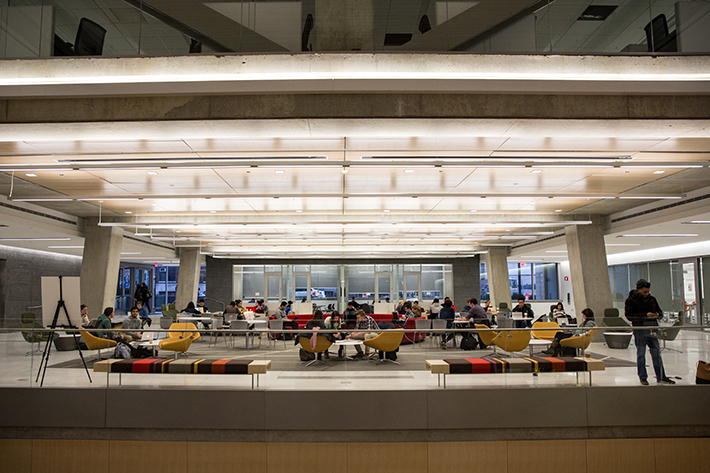 Expansive open lounge areas on the ground floor and first lower level allow students to study, socialize and share ideas. University officials have said that the building's open layout, accessibility and lack of physical barriers are intended to break down silos between academic departments and promote cross-disciplinary collaboration.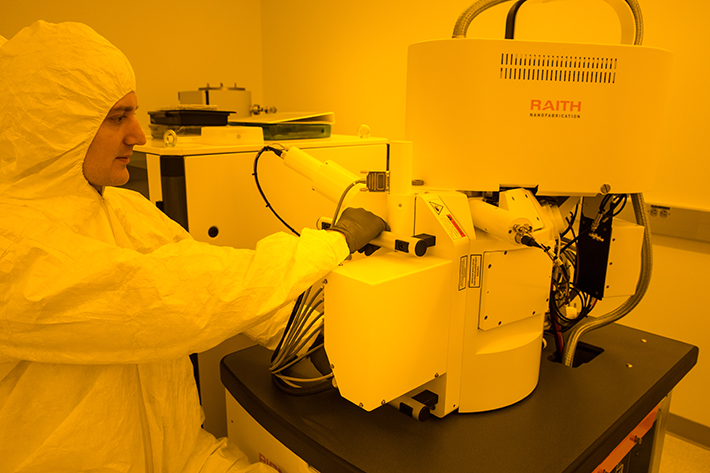 The building's "lower level two," located two floors below ground, houses an ultraclean nanofabrication lab and an imaging suite equipped with microscopes for viewing objects at resolutions better than one billionth of a meter. Down the hall, a scaled-down "teaching clean room," (pictured here) will be used to show students the ins and outs of building devices at the nanometer level, a space about 100,000 times smaller than the width of a human hair.
The nanofabrication lab will enable researchers to design, create and test nano-scale devices, such as gadgets that can more quickly detect disease or small volumes of toxins in the environment. In this clean room, air is scrubbed of containments like hair and dust, which can easily destroy experiments, and researchers must put on head-to-toe "bunny suits" before entering.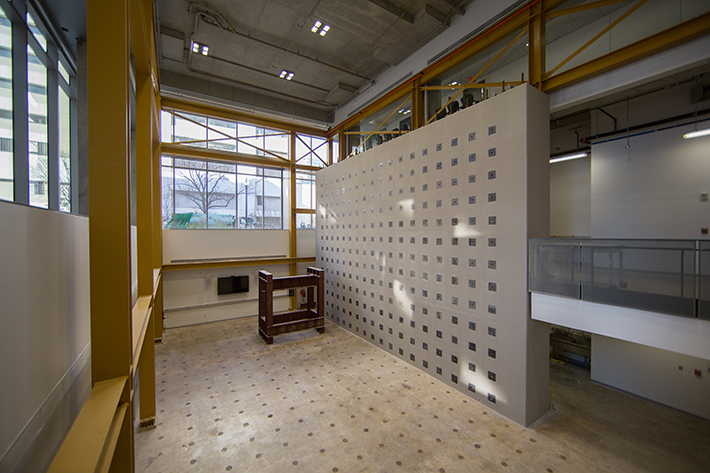 The high bay—a three-story tall lab with a glass wall facing 23rd Street to invite onlookers—is the tallest space in Science and Engineering Hall. It features a reinforced "strong wall" that is 28-feet high, 50-feet wide and four-feet thick, as well as a "strong floor." It will allow engineers to test large-scale structures like bridge beams that may lead to safer, more earthquake-resistant buildings and bridges. It will also give civil engineering students the opportunity, for the first time, to witness experiments firsthand instead of through videos. The room includes a loading dock, a 20-ton crane and a student machine shop.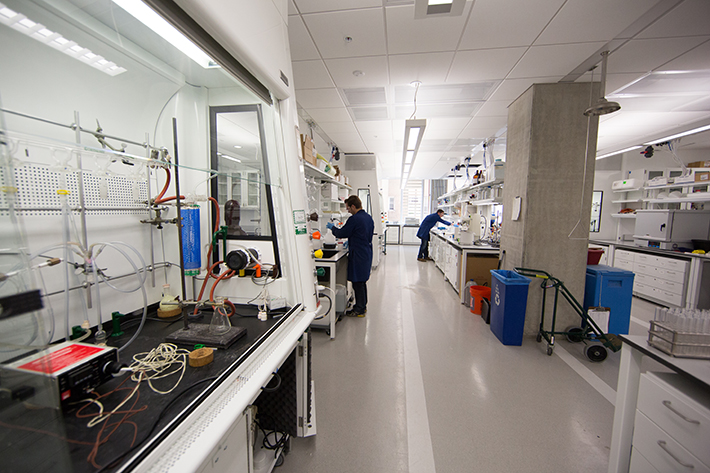 Research labs throughout the building give faculty new equipment and additional space for experimentation. Directly outside of each lab, plenty of desks and lockers provide graduate students with their own workstations. Chemistry Professor Cynthia Dowd shares a lab (pictured here) with Adelina Voutchkova-Kostal. Dr. Dowd is developing new molecules to fight disease while Dr. Voutchkova-Kostal focuses on designing safer chemicals.