By Ann McMaster
The late Larry D. Harris, J.D. '75, with his impressive professional and personal achievements, embodied the impact that education can have on the trajectory of life.
Born in the Jim Crow-era South, Harris was his family's first college graduate, then its first lawyer. His degrees opened the door to a highly successful, four-decade career. A highly accomplished attorney, Harris was also a personable and easygoing extrovert; his preternatural gift for personal connection with people from all paths left an indelible mark on those he encountered.
After finishing GW Law, Harris entered the legal profession as a commissioned officer in the Army Judge Advocate General's Corps (JAG) to fulfill his ROTC obligation, he rose through the ranks to Big Law as an expert in government construction law. Scholarships (and loans) helped make his dreams a reality.
"Larry was a proud [George Washington University] graduate who had a passion for learning and who needed financial help to attend law school," said Maryanne Lavan, Harris' wife. "Giving to education, and specifically financial aid, has always been a priority for our family. The kids and I thought a scholarship endowment would be an excellent remembrance, and something concrete that will last forever."
He understood the power of education, especially for people of color, noted their son, Zachary Harris. "Dad saw the opportunities his education provided: where he was able to go in life, and where his children then could go. He was so proud of my and my sister's educational accomplishments. One of his biggest gifts to us was leaving school debt-free, and we wanted to pay it forward," said Zachary Harris, a recent journalism school graduate with future plans for law school.
Lavan said that their "children were able to make their choices for higher education without having financial resources impact their decisions, and not everyone has that luxury.  We want a deserving student that really wants to attend GW Law to be able to go."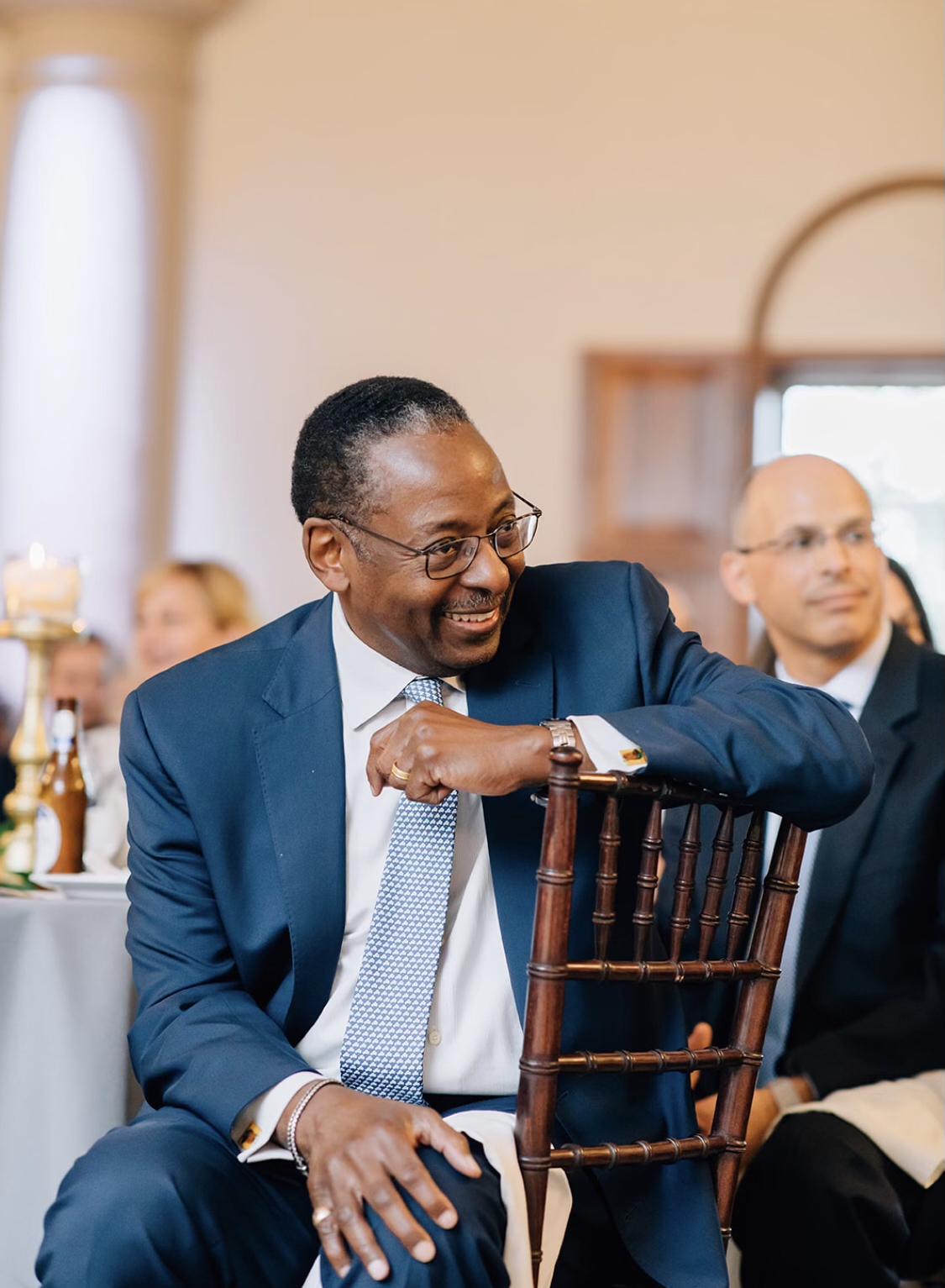 Larry D. Harris.
The Lavan/Harris family's generous gift establishes an endowment that provides for a yearly full tuition scholarship at GW Law in perpetuity. Recipient preferences reflect Harris' passions, in priority order to encompass the most possible: a member of the Black Law Student Association (BLSA); a student planning to practice in the field of government procurement/government contracts; and/or prior or current military service.
BLSA involvement is the top criterion because of Harris' role in the new GW chapter as a student in the early 1970s. Although documentation may be lost in history, his best friend and law school roommate Jay Brozost, J.D. '75, recalls Harris was deeply involved in the nascent organization, working tirelessly with fellow student Jeanette A. Michael to establish and energize the group. The late Michael was also a co-founder and first president of GW's Black Law Student Association and later a GW trustee.
Brozost and Harris met in their residence hall the first year, bonding over a shared love of sports. Second year, they shared a rental in Anacostia. "Larry joked that I would 'bring color' to the neighborhood," said Brozost, who is white.
"Larry could integrate anyone into anything," said Brozost, recalling fond memories of the neighbors attending the two's frequent parties. "He could connect with anyone. But he was conscious that there were very few Black students at GW Law and became involved in activities to support them."
When his daughter Mikayla Harris decided to pursue law, Harris encouraged her to embrace BLSA along with her studies. Mikayla Harris, now a second-year student at Yale Law School, is currently vice president of Yale's chapter.
"Dad knew that being a Black lawyer, or a minority in an elite group, is hard. And BLSA provides a community of people that understand," said Mikayla Harris. "Law school is one of the whitest spaces I've ever been in, and I say that as someone who grew up in Bethesda." (The Maryland municipality has a Black population of 4.2 percent.)
An inaugural Larry D. Harris Scholar, Joshua Drumming, concurs on the value.
"BLSA is a safe space where I can be completely and unapologetically myself," said Drumming, who added that he is grateful for the financial support. "My first friends and acquaintances came from BLSA, with the exception of students in my Inn (GW Law's hallmark "Inns of Court," which are assigned cohorts that help first year students develop their professional identity). Everything from general conversations with fellow BLSA members to the organization's community service initiatives has enlivened and enriched my experience at GW."
As a student, Harris noted the need for increased financial aid when he chaired a recruitment committee for minority students. An October 1974 Hatchet article quotes Harris on the "only limitation to the number [of minority] applications is financial aid," adding "no one who is unqualified is being admitted." He also served as a resident adviser his final year.
---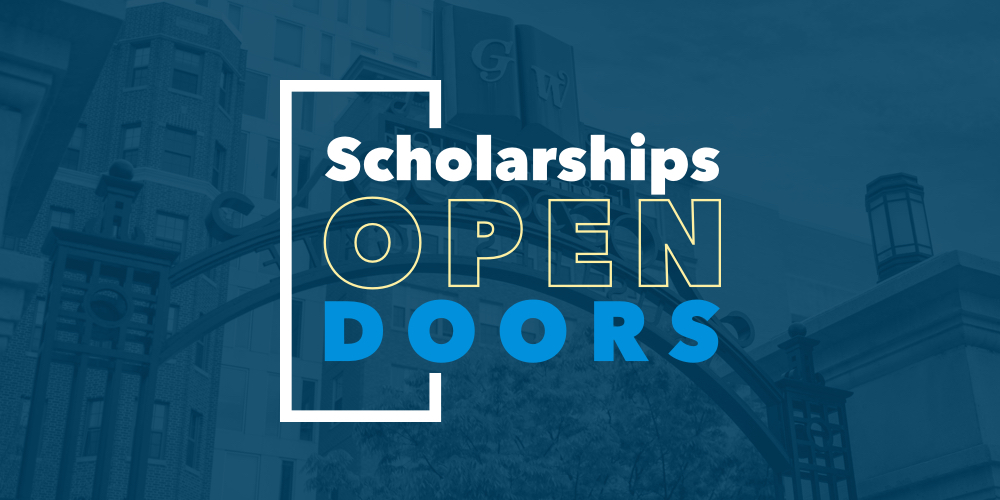 ---
GW Law Dean Dayna Bowen Matthew said, "nearly 50 years since Harris graduated from GW Law, Black lawyers are still grossly underrepresented in the legal profession—less than 5 percent of U.S. attorneys are Black, a figure that has not changed in a decade. This generous donation will significantly contribute to equalizing opportunity for capable attorneys to train at GW Law."
"We are so thankful to the Lavan/Harris family for this incredible gift, which we hope will increase diversity in representation," Matthew said.
Donna Arbide, vice president for Development and Alumni Relations at GW, said it is "heartwarming to see successful alumni and their families support their alma mater."
"We know not every future leader has the same opportunity in life, which is why philanthropic support for scholarships is so important. Larry Harris personifies the concept that at GW, we change the world one life at a time," Arbide said. "Now, this endowment will support GW Law students for generations to come."
His family and friends describe him as the life of every party, the first one on the dance floor, music lover, sports fanatic, beloved friend, family man, mentor and lawyer extraordinaire. Brozost, who considers himself Harris' best friend, overheard multiple other attendees of Harris' memorial service make the same claim.
"He was always looking for ways to help other people-hiring and mentoring Black people, for example," said Zachary Harris. "Establishing the scholarship encapsulates some of the things that were most important to him."
---
Anyone wishing to honor the life and legacy of Larry D. Harris may join the family in opening doors to deserving students with a gift to the Larry D. Harris Memorial Law Scholarship Fund. Alternatively, please consider supporting the Law School Dean's Fund, which enables us to enhance student and faculty support, bolster student placement services, expand student networking opportunities and bolster other law school programs.