By Kristen Mitchell
When Kellyanne Conway started to say polls leading up to the 2016 presidential election underestimated the swelling support for Republican nominee Donald Trump, she said she was "universally mocked."
But no one was laughing by the end of election night when it was clear Mr. Trump would win the electoral college. Speaking at the Young America's Foundation National Conservative Student Conference at the George Washington University's Marvin Center Tuesday, Ms. Conway, JD '92, said she was able to see what others missed.
"It was my data background that helped me to realize that there were going to be people that either never voted or had never voted Republican who were going to vote for Donald Trump," Ms. Conway said in a Q & A session with conservative commentator Kate Obenshain. "They were going to do that based on him coloring outside the lines and getting out of the partisan comfort zone."
Mr. Trump reached out to the forgotten men and women in the United States and found a way to connect with them, she said,  campaigning with a strong message on immigration, trade and economic growth that resonated with people ignored by special interests.
"He would not have gotten elected unless he had a program, unless he had run on issues," she said. "He's the best communicator ever, but it's the issues that he ran on, it was his message."
A lack of message is what doomed Mr. Trump's democratic opponent Hillary Clinton, Ms. Conway said.
"If you can tell me what Hillary Clinton's message was I'd love to know because I'm still a year later wondering," Ms. Conway said. "Every day I'd wake up and I'd say, 'Please God don't let this be the day that she gets an optimistic, positive, cohesive message. Please.' Days would come and the days would go and there would be no message other than he's bad, and I'm not him, which isn't a message."
Ms. Conway was the first woman campaign manager to run a successful presidential campaign. She now serves in the administration as a counselor to the president. She said it's humbling to have a role in the administration and that she works to remain focused on the job at hand.
"With gravity and responsibility should come a great deal of humility," she said. "I do believe humility is so incredibly important when you are serving the country, and it's incredibly important when you are representing the president and the vice president and the administration."
The president isn't motivated by traditional political influences like power, money, greed and prestige, Ms. Conway said.
"I appreciate the fact that our president and our vice president are sacrificing so much to do these jobs on behalf of a country that we all love, and I know that there are critics and naysayers and indeed haters out there," she said. "I usually just say a prayer for them."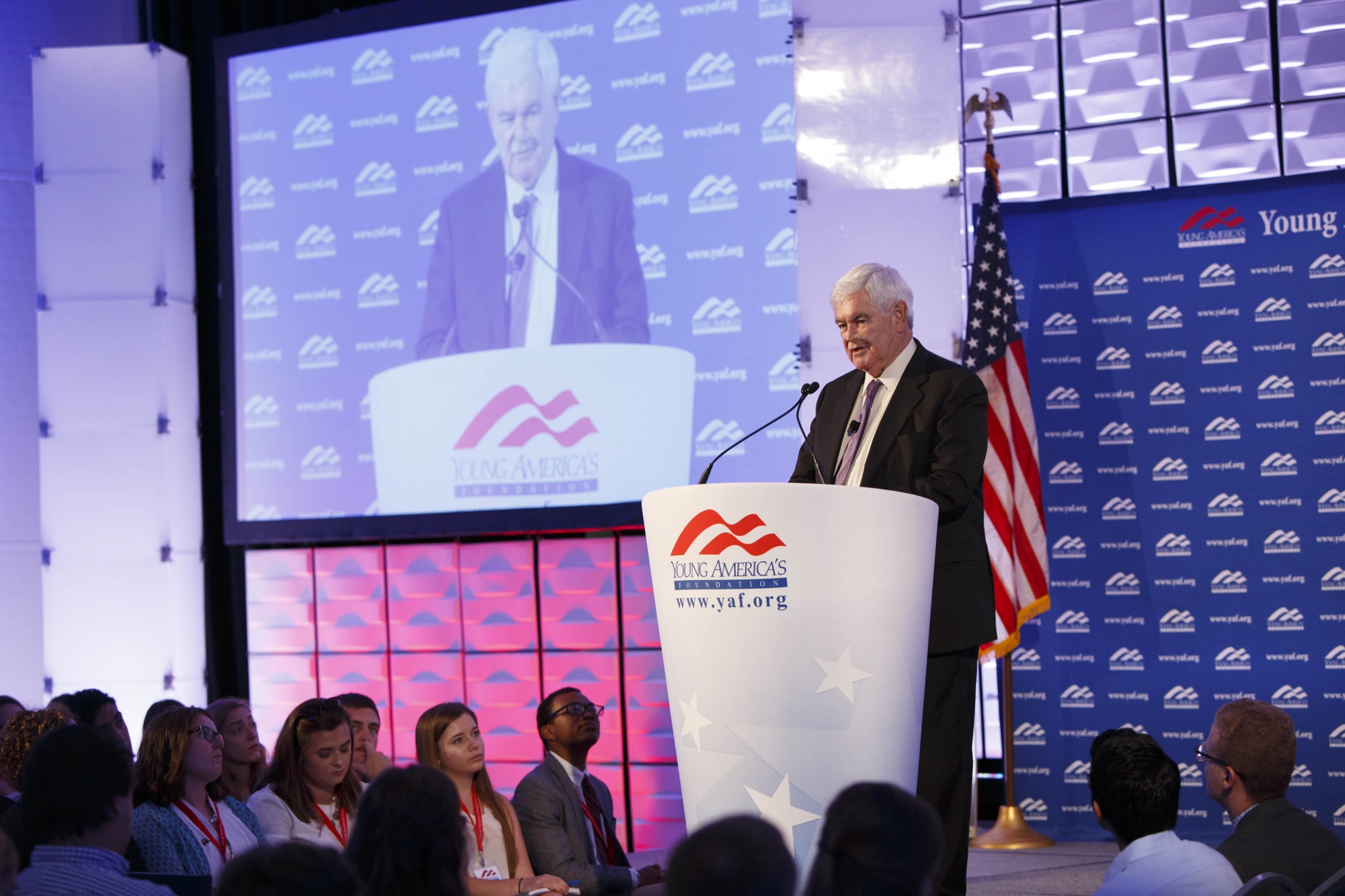 Former Speaker of the House Newt Gingrich tells conservative students the United States government was designed by the Founding Fathers to have 'huge amounts of friction.' He spoke at GW Tuesday as part of the National Conservative Student Conference. (Logan Werlinger/ GW Today)
---
The National Conservative Student Conference runs through Friday and features speakers including Sen. Rand Paul (R-Ky.), Vice President Mike Pence, British politician and Brexit leader Nigel Farage and former Speaker of the House Newt Gingrich.
Mr. Gingrich, who served as House speaker from 1995 to 1999 under President Bill Clinton, talked about his recently published book "Understanding Trump" and joked about the title.
"You'll notice, by the way, it's not called 'Predicting Trump' because I don't think it's possible to predict Trump," Mr. Gingrich said. "I can't tell you what Trump will do tomorrow morning because Trump can't tell you what Trump will do tomorrow morning, but I think it is possible to understand him."
In a Tuesday morning session, Mr. Gingrich said Mr. Trump is a "remarkable figure" who will catalyze a significant change in the pattern of history. The Republican president has the disruptive politics of Andrew Jackson, the energy of Theodore Roosevelt and the showmanship of P.T. Barnum, Mr. Gingrich said.
"If you think of a blend of those three people, you begin to get some sense of how Trump operates," he said.
The first six months of the Trump administration have been marked by congressional gridlock over health care and a series of White House staff shakeups. Mr. Gingrich said despite some confusion, he believes the United States is on the edge of an "extraordinary explosion of energy."
"Trump actually is the right person because he is breaking up the norm," Mr. Gingrich said. "I would much rather have somebody who occasionally does really stupid tweets but is breaking up the norm than have somebody who is elegant and smooth but doesn't have a clue."