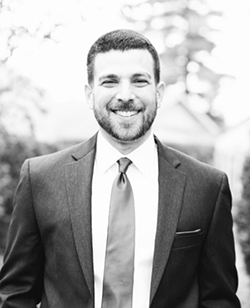 Josh Grossman, a communications professional with 15 years of experience in leading  operational communication strategies, has been named George Washington University's new executive director of media relations and university spokesperson.
Grossman, whose first day was Dec. 20, said he is thrilled to join the GW community.
"I'm very excited to join the media relations team and help promote the faculty, students and research coming out of this wonderful university," he said. "I look forward to working with my colleagues across campus to tell the GW story." 
The executive director of media relations is the university's chief spokesperson, who develops, implements and oversees execution of the university's media relations strategy. The executive director also advises the university president, provost and leadership on media relations strategy and oversees all media relations for the university leadership.
Grossman comes to GW from Syracuse University, where he served for three years as director of media relations. In that role, he focused on growing the university's media coverage and coordinating messaging for faculty, staff, and promoting university research and key mission priorities. 
Prior to his role at Syracuse, he was vice president of Meridian Hill Strategies, a public affairs and consulting firm based in Washington, D.C., where he was charged with leading public relations, communications, marketing and advocacy efforts. The focus of that work centered around homeland security, transportation, technology, clean-energy and health care policy.
In addition, Grossman previously worked for local broadcast affiliates in New York and California as a reporter and producer. He was also a freelancer for national and local magazines and newspapers. He has also served as a consultant for production companies and educational nonprofits in the areas of media consulting and strategic communications.
Grossman is a graduate of Syracuse University, where he earned a B.A. in broadcast communications and history. He received a master's degree in liberal arts from St. John's College in Annapolis, Maryland.