By Tatyana Hopkins
The George Washington University's Disability Support Services has worked through the COVID-19 pandemic to improve efforts that center the voices of students and faculty in its processes, said Maggie Butler, the new DSS director.
Hoping to strengthen the university's disability services, Dr. Butler, who joined GW in February, said increasing community engagement with the office has been among her highest initial priorities.
"As disability inclusion and accessibility professionals, our work requires the engagement of students, faculty and staff," she said. "I knew there would be an opportunity and a need to ensure that the voices of students, faculty and staff were elevated."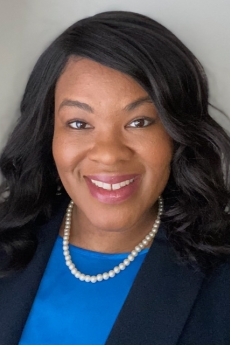 Housed within the GW Office of Diversity, Equity and Community Engagement, DSS provides leadership in the development of strategies that build and preserve accountability and disability inclusion across GW programs. Its work includes facilitating individualized accommodations to students with disabilities and those who benefit from disability-related services, including those with temporary disabilities.
Dr. Butler said a key area where the office already has made changes is how students register for DSS services.
"Historically, DSS eligibility determinations were usually handled through assessments of written submissions," she said. "For some students, a virtual or in-person conversation in real time is their preferred mode of communication. So, allowing them the opportunity to discuss their disability in the way they are most comfortable provides more inclusion and greater access to our services."
In her first few weeks on the job, Dr. Butler has been meeting with the DSS staff, reviewing the office's caseload and historical trends, and meeting with faculty, staff and students.
"This information gathering effort has provided a lot of rich information about the criticality of DSS services to our community,"  Dr. Butler said. "My sense is that our students want more flexibility in the services that we provide, and our faculty want more support as it pertains to the application of accommodations."
She said DSS will implement a number of measures including building a repository of available resources for students as well as increasing student access to assistive technology. Further, DSS will develop a toolkit and office hours to assist faculty in designing inclusive pedagogy.
Additionally, the office will publish a monthly resource aimed at amplifying its services and increase its programming on disability at the intersection of race, gender and socioeconomic status.
Prior to joining GW, Dr. Butler was most recently appointed the director for the Office on Disability Issues in Psychology at the American Psychological Association, where she developed global policies and procedures for accommodations. She also coordinated the inaugural congressional briefing on Exclusionary Discipline at Intersections of Disability Identity, Race and Gender.
Dr. Butler also has served as a faculty member for the University of Alabama.
Currently, she is a subject matter expert for the Commission on Rehabilitation Counselor Certification's ethics courses and is also a research review member for the Association on Higher Education and Disability.
Moving forward, Dr. Butler said DSS will continue to work with campus partners to improve implementation of accommodations in classroom and residential settings by identifying and procuring inclusive, accessible learning platforms, pedagogy and software.
"My vision [for DSS] includes global campus accessibility and inclusion, broadening our reach beyond the campus to share evidenced-based best practices with other universities and preparing K-12 institutions as they help support and empower students with disabilities to enter higher education," she said.