By James Irwin
Igor Efimov, a leader in cardiovascular disease research who joined the George Washington University in January as the first chair of its Department of Biomedical Engineering, was installed as the Alisann and Terry Collins Professor of Biomedical Engineering in a ceremony Tuesday at Science and Engineering Hall.
Dr. Efimov has advanced new therapies in cardiovascular health that are at the forefront of medicine and technology. His current research focuses on an implantable, custom-fit device that wraps around a patient's heart and detects impending cardiac arrest. The device, George Washington President Steven Knapp said, has the potential to revolutionize the pacemaker industry in the coming years.
"Dr. Efimov's knowledge and expertise has made him a leading scholar in his field," Dr. Knapp said at Tuesday's ceremony. "We are so pleased and proud this afternoon to install him as the inaugural holder of this professorship."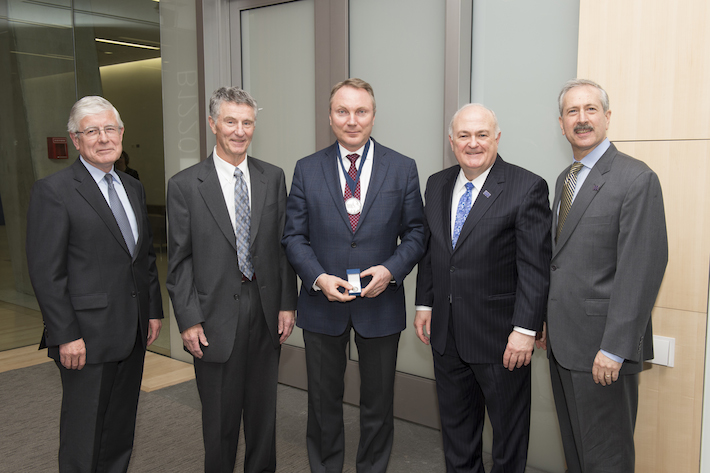 From left, SEAS Dean David Dolling, Trustee Terry Collins, D.Sc. '76, Department of Biomedical Engineering Chair Igor Efimov, GW President Steven Knapp and Provost Steven Lerman. (Dave Scavone/For GW Today)
---
Unlike a traditional implantable defibrillator that can deliver up to 1,000 volts of electricity to the heart, Dr. Efimov's cardiac implant applies 100 times less energy. It uses sensors on the device to send signals to a smartphone, which gives doctors real-time data on the heart's functions. It also provides a high-definition view of the heart, resulting in more precise, accurate disease monitoring.
Every year, an estimated 600,000 people in the United States die from heart disease, according to the Centers for Disease Control and Prevention (CDC). But advances in research and technology, Dr. Efimov said, have decreased the mortality rate of heart disease by 68 percent since 1958.
Born and educated in the Soviet Union, Dr. Efimov did post-doctoral work at the University of Pittsburgh. He conducted research at the Cleveland Clinic and was a professor at Case Western Reserve for four years before joining the Department of Biomedical Engineering at Washington University in St. Louis. GW officials announced Dr. Efimov as the inaugural chair of GW's Department of Biomedical Engineering in November.
"Initially, I wanted to be a nuclear physicist—my first degree was in experimental nuclear physics," he said. "But I really wanted to make an impact on human life, and I chose cardiology and cardiovascular engineering. I would like to thank the Collins family for their generosity. Endowed professorships are really unique to this country. This is unheard of in France, Germany, Russia, even in England. This is really a truly valuable contribution that will help us develop our new devices and therapies."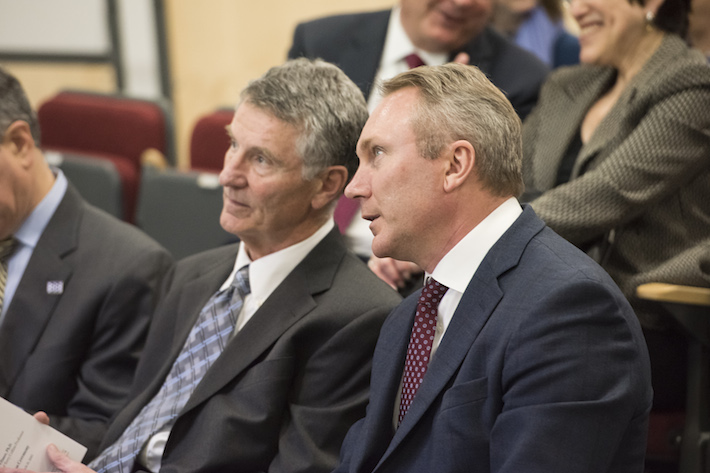 Dr. Efimov, right, is a leader in cardiovascular disease research. Dr. Collins, left, established with his late wife, Alisann, a scholarship and endowed professorship in SEAS. (Dave Scavone/For GW Today)
---
Established with an October 2014 donation from GW Trustee Terry Collins, D.Sc. '76, and his late wife, Alisann, the Collins professorship is an endowed faculty position in biomedical engineering or a related discipline. It is part of a $2.5 million gift from the family that creates scholarships for eight students and support for faculty in the School of Engineering and Applied Science.
"Ultimately, every great university is about people, and the people who make universities great are students and faculty," GW Provost Steven Lerman said. "Gifts like this one are an enduring commitment to the quality of faculty and students. There's no substitute for that."
GW launched the Department of Biomedical Engineering last fall. Bachelor's and master's degree programs in the field—one of the most popular in SEAS—formerly were housed within the Department of Electrical and Computer Engineering. Science and Engineering Hall, the first new research facility built on the Foggy Bottom Campus since 1973, opened last month.
"My wife, Alisann, was a teacher. She always valued education and its power to change a person's life," Dr. Collins wrote in a statement read by SEAS Dean David Dolling. "We decided to provide a gift to help give others the power to change their lives. Biomedical engineering is a rapidly growing field that holds the promise of helping humanity in ways that few other fields can."