More than 700 people stopped by The Textile Museum's tent at this year's Smithsonian Folklife Festival to try their hand at something a little different: creating a large textile inspired by China's Shaanxi province.
Held outdoors on the National Mall, the annual Smithsonian Folklife Festival exposes more than 1 million visitors to different programs, performances and demonstrations related to international cultural heritage. It was held from June 25 to June 29 and from July 2 to July 6 this summer.
The Textile Museum has partnered with the festival in the past, and as it prepares to move its collection to the new George Washington University Museum and The Textile Museum, staff hoped that sponsoring an activity at the event would help raise awareness of the new museum location and future exhibits on the Foggy Bottom Campus.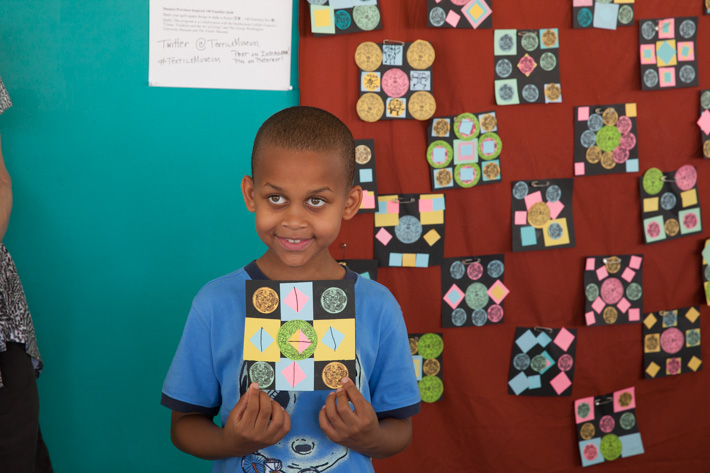 "While the museum is in transition, we wanted to offer a hands-on textile activity to tap into the Folklife Festival's great audience of adults and children and to give people an idea of the kinds of programming they can expect when the museum unveils its exhibition 'China: Through the Lens of John Thomson (1868 – 1872),' which will be on view at the new museum in 2015," said Tom Goehner, The Textile Museum's curator of education.
The Textile Museum worked to find an activity that could be neatly paired with the 2014 
Folklife Festival theme, "China: Tradition and the Art of Living." The idea surfaced for creating a "Bai Jia Be" quilt—or a "100 Good Wishes" quilt. The custom stems from northern China, where people invite friends and family to celebrate new life by creating a patch of cloth for a large fabric.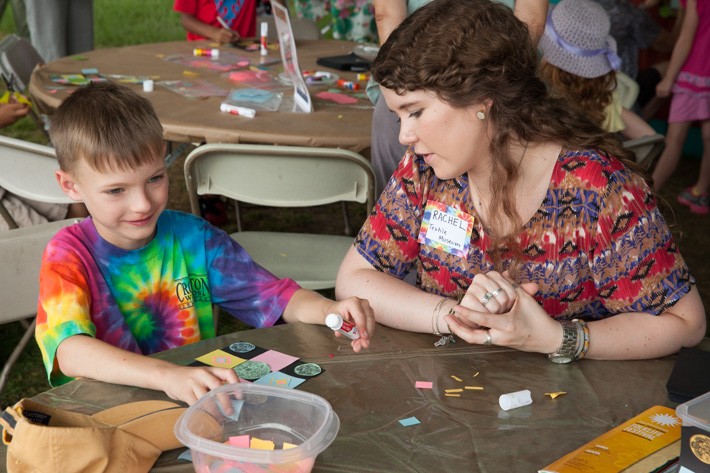 Armed with colorful papers and supplies, The Textile Museum challenged visitors to get creative while taking in Chinese culture. Each participant designed their own square to go on the large textile, using smaller circles of paper fashioned from traditional-looking Chinese animal prints. 
"Since the Smithsonian Folklife Festival is a big event, we tried to make our project easy while attractive," said Mengwen Chen, M.A. '14, an education intern at The Textile Museum. "The idea was to make people create their own textile patterns while also learning about the meaning of China's northern traditional quilts."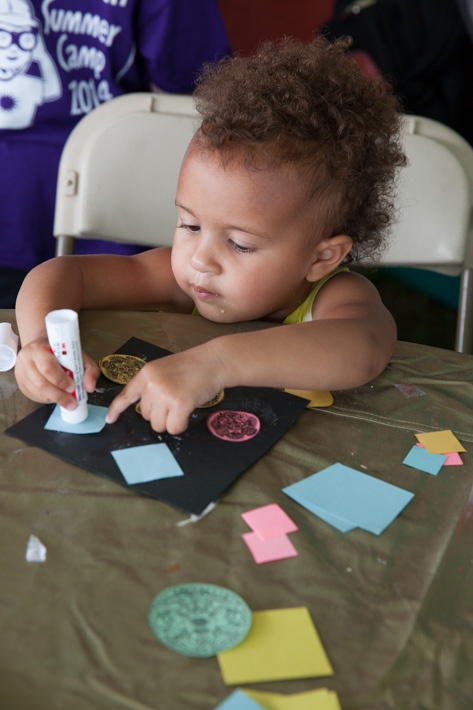 While The Textile Museum team had created sample designs for guests to use, they found that most people were eager to interpret the activity in their own way.
"The final product—our community quilt—is much better than I thought because everyone contributed their own design," Ms. Chen said.