By Briahnna Brown
In recognition of his advocacy work in the Student Association, Logan Malik, a senior majoring in chemistry, took home two awards Wednesday night at the 2018 George Washington University Excellence in Student Life Awards.
Mr. Malik's shifted the ethical orientation of a portion of GW's endowment with his work that contributed to the foundation of the Sustainable Investment Fund. The fund allows the university to invest in initiatives that generate long-term environmental, governance, social and economic value.
For his work, Mr. Malik was granted the Baer Award for Individual Excellence and the Manatt-Trachtenberg Prize, which was established to honor the graduating senior who most significantly challenged the intellectual and social conscience of GW.
GW's largest celebration of student life, the Excellence in Student Life Awards offered an opportunity for the community to recognize those who have worked tirelessly to enhance student life at the university.
Class Council President Brooke Schwartz and Program Board Vice Chair Reed Waxham were the cohosts for the ceremony. They explained that the Excellence in Student Life Selection Committee—which comprised over 40 GW students, faculty, staff and alumni—received more than 375 nominations for this year's 22 awards given by seven departments.
A full list of the night's winners and nominees can be found on the Center for Student Engagement's website.
The awards were a testament to the "breadth and depth of excellence" at the university, President Thomas J. LeBlanc said. He noted he enjoyed his firsthand experiences of the excitement and diversity of student life through his meetings with students since joining GW last August.
Dr. LeBlanc also said he's committed to continuing the work to improve the student experience at GW, which he said relies on student feedback.
"That's what I'm doing in my town halls, my office hours, and every time I meet with students," Dr. LeBlanc said. "I ask them, 'how's it going, what's going well, what can we do better and what can I do to help?'"
"So, I'm counting on you to stay in touch to let me know how things are going and what we can do to make sure that you have the opportunity to take full advantage of GW and D.C."
---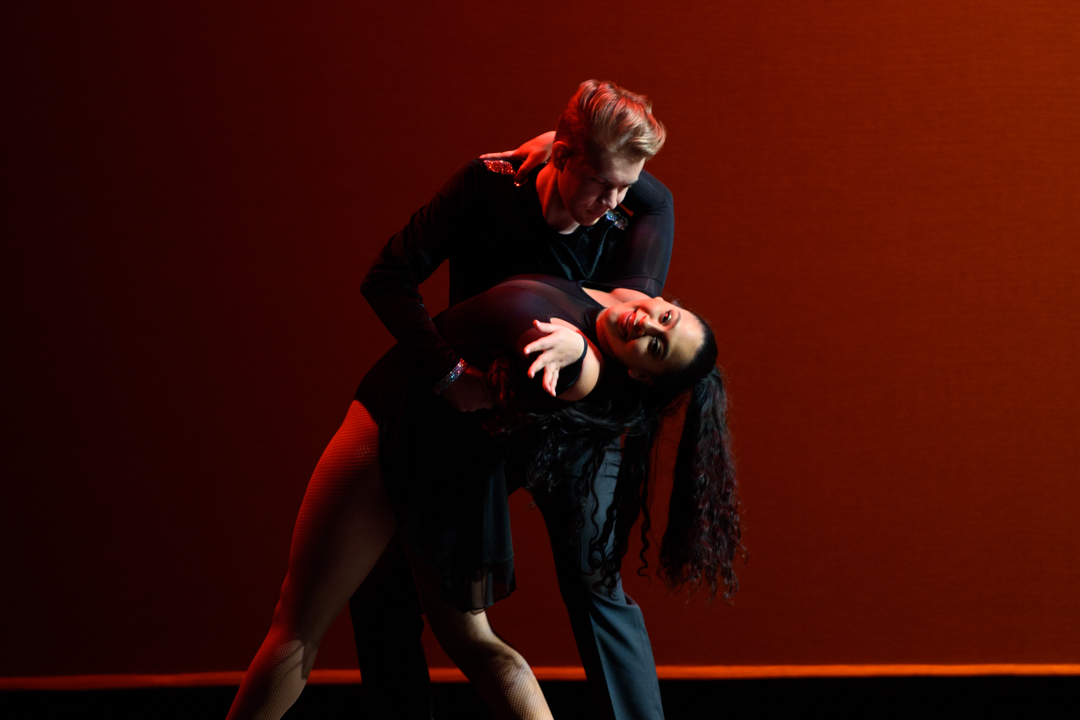 Dancers in GW Fuego took home the Performance Group of the Year Award after winning the audience vote at the Excellence in Student Life Awards.
---
Throughout the night, students gave raucous applause with cheers and shout-outs as their classmates were presented with awards or performed in one of the student groups competing for the audience's applause. The Performance Group of the Year Award was granted to GW Fuego, a group that increases Latinx cultural awareness through music and dance and opened membership to those with an interest in Latin dance without having to perform.
Including Mr. Malik, other Baer Award for Individual Excellence winners included:
Alexandra Turley, a senior majoring in international affairs who is a lead cultural ambassador for the Focus on Fall Abroad Community
Helena Iserhard, a junior in international affairs who is active with the International Students Community and serves as a Portuguese teaching assistant
Bob Wu, a senior studying political science and law who chaired the Joint Elections Commission for the 2018 Student Association election
Daniela Harton, a senior studying social justice and human services who spearheaded the Sexual Assault Task Force as president of the Panhellenic Association and was also one of five 2018 GW Wall of Fame honorees
Associate Dean of Students Tim Miller fought back tears as he was given the Robert A. Chernak Spark a Life Award for Staff Member of the Year. He received special recognition with an emotional presentation from the Center for Student Engagement staff and remarks from Kaplana Vissa, a resident advisor and senior majoring in public health, who said Dr. Miller has profoundly impacted her life and success at GW.
She said she learned some of her greatest lessons from Dr. Miller, who is leaving GW at the end of May to take a position as vice president for student affairs at James Madison University.
"He has inspired me to always think about the purpose and mission behind everything I do and to make sure it aligns with my values," Ms. Vissa said. "He is a mentor, a motivator, a positive influencer and a contributor to the holistic development of me and many other students at GW."
In recognition of former Vice Provost and Dean of Student Affairs Peter Konwerski's more than 25 years of service to GW and commitment to providing learning and development opportunities through experience, this year's Learning Through Action Award was given in his honor.
The Learning Through Action Award for a student organization was given to Strategic Crisis Simulations, a student-written and student-run interactive simulation that places participants in the roles of U.S. policymakers and has them address relevant policy issues. The university program winner of the award was the Excellence in Leadership Seminar, which provides GW students with leadership development and student organization training.
Sydney Eskin, a junior studying engineering, was granted the Class of 2009 University Pride Award and the Outstanding Service Award for an Individual for her work with the People for Periods initiative, which she helped establish. The initiative provides free menstrual hygiene products in main campus buildings to promote a safe, healthy and non-disruptive educational experience at GW. 
For the final award of the night, the new class of GW Wall of Fame honorees were announced. They will be immortalized with caricatures added to the wall on the fifth floor of the Marvin Center. The GW Wall of Fame is dedicated to those who have served the GW community through excellence among student organizations. Including Ms. Harton, the new faces that will be added to the wall are:
Maddie Kracov, an area coordinator in the Center for Student Engagement who revamped the resident advisor selection process and training program
Sherry Leung, an area coordinator in the Center for Student Engagement who actively creates a sense of community among resident advisor staff
Luis Otero-Bravo, a sophomore majoring in international business who excelled as president of First-Generation To College (FG2C), GW's first-generation student organization
Dylan Williams, a senior studying public health who has been involved in various campus programs like Colonial Cabinet, Inter-Fraternity Council and Alternative Breaks