Something about being alone in an abandoned space makes us uneasy. That's what the curators at the Luther W. Brady Art Gallery found in its newest show, "Absence/Presence: Selected Contemporary Photography."
The exhibition explores the presence humans leave behind in the spaces they inhabit. The stunningly eerie show features desolate images of empty amusement parks, secluded houses and forgotten rooms by artists like alumna Nancy Breslin, RES '87, and Professor of Photography Dean Kessmann.
Just before Halloween, Brady Art Gallery Assistant Director Olivia Kohler-Maga and Brady Art Gallery Assistant Michelle Mazzuchi took George Washington Today through some of the spookiest images in the exhibition they curated with Ms. Breslin. They explained why some of these photos intrigue us—and also make the hair on our necks stand straight.
"We focused on finding unpeopled images that show the degradation and beauty of empty spaces and the traces that people have left behind," Ms. Mazzuchi said. "But we soon realized that the haunting beauty of some of the images is just downright creepy."
Take a look at some of the mysterious photos—and the stories behind them as told by Ms. Kohler-Maga and Ms. Mazzuchi: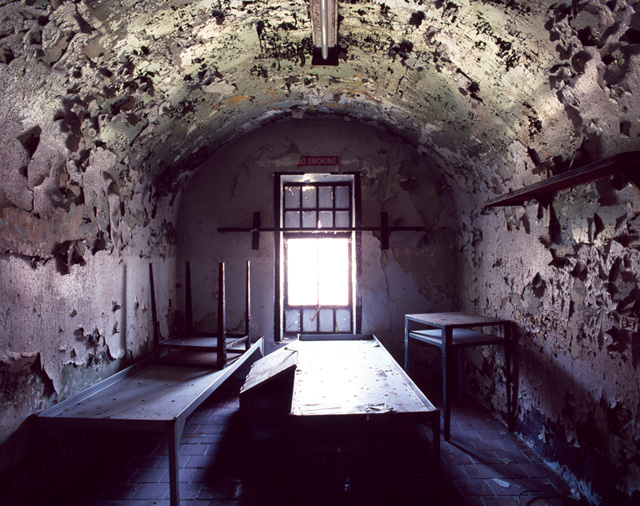 Lee Saloutos, Missouri State Penitentiary #11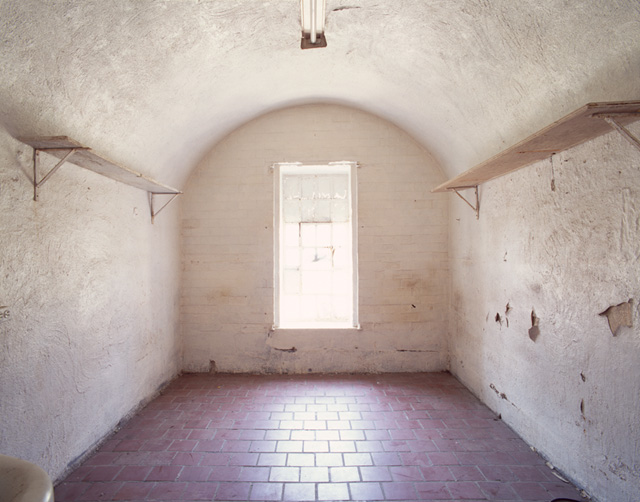 Missouri State Penitentiary #19
"Prisons are eerie for a number of reasons. Images like these two by Lee Saloutos capture the idea of being forgotten or left behind in a prison cell. They are places of confinement where people lose their freedom, lose years of their lives and, sometimes, lose their sanity. Mr. Saloutos' photographs, part of a series of disused prisons, are of the Missouri State Penitentiary (MSP), once the largest penitentiary in the United States and the oldest west of the Mississippi River.  
During its 168-year history, 40 executions took place at the MSP—a number of them in the two-seat gas chamber, built by the prisoners themselves using stone from the prison quarry."
---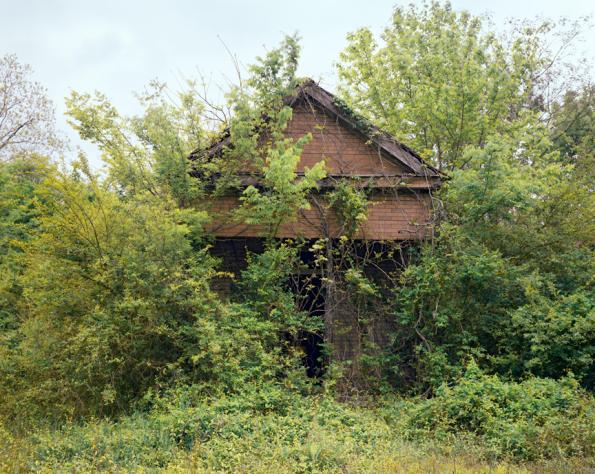 William Christenberry, Building with False Brick Siding, Warsaw, Alabama
"Abandoned and derelict homes have long been identified as sites for hauntings or supernatural occurrences. Why do old, abandoned places frighten us? In earlier times, many people believed that houses left empty were vulnerable to spirits.
This building epitomizes the word "abandoned." It is part of a series of photographs taken by William Christenberry of the same building over several decades, in which he captures the passing of time and changing landscape of the rural South. Viewed alone, this photograph of a decaying building overgrown with vines, its door now missing, creates a sense of eerie wonder about what might be hidden inside."
---
Nancy Breslin, RES '87, Queen Mary II, Deck Chairs
"Photographic proof that ghosts exist! While there may actually be specters that roam the decks of the Queen Mary II ocean liner, Ms. Breslin's pinhole photographs take advantage of the pinhole process. The exposure time needed to capture the scenes through the small aperture can be seconds or minutes so the image of anyone moving through the frame would not get captured by the photograph unless they pause for a moment before continuing."