By B.L. Wilson
Seven George Washington University professors and two graduate student researchers joined academics from around the world at "Race in the Marketplace: Crossing Critical Boundaries," an international conference in Paris.
The Race in the Marketplace (RIM) Research Network forum offered an opportunity to share information on the effect of race and racism in various markets, including health care, housing, finance, arts and sports, with experts from the United States, the United Kingdom, France, South Africa, Egypt, Australia and Switzerland.
According to conference organizer Guillaume Johnson of the French National Center for Scientific Research at the University Paris-Dauphine, the guiding aim of RIM is to support the development of equitable markets across societies.
Among those presenting from GW during the late June conference, Vanessa Perry, associate dean for faculty and research and professor of marketing, strategic management and public policy in the School of Business, moderated a panel on housing and gentrification. Dr. Perry, a RIM board member, also presented research on artificial intelligence and race.
"It was the hottest day on record in Paris. There was no air conditioning and people were so engaged no one left the conference venue," she said. "The way that people of color are treated in commercial environments, stores and restaurants isn't just something that goes on in the United States, it's a global phenomenon."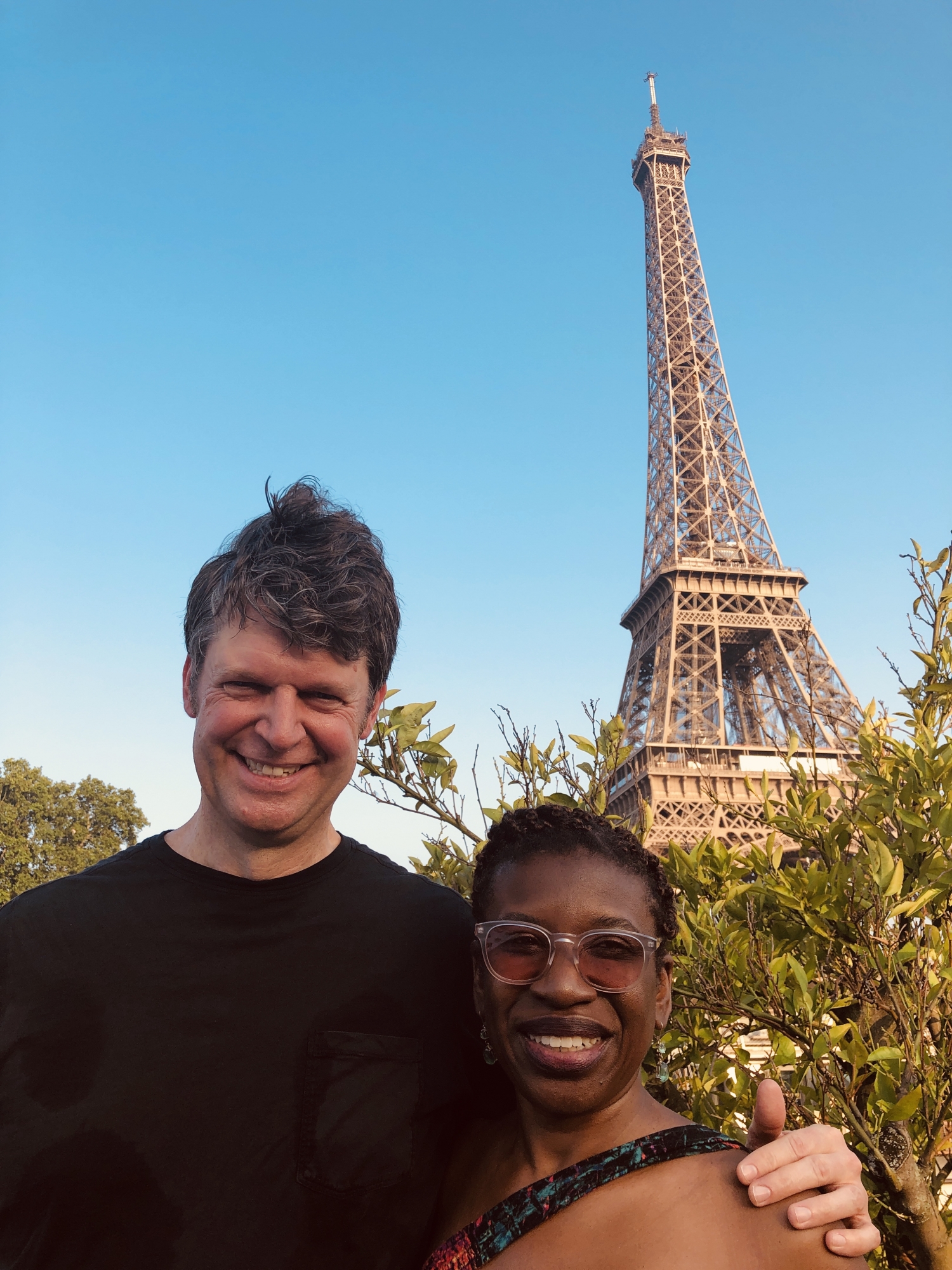 Dr. Perry and a team—including Nils Olsen, an assistant professor and director of the Organizational Sciences Program in the Columbian College of Arts and Sciences, and Linxi Zhao, a GW graduate student in the Department of Organizational Sciences—participated on a panel titled "We Are Only Human: The Effects of Race and Gender in Transactions with Artificially-Intelligent Agents."
Dr. Olsen said that the research team at GW "created avatars that looked like a person…an almost cartoon version of a human being, that were all the same except one looked African American, one white and one Asian."
The study examined how consumers of various ages negotiated with the avatars over the price for shared housing. They wanted to know if people form stereotypes when they are interacting with an avatar in the same way they might with a human being. They found that participants offered a higher price in negotiations with the African American avatar over less time than they did with either the white or Asian bots but appeared to have less confidence in his competence. They were more aggressive in negotiating lower prices with the Asian bot.
Artificial intelligence, such as Julie at Amtrak, Alexa with Amazon and Siri on the iPhone, is increasingly being used in consumer interactions. "It is important to know whether you want to make the bot more real by giving it human characteristics, such as age, gender and race…and what impact that will have on the consumer," said Dr. Olsen.
Gregory Squires, a professor of sociology and public policy and public administration, and Antwan Jones, an associate professor of sociology, presented preliminary research on how inclusionary zoning policies affect community health and well-being. Sarah Crump, M.PA. '19, is also involved in the research.
Preliminary findings show that in places where developers set aside housing for lower-income residents such as Columbia, Md., and cities in Massachusetts and California, there appear to be gains among those residents in educational outcomes for children, job opportunities, health benefits and improved income for parents.
"This was a really cool experience for me," said Ms. Crump, who has continued to work on the research project this summer and called it "one of the highlights of my time at GW."
Dr. Squires said it was a model research project, involving a diverse team, looking at a vital, if not the critical domestic issue, the need for affordable housing in so many cities in the United States and around the world.
In a popular session on consumer genetic testing and ancestry tests targeted to racial groups, Shawneequa Callier, an associate professor of clinical research and leadership in the School of Medicine and Health Sciences teamed up with Vanessa Northington Gamble, university professor of medical humanities and professor of American studies in CCAS.
"Race is a poor proxy for genetic diversity," Dr. Callier said. "So overall, we wanted to discuss the limitations of these consumer genetic ancestry testing kits that are sold and marketed to racial minorities.
"Also, the data protection policies of the companies (that collect the DNA) can seemingly change over night," said Dr. Callier, mentioning that one company allowed the FBI access to match the DNA in the ancestry database to a crime scene. She explained there is more protection in a federal research study than in commercial ancestry genetic testing.
In addition, Kelly Pemberton, an associate professor of religion in the GW Women's, Gender and Sexuality program, presented a paper, "Transforming Minds? The Growing Impact of Fashion Bloggers in/from France," along with co-author, Jenifer Takhar, of the ISG International Business School, Paris.
Their research found a shift among the bloggers from "Islamic branding" to a growing interest in "modest fashion" among non-Muslims. These bloggers, they argued, have emerged as cyberarbiters of social transformation, changing attitudes about the intersections of Islam, the body and female sexuality.