By Nick Erickson
D.C. Public Schools students from Eliot-Hine and Sousa Middle Schools—both in the city's southeast quadrant—would like adults down the road to know that thoughts and prayers and watered-down legislation are not good enough and that they can't wait for issues such as gun violence, child poverty, microaggressions and homelessness to be addressed.
Partnered with student interns and leaders from George Washington University and other higher-ed institutions, these middle school students got their first taste at making their voices heard in a summer Civic Changemaker program that culminated in projects tackling social issues in their neighborhoods and schools.
GW's Honey W. Nashman Center for Civic Engagement and Public Service has been offering a version of the Civic Changemaker program  for the past five years. The program included four (Eliot-Hine) and five (Sousa) weeks of service-learning and field trips and provided mentorship and inspiration to students as they worked on their civic action projects. GW interns and leaders had four weeks of training prior to meeting with the students.
This summer, a new partnership with the Emerson Collective Youth Collaborative, in addition to existing ones with the Office of the State Superintendent of Education and AmeriCorps VISTA, allowed the Nashman Center to expand to 50 Civic Changemaker program interns living on the GW campus.
On Aug. 3, the middle school students presented their final projects—which ranged from starting a youth flag football program to encourage healthy after-school activities to creating a student-run Twitter account addressing gun violence.
One Eliot-Hine middle schooler said gun violence forced his family to relocate, and he stepped up boldly on stage to say, "kill out violence and drop the gun." Another young girl created a pamphlet explaining the biases in dress code policies and enforcement have against Black girls and said, "if my parents let me walk out of the house in what I'm wearing, then I shouldn't be dress-coded."  A 2019 NWLC report on dress codes in D.C. schools found that schools with majority Black populations were more likely to have severely restrictive dress codes.
"Social movements in the past have all come from personal stories of personal experiences, and I think that every student chose their topic they chose because they or someone they know has experienced it," said GW rising senior human services and social justice major Amira Al Amin, who was a team leader at Eliot-Hine. "So, they want to change it not only for the school or the community, but for themselves."
These young students have essentially only known a hyper partisan political climate where the loudest voices often drown out the reasonable ones. With guidance from their mentors, the middle schoolers spent their time figuring out ways to turn their ideas into concrete action.
One group at Eliot-Hine advocated for the creation of a school student council because, as they reported, youth involvement can grow academic performance, social well-being, student engagement and because young adults deserve a voice. These students connected with school administrators to try and start one for the 2022-2023 academic year. Sousa Middle School projects included confronting trash and littering in the Fort DuPont region, gathering data and forming solutions to improve cleanliness in the school's bathrooms and emailing D.C. Mayor Muriel E. Bowser safety concerns on school grounds they found during a mapping exercise.
---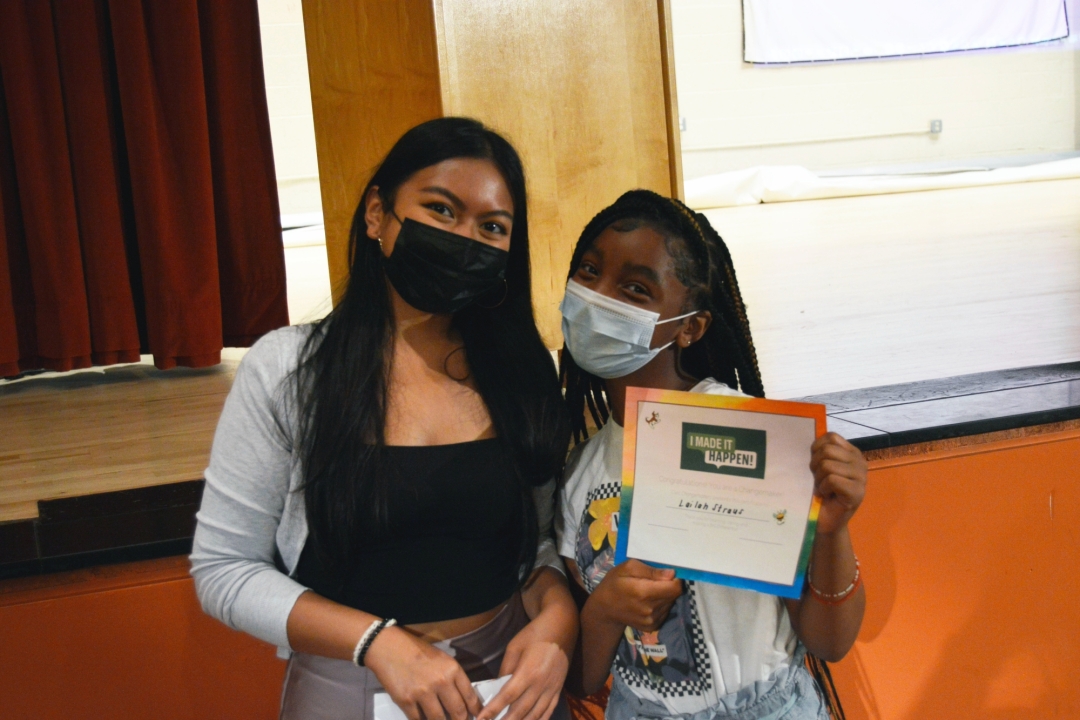 Fifty Civic Changemaker program interns lived on the GW campus and helped students at Eliot-Hine and Sousa Middle Schools this summer. (Contributed photo)
---
"The whole point of the program was to let them know that they can actually do something, and down the line, they know that if they are civically engaged, they can actually accomplish things," said GW intern Thea Tejansie, a rising sophomore also majoring in human services and social justice.
The middle schoolers were surrounded by GW students doing just that this summer. To be considered as an intern for the Civic Changemaker program, GW students had to bring community service and engagement experience to the job, as well as a commitment to introducing civic skills to the next generation.
"If we want to have a strong democracy with citizens who care about their community and understand how to take effective action to strengthen their communities through voting or coaching sports or policy advocacy, then young people have to be given authentic opportunities to practice these skills," said Amy Cohen, director of the Nashman Center. "Our interns are not only facilitating that learning for the middle schoolers, but they are also themselves practicing community and civic leadership."
Team leader Sam Jeon, a rising GW senior majoring in political science and mathematics, said because of COVID-19 and a well-known lack of funding in public schools, it might be easy to enter the situation with a deficit mindset. But he's learned just how much non-textbook knowledge these kids possess through their passions, lived experiences and commitments to change.
As Tejansie put it: "They'll bring up how ableism is a huge issue, and it's like 'how do you know ableism at your age?'"
It can be frustrating how little can get done—the Safer Communities Act passed earlier this summer was the first major gun control legislation in over three decades—or how a lack of understanding can cause so many issues to go ignored.
Seeing the determination in the middle school students, however, provided GW interns and leaders a sense of optimism for the future, in addition to impactful professional and personal experience.
"Being here, interacting with the kids every day, and seeing the potential and what they already have gave me so much hope," Jeon said. "I look at our generation, and I think we're hopefully going to make the change, and I look at these younger students as well who have so much ability, and they are doing it right now."