As part of ongoing efforts to enhance the student experience, the George Washington University will re-envision the dining experience, particularly for undergraduate residential students.
President Thomas LeBlanc charged Executive Vice President and CFO Mark Diaz and Vice President for Student Affairs and Dean of Students M.L. "Cissy" Petty with leading an initiative to fully realize the university's dining transformation.  Based on feedback from the GW community, the university will create a dining program over the next few years that best supports students by focusing on community, choice and quality, accessibility, and affordability.
"Enhancing the student experience through this new approach to dining is an important part of our continuing efforts to listen and respond to student feedback, particularly by building community on our campuses," Dr. LeBlanc said.
Students will experience a number of changes to dining as they progress through school, including new dining halls, operated in partnership with Chartwells Higher Education, and an unlimited meal plan option instead of the current declining balance option.
GW plans to provide culinarily-diverse dining services for students in new dining spaces that allow for community building. The university's vision for a fully-integrated dining program also will prioritize meeting the campus community's unique needs.
Karen Zinn, associate vice president for Business Services at GW, said that the transition is a response to student requests for a more robust dining experience.
"Moving the university from a full retail model to an on-campus, residential model will provide students with dining venues that they can call their own, help build community and let them worry less about the need to budget their dining funds on a day-to-day basis," Ms. Zinn said.
New Dining Halls
The new initiative will integrate the dining experience into the residential student experience.
This fall, students on the Mount Vernon campus are already seeing a new look at Pelham Commons as Chartwells Higher Education reimagined that space this summer. In the spring, students will experience a newly renovated coffee café and convenience store that will open in Ames Hall.  
The changes on Foggy Bottom launch with the renovated Thurston Hall, expected to open in fall 2022, which will house a 225-seat dining hall for first- and second-year students. That same semester the food areas of Shenkman Hall and District House will be turned into residential dining halls, and the Chick-Fil-A will move to the University Student Center.
In fall 2023, the on-campus dining experience will expand further. Expanded retail options, convenient grab and go options and a marketplace will open in the University Student Center.
Seth Weinshel, assistant dean of students for Campus Living and Residential Education in the Division for Student Affairs, said that the design of the new spaces will be extensions of the residential spaces and incorporate both form and function as warm, welcoming spaces for students.
"If you think about your individual home and the elements that you put into decorating that space, we're going to do that on a larger scale to these residential facilities and to these dining facilities within the halls to really make sure that our students feel at home," Mr. Weinshel said.
---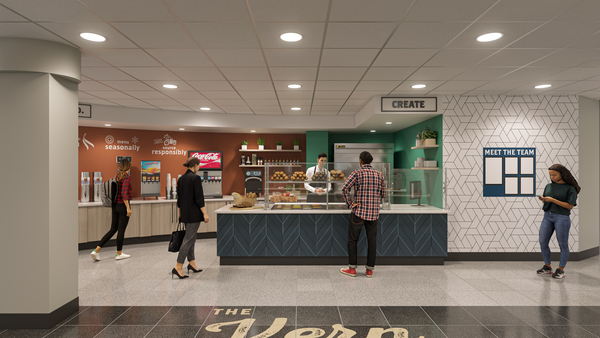 ---
New Dining Options
With the new dining spaces, students will be phased into new meal plan options.
This fall, students living on the Mount Vernon campus will participate in a hybrid meal program featuring eight all-you-care-to-eat meal swipes per week at Pelham Commons dining hall and a set amount of dining cash on their GWorld card per semester that can be used at on- or off-campus GWorld dining partners. Additionally, any GW student, faculty or staff member can visit Pelham this academic year and use GWorld dining cash or a credit card to eat a meal.
In fall 2022, an unlimited swipe meal plan will be introduced to first-year and second-year students who will be able to access any of the new dining halls at Thurston, Shenkman, District House, or Pelham Commons as much as they want with their meal plan.
In fall 2023, juniors and seniors will be phased into the new program and may choose between the unlimited swipe meal plan option, or a block-based plan with a certain number of meals available to them each semester.
Mr. Weinshel said that the transition from the current declining dollar plan ensures that students will not have to regularly think about how much they are spending each day or each meal to feed themselves.
"The nice thing about all of these plans is that a student will have the ability to upgrade their plan based on their choice," Mr. Weinshel said. "It's really about how do we take some of the worry out of our current meal plan, particularly for first- and second-year students, and make it really easy for them to digest and consume so they do not have to worry about anything other than which dining hall they want to go to."
Students can expect to see a variety of food options such as vegan, vegetarian and allergen-free, and all dining services will prioritize sustainability in their food-serving practices. GW's student athletes can expect a dining program that provides training meals through an athletics-focused performance food hub that would also be available to all GW students. 
Tanya Vogel, GW's director of athletics, said that the expanded dining options for student-athletes will allow them to maximize nutritional benefits to aid in performance in training and competition. 
"Optimal nutrition is a key component to developing and enhancing one's athletic performance," said Ms. Vogel. "Their daily training and recovery processes require an intentional nutritional plan. We are envisioning a future where our student-athletes will be able to incorporate the best fuel sources into their diets to help them both in and out of season. This critical piece will enhance our offerings as a university for our students to achieve excellence in competition."
There will be Kosher food options at GW Hillel's new building that opened over the summer, and there also will be diverse multicultural offerings at the different dining halls that will offer opportunities for programming with the different heritage celebrations throughout the year.
Michael Tapscott, director of the Multicultural Student Services Center, said that helping students meet their basic needs with food options that reflect their culture is a great way to help students feel safe and at home at GW.
"The most important thing for us to do is to make any and every student feel safe, but we also have to be aware of the unique needs for safety for our students who are on the margins, and that's our underrepresented kids, whether it's racially, ethnically, identity-based or socio-economically," Mr. Tapscott said. "With anything we do with the future of dining, we've got to make sure that we're building safety into that."
---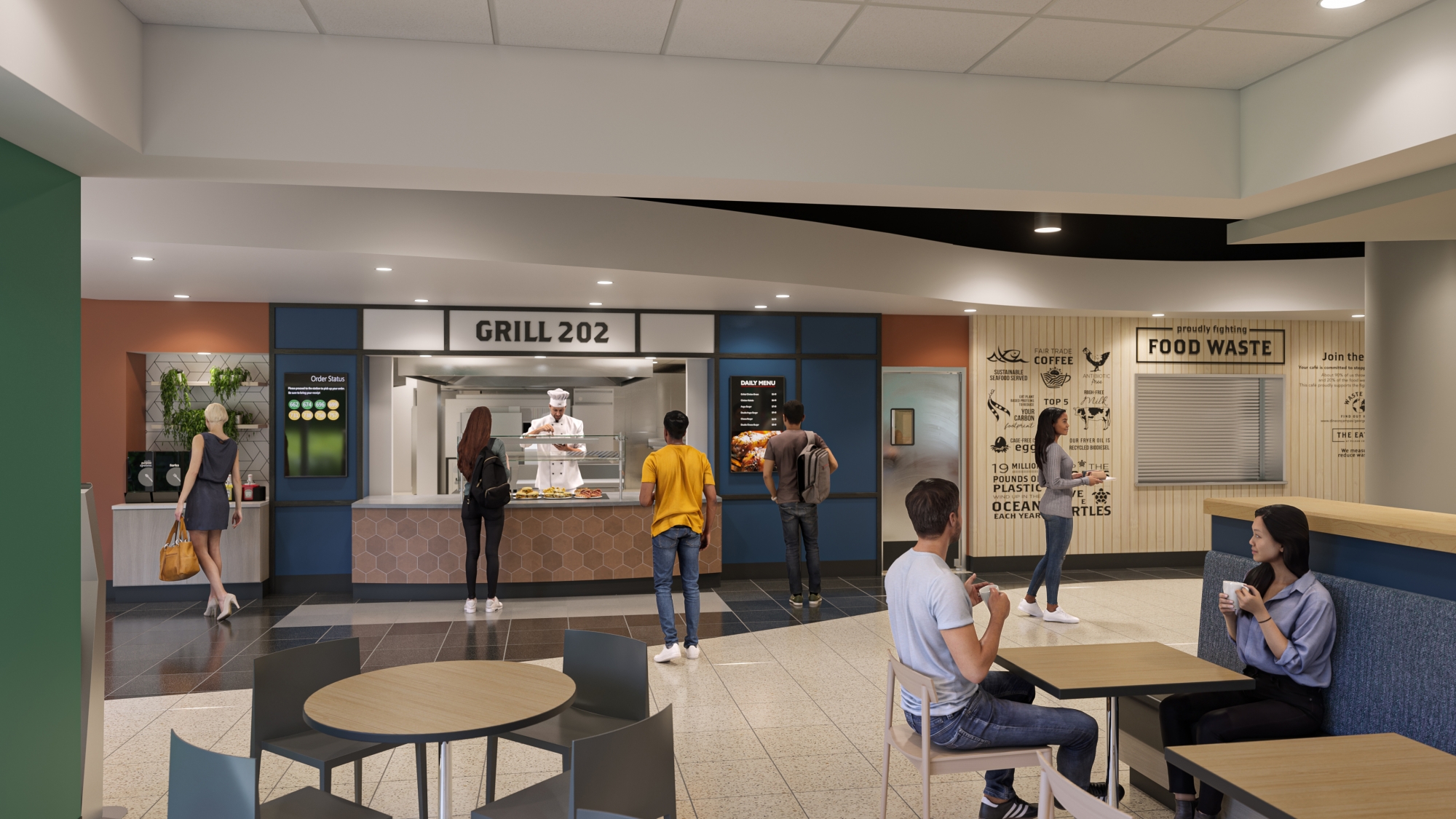 ---
Enhancing the Student Experience
The biggest motivation behind these changes is to enhance the overall GW student experience, Mr. Weinshel said. The student experience goes beyond the #OnlyAtGW moments that students expect to see and incorporates everything from where students live to how and where they can eat, he said.
The current grab-and-go style eating on the Foggy Bottom campus offers little space for students to build community with each other, Mr. Weinshel said, but transitioning to residential dining halls as the primary way for students to eat—while still offering the grab-and-go style food from GWorld partners—allows students to meet and have robust conversations with other students that they would not normally get to interact with, he said.
Student Association President Brandon Hill said that he and the other members of the Student Association are excited and interested to see how the new dining program will address student needs. 
"I think a lot of students have appreciated the flexibility of our current dining program, but it's obvious that it's created some problems around food insecurity and a lack of community spaces on campus," Mr. Hill said. "I think that this new dining program is our first step toward really fostering on-campus community while also taking that necessary step to make sure that our students are healthy, well-fed and focused."
Ms. Zinn said the evolving approach to dining is creating excitement.
"Through focus groups and feedback from surveys, we have listened to our students and are incorporating their vision into concept design and food service programing with Chartwells Higher Education" she said. "Together, we will integrate affordability, accessibility and offer quality food to foster a greater sense of community among our students, faculty and staff."