By Thomas Kohout
D.C. Mayor Muriel Bowser (D), D.C. Council members and leaders from The George Washington University, Children's National Hospital and Universal Health Services Inc. gathered Thursday in Ward 8 on the campus of St. Elizabeths East to break ground on a new 136-bed hospital and ambulatory pavilion.
The new $375 million, 365,000-square-foot medical campus, Cedar Hill Regional Medical Center, GW Health, is named after Frederick Douglass historic Anacostia residence 2 miles north of the St. Elizabeths campus. The new facility aims to significantly improve access to high-quality, integrated care for District residents.
This hospital will serve as a regional center for all of Washington, D.C., but, most importantly, the new hospital will offer the resources that the community deserves and has asked for, Bowser said.
The GW Medical Faculty Associates and the GW School of Medicine and Health Sciences (SMHS) will serve as the physician and academic arm of the new complex, with Children's National Hospital offering pediatric care. Universal Health Services, the parent company of GW Hospital, will run the new facility.
"The George Washington University is honored to join with the District to develop a new hospital to deliver high-quality comprehensive health care services to the citizens of Ward 7 and Ward 8," GW President Mark S. Wrighton said. "Our university faculty of the School of Medicine and Health Sciences and the GW Medical Faculty Associates are committed to providing world-class, patient-centered care while addressing disparities in health outcomes and expanding our teaching, research, and clinical footprint in the District."
The new medical campus provides opportunities for GW's academic medical faculty to support the health care needs of the citizens in Ward 7 and Ward 8, but it also expands opportunities for GW students and residents to provide care and learn by working with patients and families.
"As an academic physician faculty, we believe in patient-centered care provided by teams of health care providers to optimize delivery of health care on this campus," said Barbara L. Bass, vice president for health affairs, dean of SMHS and CEO of the GW Medical Faculty Associates.
"The most critical ingredient for success in health care is a trusted partnership between the health care provider and the patient. We are eager to build those bonds with the citizens of the community we will serve at Cedar Hill.   
"We look forward to establishing a family medicine residency program to develop a new cohort of primary care physicians trained on the St Elizabeths campus and poised to continue to practice in Ward 7 and Ward 8." Bass said. "I know this group will develop important relationships with the community during their years of training at the Cedar Hill Regional Medical Center, GW Health."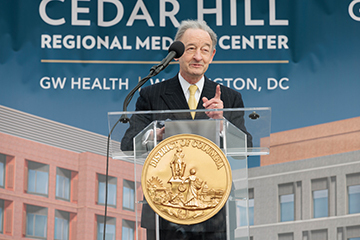 GW President Mark S. Wrighton. (William Atkins/ GW Today)
Rendering of Cedar Hill Regional Medical Center, GW Health.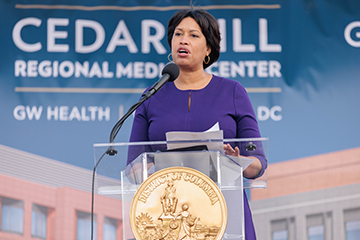 Washington, D.C., Mayor Muriel Bowser. (William Atkins/ GW Today)
Construction on the Cedar Hill Regional Medical Center, GW Health, scheduled to be completed by December 2024, will support nearly 2,000 jobs and create at least 50 apprenticeships, with more than 300 workers on site daily at its peak. The new hospital will feature a verified Level III trauma center, newborn delivery and women's services, a Level II neonatal intensive care unit, five operating rooms, two procedure rooms and 54 emergency room bays. A full range of specialty services, including nephrology, cardiovascular, neuroscience, orthopedic, oncology, pediatric, urology and infectious disease services, as well as acute mental health and outpatient behavioral health services, will be available.
 In its first year of operation, more than 40,000 patients are projected to be treated in Cedar Hill's emergency departments, and the hospital will see an estimated 2,500 births, 5,000 inpatients and 8,500 people receiving outpatient care services. 
In his remarks, Ward 7 Councilmember Vincent C. Gray (D-Ward 7) and B.A. '64, a champion of the hospital project since its inception, tapped into the critical need for a hospital in wards 7 and 8, quoting Martin Luther King Jr., "Of all the forms of inequality, injustice in health care is the most shocking and inhumane."
"On the western side of the city, we have some of the finest health care facilities and services in the entire country, and some of the best health outcomes in the entire country," he added. "We are looking forward now to being able to bring … health care systems and services to Wards 7 and 8 and achieve the same kind of health outcomes."
Kimberly Russo, vice president of Universal Health Services and CEO of GW Hospital, echoed the importance of the new hospital, noting that "development of this comprehensive system will allow individuals to get the right care, at the right time, in the right location by improving access and creating a streamlined system of care that is integrated."