By Briahnna Brown
Several hundred students returned to the George Washington University before their winter break was over to participate in a day of service in honor of Martin Luther King Jr.
On the holiday observing what would have been Dr. King's 89th birthday, students and other members of the GW community gathered Monday morning in Lisner Auditorium for a welcoming program to begin the daylong task of community service projects on campus and around Washington, D.C. The day of service kicks off King Week programming throughout January that includes panel discussions, lectures and film screenings.
The theme for the day of service in 2018—the year that marks the 50th anniversary of King's death—is one of the popular messages King shared in his lifetime: "Injustice anywhere is a threat to justice everywhere."
GW President Thomas LeBlanc welcomed participants at Lisner, encouraging them to continue working to improve lives, especially those who battle marginalization or discrimination.
"As a comprehensive research university—one that is framed by our nation's capital and blocks from the White House—we have a responsibility to use our scholarship, our resources and our time for the betterment of our communities," LeBlanc said. "We also serve as an example to others in the hope that our work locally makes a difference nationally and even internationally."
---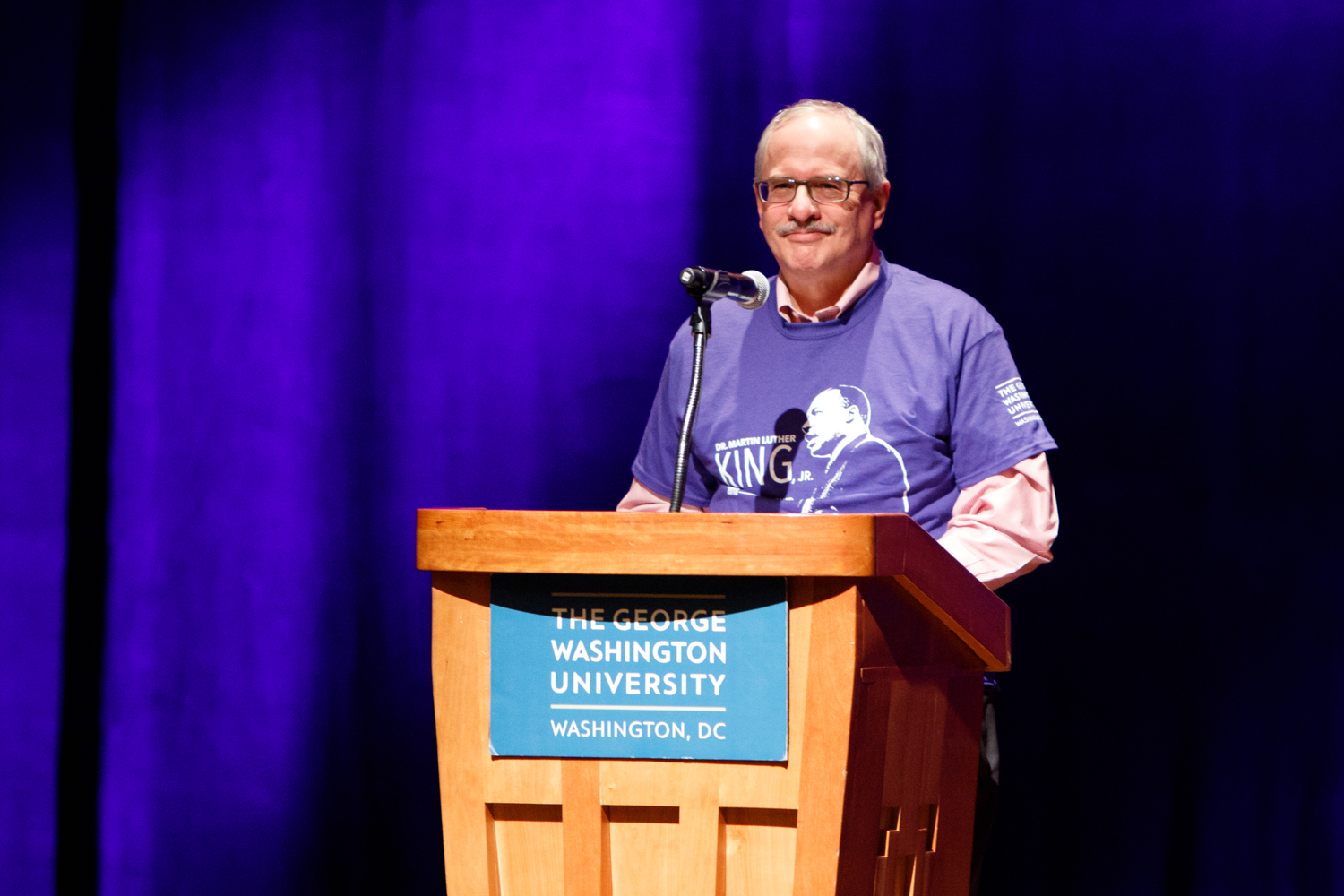 GW President Thomas LeBlanc welcomes students on MLK Jr. Day of Service. 
---
The keynote speaker for the day of service was justice advocate and service leader Kyle D. Bacon. He was a White House honoree as a "Champion of Change" in 2013 for his role in youth education initiatives and is actively involved in jail and prison ministry. He encouraged participants to see those they serve as more than research or data points on a page.
"What is really important is understanding that everyone has a role in our service and in our collective leadership," Bacon said. "Everyone in this room has a role and very valuable contributions."
Students and other participants with GW's service projects completed over 3,500 hours of community service in total on Monday, with an estimated $137,095 impact on the D.C. community, said Amy Cohen, executive director of The Honey W. Nashman Center for Civic Engagement and Public Service at GW.
On campus, dozens of volunteers went to the Continental Ballroom in the Marvin Center to make literacy activities and games for pre-school children with GW's Jumpstart program, part of a national early education nonprofit organization supported by AmeriCorps. Tables throughout the room were set with craft materials such as markers and paper, poster board and felt. Some volunteers read books to pre-school children who had joined in for the day of service, and others prepared the learning materials that would go to GW's partner pre-schools that serve children from low-income D.C. families. Participants also made family involvement guides in English, Spanish and Amharic to provide other tools that will help the children learn.
Dhruv Sharma, a doctoral student in the systems engineering program, was a Martin Luther King Jr. Day student team leader for the activity with Jumpstart, which was the largest on-campus activity. He said the overall goal of the various crafts was to support pre-school children's learning.
"Early-stage reading is really critical to help reduce the achievement gap, so it's the place where you can have the most impact in helping kids get a good trajectory, keeping them in the pathway of success," Sharma said. "So, that's why it's really important to reach the kids early."
Other on-campus activities included making blankets with the D.C. Department of Human Services, providing writing critique on poems by incarcerated D.C. youth, and decorating quilts for veterans and military families. Off campus, participants worked on projects with local nonprofits such as A Wider Circle, the Asylum Seekers Assistance Project, Little Friends for Peace and US Vets. The Honey W. Nashman Center also collaborated with D.C. Public Schools on projects at Drew, Malcolm X and Turner elementary schools as well as Whittier and West education campuses. All of the projects were conducted in partnership with organizations with long relationships with the Honey Nashman Center.
At West Education Campus in Northwest Washington, students created banners to hang throughout the school for various occasions. Hannah Friedman, a GW junior with a double major in political science and women's, gender and sexuality studies, had been at West Education Campus during Freshman Day of Service at the start of the fall 2016 semester. On Monday, Ms. Friedman was a student team leader and made small changes to make the project more sustainable and effective.
"What's most important about doing service is connecting with your community—realizing there's more to D.C. than just you, Foggy Bottom and your studies," Ms. Friedman said. "There are so many people in this community flourishing and doing amazing work and being able to partner with them and give our time to that is essential."