The George Washington University has reached an agreement with a development partner that will generate revenue for academic priorities by redeveloping 2100 Pennsylvania Avenue and Rice Hall into a new investment property featuring commercial office and retail space. 
Under the agreement with developer Boston Properties, the buildings along Pennsylvania Avenue and I Street NW will be redeveloped under a long-term ground lease from the university.
The project follows the success of the similar redevelopment of 2200 Pennsylvania Avenue, which created The Avenue with a mix of office, residential and retail space, including Whole Foods Market and numerous eateries. Revenue from The Avenue project was critical in funding construction of GW's Science and Engineering Hall.
The Board of Trustees approved the university's pursuit of redevelopment of the properties, and officials came to an agreement with Boston Properties this month.
"GW is excited by the opportunity to once again partner with Boston Properties to deliver a first-class commercial development that will activate the Foggy Bottom Campus with neighborhood-serving retail while creating the opportunity to fund new academic initiatives through the revenue generated through a long-term ground lease," said Lou Katz, GW's executive vice president and chief financial officer. 
To accommodate the redevelopment of Rice Hall, administrative offices will eventually be moved out of their current locations and will be relocated, recognizing the unique roles and requirements for each office. To prepare for this process, the university will conduct a thorough study to identify the space needs of each office and identify alternate locations for administrative offices. Tenants in 2100 Pennsylvania Avenue, including some GW offices, will also need to relocate.
The planning activity will start now, but no university offices are scheduled to move this academic year. A more definitive timeline and relocation plan will be developed for individual offices and will be shared as the relocation strategy is finalized. The university's development agreements call for Rice Hall to be vacated by December 2018 and 2100 Pennsylvania Avenue to be vacated not later than June 2019.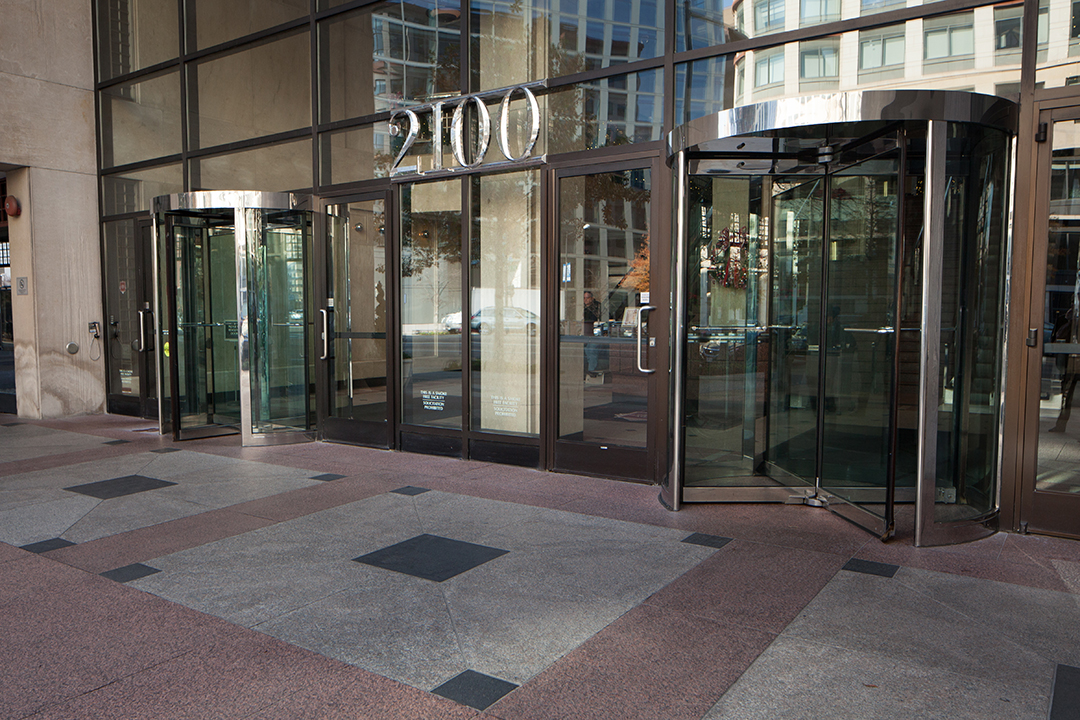 The development of 2100 Pennsylvania (above) and Rice Hall will generate revenue for academic priorities. (GW Today)
---
An architectural firm will lead the study of GW's space needs and will work with the university to identify alternate office locations. This process will be conducted in conjunction with a study already underway to evaluate off-campus leased space and reduce leased space expenses.
The redevelopment planning for this project is in its earliest phases of design and will require dialogue with community organizations, review by the Advisory Neighborhood Commission and coordination and approval by various District agencies as well as the Zoning Commission. Boston Properties and GW will work together to engage these important stakeholders. The redevelopment of Rice Hall with ground floor retail on I Street was contemplated in GW's 2007 Campus Plan, and changing the use of the site to an investment property will require an amendment to the Campus Plan.
The redevelopment will include a high-quality commercial office building and significant neighborhood retail offerings on I Street and Pennsylvania Avenue.
"Boston Properties is so thankful for the opportunity to partner once again with the George Washington University. The opportunity to build on the success we achieved together with The Avenue, to extend the I Street retail corridor to serve as the university's 'Main Avenue' and to deliver another project of world-class design that will serve as the gateway to the campus and the Foggy Bottom community is both complex and challenging. We stand ready to accept that challenge and couldn't be more excited about the opportunity," said Ray Ritchey of Boston Properties.