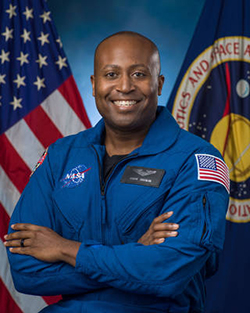 By Kristen Mitchell
George Washington University alumnus Andre Douglas, Ph.D. '21, has been selected to join NASA's 2021 astronaut candidate class, the first new class of astronauts announced in four years.
Dr. Douglas is one of 10 new astronaut candidates from a field of more than 12,000 applicants to represent the United States and work for humanity's benefit in space, NASA announced. The 35-year-old Virginia native earned a doctorate in systems engineering from the GW School of Engineering and Applied Science. The valuable research skills he honed as a doctoral student have been helpful as he's advanced his career, he said. 
"The Ph.D. program taught me some very valuable research skills," he said. "I was working full-time and was able to use the theoretical knowledge from the Ph.D. program and integrate that back into what I was doing in my daily activities as a professional, and at the same time, the stuff from my professional career at Johns Hopkins also fed into the work that I was doing at GW."
Dr. Douglas most recently worked as a senior staff member at the Johns Hopkins University Applied Physics Lab, working on maritime robotics, planetary defense and space exploration missions for NASA. He will report for duty in January 2022 to complete two years of initial astronaut training as a NASA astronaut candidate.
SEAS professor Thomas Mazzuchi, who served as an adviser to Dr. Douglas, alongside professor Shahram Sarkani, said they are "quite proud of his accomplishments." 
"Andre was an excellent student who brought a lot of practical experience to the table," Dr. Mazzuchi said. "He worked hard with us to make his Ph.D. research both theoretically sound and at the same time practical and meaningful for future end users." 
Dr. Douglas earned a bachelor's degree in mechanical engineering from the U.S. Coast Guard Academy, a master's degree in mechanical engineering from the University of Michigan, a master's degree in naval architecture and marine engineering from the University of Michigan and a master's degree in electrical and computer engineering from Johns Hopkins University. 
Dr. Douglas served in the U.S. Coast Guard as a naval architect, salvage engineer, damage control assistant and officer of the deck. Ocean and space exploration might seem very different, but they face similar challenges with communication and operating vehicles, he said.
Dr. Douglas said he has wanted to be involved in space exploration for decades and becoming an astronaut candidate has been a "lifelong journey." Being selected for this role at a time when there is renewed interest in space exploration is "the ultimate combination of my dreams coming true," he said. 
"With the public support and all the things we're starting to see, even a lot of collaborators and commercial partners, all of this stuff is coming into a nice focus point to get us to the moon," he said. "My whole hope is that space reminds us that there is hope out there for humanity, even with all the things going on here on Earth."
Dr. Douglas encouraged GW students to "go with your gut and find what it is that excites you" while in school. A STEM education is an important step toward becoming an astronaut, but there are many different ways to be involved in space exploration. He also encouraged students to become comfortable with change and to think a few steps ahead as they plot their career paths.
"Your passion is what's going to drive you to be the best that you can be and to reach your potential," he said.