By Kristen Mitchell
George Washington University alumnus Ben Holmes envisions a world where severe knee injuries don't equate with months of bed rest, crutches and a painful recovery.
Dr. Holmes and his partner Nathan Castro, a fellow GW alumnus, are developing a product that could keep young athletes on the playing field after what could be career-ending injuries.
Dr. Holmes and Dr. Castro began working in a laboratory under GW Associate Professor of Engineering and Applied Science Lijie Grace Zhang studying nanomedicine and tissue engineering.
Their research led to the development of a 3D-printed, implantable device that fosters bone and cartilage repair and regrowth.
Dr. Castro focused his time as a PhD student in the lab attempting to develop biomaterials for 3D printing which replicate the mechanical properties of bone and cartilage and encourage stem cell growth. Dr. Holmes, who has a mechanical engineering background, focused on using design and 3D printing as a way to create microstructures that could integrate with existing tissue.
They decided to combine their work and form the startup Nanochon.
The duo developed a composite material which in combination with stem cells fosters tissue growth when implanted. Dr. Holmes wouldn't disclose specifics about the technology—because it's proprietary information—but said the material is robust, versatile and would be easy to manufacture with industrial quality 3D printing.
Instead of patients being forced to spend months off their feet after a traditional knee replacement, they would be able to put weight on a damaged joint after just a few days. The device would target younger patients not eligible for metallic replacements typically recommended for those 55 and older.
"We'd like to return people to full activity. Impact sports, running, basketball, whatever they were doing before they had their injury," said Dr. Holmes, the CEO of Nanochon. "Overall quality of life could be much better for patients treated with something like this as opposed to something that exists."
The implant's material isn't currently being used for medical purposes, but it has a lot of interesting properties, Dr. Holmes said. As part of their research, they put some of the material into a petri dish with stem cells. New cells and vascularized bone—bone with a blood vessel network—grew quickly on the material.
"I had been spending five years, my entire PhD, trying to get vasculature to grow on different materials, and 3D printed structures and the cells grew a dense vascular formation on this thing in one day," Dr. Holmes said. "Five years of work and this thing just did it in one day. So we were very convinced that the results were going to be good."
The material is highly flexible so it doesn't need to be cut exactly to size, which will allow Nanochon to develop generic oval and circle shaped implants in different sizes that can be used for most common injuries. The material would remain in the body and integrate with existing and newly formed tissue.
Dr. Zhang said Nanochon's development is an example of how important student participation is to university research. Dr. Holmes and Dr. Castro were some of the first students she had in her lab.
"The work that they began with me has created the backbone of what is now proving to be a very promising startup," she said. "It just goes to show that, if students are highly engaged with research at an early stage it can develop into incredible things, with the potential for real world impact."
Seeing her former students succeed is one of the most rewarding parts of being a professor, Dr. Zhang said.
"Physical science and engineering especially can be quite rigorous, and often students and professors alike can be bogged down by the minutia of research tasks," she said. "To watch Ben over the years form a clear and ambitious vision for his work, continue to shape that vision and follow through on it is to know that I have impacted him in a positive way. Perhaps one day he will change the world."
Dr. Holmes came to GW after spending more than a year after college working in construction, design and development for public transit. He decided he wanted to switch directions so he came back to school to get his master's degree. He ended up staying longer to get a PhD in mechanical engineering with a concentration in biomaterials and nanomedicine.
"In the course of doing my master's I really fell in love with the field and the work," he said. "That's when I started to think of good ideas."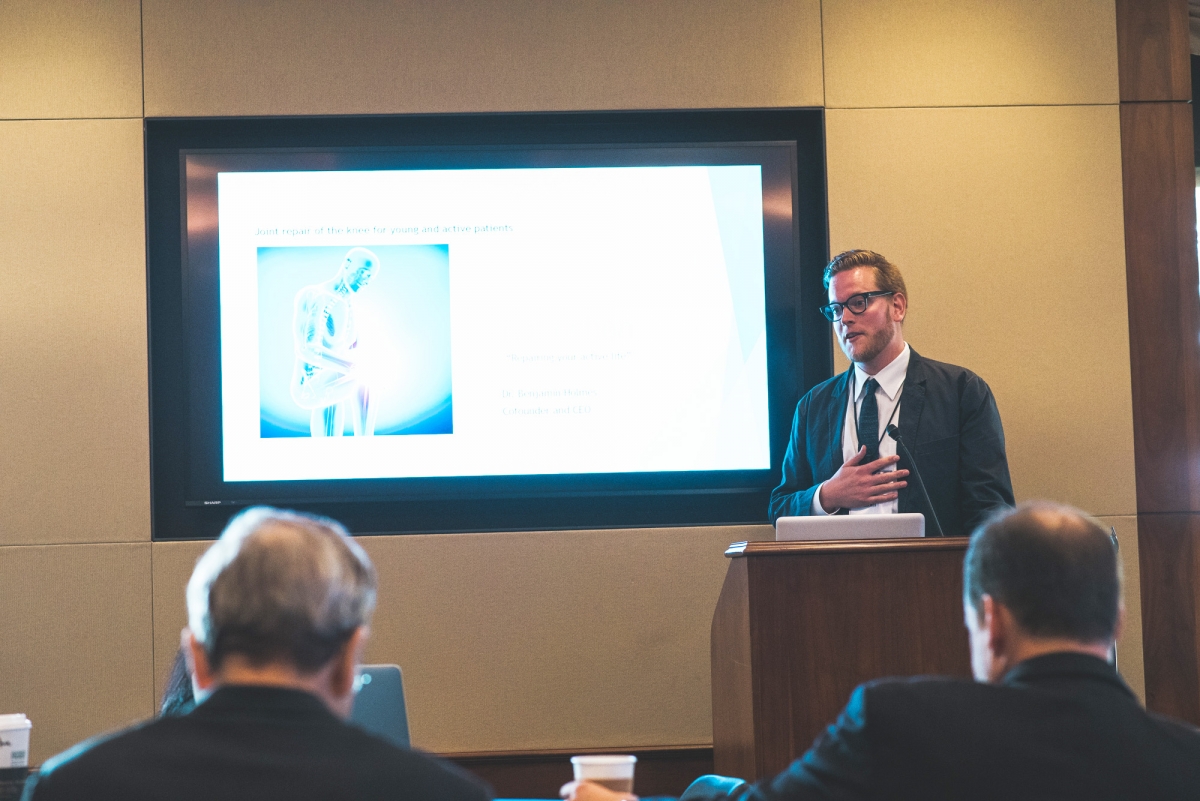 Nanochon CEO Ben Holmes presents a pitch at University Startups Demo Days on Capitol Hill in September.
With help from the Technology Commercialization Office and the Office of Innovation and Entrepreneurship, both within the Office of the Vice President for Research, Dr. Holmes and Dr. Castro were able to patent their idea and develop their startup. They participated in a course offered by DC I-Corps, a regional hub for entrepreneurs and innovators funded by the National Science Foundation.
Dr. Castro, Nanochon's chief technology officer, is completing a postdoctoral fellowship Queensland University of Technology in Australia while Dr. Holmes works to advance the startup in the United States. In September Dr. Holmes was selected from over 200 university startups to present a pitch at the University Startups Demo Days on Capitol Hill. This led to an invitation to pitch to an angel group to raise funds.
Dr. Holmes said if Nanochon receives funding at the right times, the 3D-printed implant could be on the market in three to four years. In the meantime, they are using a research grant at Children's National Medical Center and testing the product on rats, along with the Chief of Orthopedic Surgery, Matthew Oetgen. Next the team will focus their research on larger animals like goats, cows and horses.
Nanochon sees value in breaking into the horse market while they develop the product for human medical use. An implant for horses could be on the market in less than two years, Dr. Holmes said.
Dr. Holmes sees 3D-printing technology as the future of medicine. Nanochon's implant is just the beginning.
"The fruit is hanging there," he said. "It just needs to be plucked."