After two years as a consultant at Deloitte, Nicole Messier, B.S. '11, traded in her career at one of the "Big Four" audit firms to enroll in a Master's in Fine Arts program at Parsons The New School for Design.
It may seem like an unlikely transition for a former aerospace engineering student, but 26-year-old Ms. Messier quickly found a way to wed her interests in art and technology. Now she is encouraging young girls to do the same.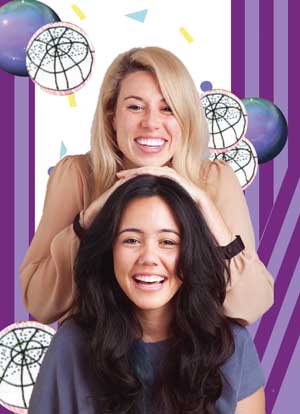 (From bottom) Nicole Messier, 

B.S. '11, and 

Joselyn McDonald co-founded blink blink in 2014. 
Ms. Messier is the CEO of blink blink, a company she co-founded in 2014 with fellow Parsons classmate Joselyn McDonald. The company sells creative circuit kits for crafting do-it-yourself projects, from a light-up scarf and necklace to a Valentine's Day card that glows.
Each kit—designed for girls age 8 to 18—includes copper tape, conductive fabrics and thread, LED bulbs, batteries and craft supplies, along with a project tutorial booklet. The co-founders also regularly post project ideas on the blink blink website, and customers are encouraged to submit their own creations.
The company's aim is to address the STEM gender gap by exposing middle and high school girls to technology with an approach that is fun and playful.
"The research we've done shows that many girls still find coding material intimidating," said Ms. Messier, who earned a bachelor's degree at the George Washington University's School of Engineering and Applied Science. "Since these kits don't include any coding, they are a great introduction or first step to creating with technology."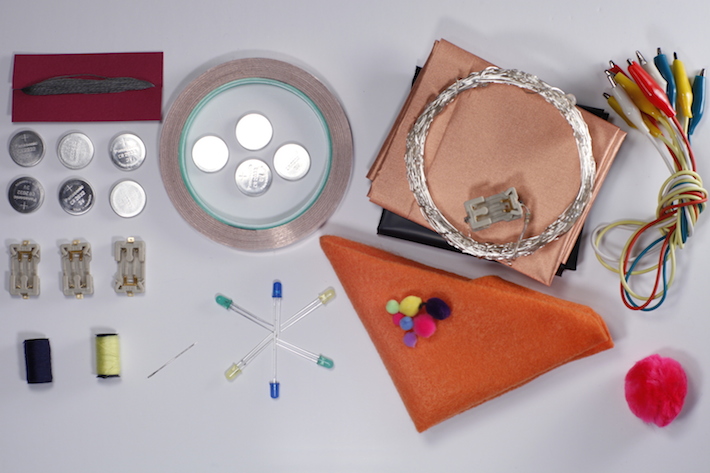 Each blink blink kit, designed for girls age 8 to 18, includes copper tape, conductive fabrics and thread, LED bulbs, batteries and craft supplies, along with a tutorial booklet.
---
According to 2012 data from the National Science Foundation, girls take the same number of high-level mathematics and science courses in high school as their male peers and perform at the same level on average. But disparities between genders start to emerge once students reach college. Women received only 19 percent of all engineering degrees in 2012 and made up 13 percent of the engineering workforce.
Ms. Messier suspects that a lack of female role models may be to blame. "They don't feel welcomed at the table," she said.
Ms. Messier said she was one of only a handful of women studying mechanical and aerospace engineering at GW five years ago, and men taught all of her major courses.
"I found it quite isolating," Ms. Messier said. She considered transferring.
Then she joined Alpha Omega Epsilon, the international engineering sorority, and her outlook changed dramatically. There, she found a supportive community of like-minded women, many of whom are still some of her closest friends. 
Since she graduated from SEAS, the school has made a conscious effort to recruit a more diverse body of faculty and students. In 2013, half of the school's faculty hires were women, including three in the Department of Mechanical and Aerospace Engineering. GW also is among the top five schools in the country for the percentage of engineering bachelor's degrees awarded to women, according to a 2012 American Society for Engineering Education report.
"I think that's great," she said. "You see women who have done it, and you see yourselves in them."
Ms. Messier hopes that blink blink will help to create a similar sense of community for girls and inspire them to become engineers at an even earlier age. She and Ms. McDonald have hosted dozens of blink blink workshops with girls at schools and arts programs in New York, New Jersey and New Orleans. The students provided feedback on the kits and helped to design the look and contents of the products. With funding from the 4.0 Schools program, a not-for-profit education incubator, Ms. Messier and McDonald were able to sell their first 100 kits this year.
Going forward, Ms. Messier said she and her business partner plan to expand blink blink through larger scale production and manufacturing operations and more DIY products. The start-up life, she said, has taught her to vouch for herself and "how to hustle."
"It's not glamorous," she admitted. "You have to constantly put yourself out there and ask everyone for help, especially in the beginning stages. But by working at a startup, you get to put your hands on a lot of things, which is a great learning experience."