A new series from GW Today shows how GW is preparing for the fall semester and a high-quality academic experience.
By Tatyana Hopkins
Alexander Cromwell has spent the past year helping undergraduate students in the George Washington University Elliott School of International Affairs strengthen their research skills as the associate director of the school's Dean's Scholars program, a two-year program for juniors and seniors to pursue advanced research interests.
However, as a faculty adviser for the Elliott School's internship course this fall, in addition to helping students develop their research skills, he will help them enhance more practical career skills.
"The way the current internship course works is students do research projects based on their internships," Dr. Cromwell said. "It doesn't really help students think about how their internships are helping their careers."
As a faculty adviser, Dr. Cromwell will engage students with material that will help them reflect on their internship experiences through a more pragmatic lens, including leadership development, writing a strong resume and identifying and communicating professional strengths and weaknesses.
Dr. Cromwell initially developed the course materials to help students "make the best of being in D.C." However, with classes being held online in the fall, he is reimagining the class to students engaged via distance learning.
"I think a lot about pedagogy," he said. "I really want students to be excited to come to class, and I want them to get as much as they can out of it."
His role as a faculty adviser will allow him to interact with undergraduate students outside of the Dean Scholars program, and he said the class will participate in a number of activities to build the sense of community he has with his scholars cohort, even though they are online. These activities include a scavenger hunt, where students find items in their homes and share them with the class, and singing to students celebrating birthdays.
"Singing 'Happy Birthday' is even more hilarious online [than in class] because everyone ends up singing the song at different timing because of internet delays," he said.
The group will also reflect on their most meaningful learning experiences and talk about what made them so meaningful.
Beyond having fun, Dr. Cromwell said these activities will help the class become more comfortable with one another, so they can engage in more meaningful class discussions about the coursework.
Dr. Cromwell was initially nervous about how to create an engaging learning space online when he suddenly had to move his in-person courses online when the university transitioned to distant learning in March. In the spring 2020 semester, two courses he was teaching had plans to travel abroad abruptly canceled due to COVID-19-related restrictions.
"I had to completely rethink what we were going to do because we weren't traveling anymore," Dr. Cromwell said. "That was tough. But students were really committed to the class. They still put the work in, and we figured out a way to just continue to have class for the rest of the semester."
His graduate students, who were supposed to travel to Thailand over Spring Break to complete program evaluations as consultants for an organization working with migrants and refugees from Burma, instead conducted interviews online and presented their findings virtually.
While teaching a graduate course, Introduction to Conflict Resolution, in the summer, Dr. Cromwell said he was able to perfect creating an inclusive virtual learning environment and will use similar techniques in the fall.
His first rule: "Cameras have to be on."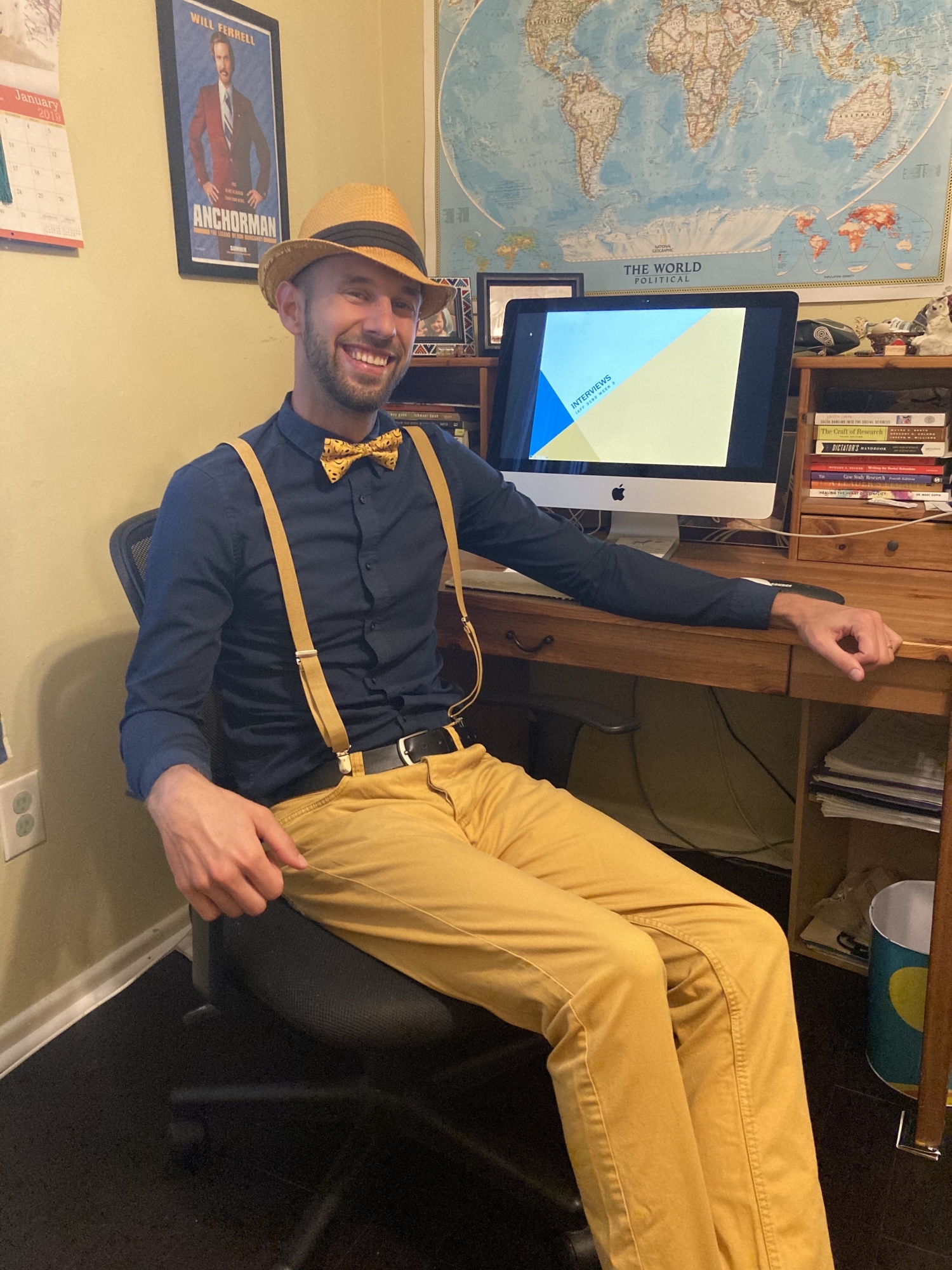 "How do you create an inclusive online learning environment when everyone might have their videos off and you don't even know what they're doing," Dr. Cromwell said.
To keep class interesting, Dr. Cromwell frequently used breakout rooms as well as comments and polling to drive class discussions.
He even attempted to mimic the in-person interactions by doing things like logging on early for informal discussions and inviting guests to class, including his 3-year-old son, Jack.
"I always match my [clothes] outfit to my [PowerPoint] slides, and one class I also had my son match me and my slides, which was fun," Dr. Cromwell said.
This tradition started accidently a few years ago when he gave a slide presentation in class with navy and mustard-colored slides while wearing a mustard fedora, bowtie, pants and suspenders and a navy shirt.
"A student raised their hand and said, 'This has nothing to do with our discussion, but did you know that your slides match your outfit,'" Dr. Cromwell said. "From that day, I have always changed the colors of my slides to match with my outfits. The mustard fedora, bowtie, pants combo is still my favorite one."
Although, he said it is harder to see pants online, he and his son, Jack, matched the orange and blue slides for his graduate professional skills summer course.
In the future, Dr. Cromwell hopes to teach a separate internship course that reimagines the current research-based experience and emphasizes career skills. 
"Sometimes we focus a little too much on tech, and not enough on how we're actually approaching the class," he said. "You can use all the tech in the world, but a class could still not be interesting. You have to think about how you can engage students."