The world is facing the biggest refugee crisis in history, with 65.3 million forcibly displaced people throughout the globe, according to the U.N. High Commission for Refugees.
In a discussion moderated and organized by George Washington University Assistant Professor of International Education Bernhard Streitwieser on Thursday, six experts provided a closer look at the myriad experiences of displaced people, refugees and immigrants in both Europe and the United States.
The panelists gathered in the Marvin Center and offered a short presentation about their scholarship, which ranged from how anti-Islamic and anti-migrant rhetoric has grown in Europe to the ways in which community groups are supporting immigrant youth at the local level in the United States.
Markus Löcher of the Berlin School of Economics and Law has been studying how German universities have managed the country's influx of refugees, and what opportunities might be available to aspiring students within the refugee population. He explained that in 2015 alone, almost 1 million refugees came to Germany. Statistics show that 70 percent of these refugees are under the age of 30, and a small fraction may be eligible for higher education.
Already, Dr. Löcher said, Germany has invested money to provide housing, health services and adaptation courses to refugees, and universities have offered language classes and other integration programs to the newly arrived population. The Berlin School of Economics and Law, for example, waives certain bureaucratic and language requirements and offers German courses in an effort to attract refugee students to campus. However, how successful universities are at integrating refugees remains a question, since this data is still difficult to access in Germany. Dr. Löcher and Dr. Streitwieser are currently interviewing refugee students in Berlin as part of an ongoing study.
While Mr. Löcher provided a look into how educational institutions are promoting integration in Germany, American University Professor Cynthia Miller-Idriss discussed the backlash against the migration and refugee crisis in Europe.
She highlighted electoral responses spurred by anti-refugee sentiments—including the Brexit vote and the rise of the Alternative for Germany (AfD) political party—as well as an increase in hate incidents and developments in far-right youth subcultures.
In Germany, there were nearly 10 attacks a day on migrants in 2016, and in the U.S., Reuters has reported that hate crimes in metropolitan areas are up by 20 percent and CNN reported that attacks on mosques have doubled since 2016. As of this month, there have been more than 100 incidents of white supremacists fliers on university campuses and 100 bomb threats made to Jewish institutions.
"We can't ignore the context as we talk about what it means to have a normalization of Islamophobic, xenophobic, anti-Semitic, anti-immigrant, anti-migrant attitudes," Dr. Miller-Idriss said, citing the Pegida protests in which tens of thousands of people gathered against what they called "the Islamification of Europe."
Elzbieta Gozdziak of the Institute for the Study of International Migration at Georgetown University highlighted the parallels between President Donald Trump and his "Make America Great Again" campaign and Prime Minister of Hungary Viktor Orbán, who has insisted Europe can become great by preventing non-Europeans from entering the continent.
During a referendum last summer, Hungarians had the chance to vote against accepting refugee quotas set by the European Union. Although the referendum did not pass, Dr. Gozdziak explained that Mr. Orbán spent more than $60 million on public campaigns expressing the dangers of refugees. He also has poured money into policing Hungary's borders, building fences and hiring security forces and has pushed to close refugee reception centers in the country.
Both Mr. Trump and Mr. Orbán have centered their campaigns around the threat of terrorism. Earlier this month, Mr. Trump introduced a new executive order banning immigration from six Muslim-majority countries — Syria, Iran, Libya, Somalia, Sudan and Yemen—and suspending the U.S. refugee program.
In her presentation, Anne Speckhard of Georgetown University's Center for Trauma and the Community examined how dangerous refugees truly are. She pointed out that ISIS and al-Qaeda have spread their ideas through social media, often recruiting and radicalizing vulnerable people who already live in the United States.
"They don't need to send a refugee here—they can send their ideology and their poison over the Internet, and that's exactly what they've done," she said.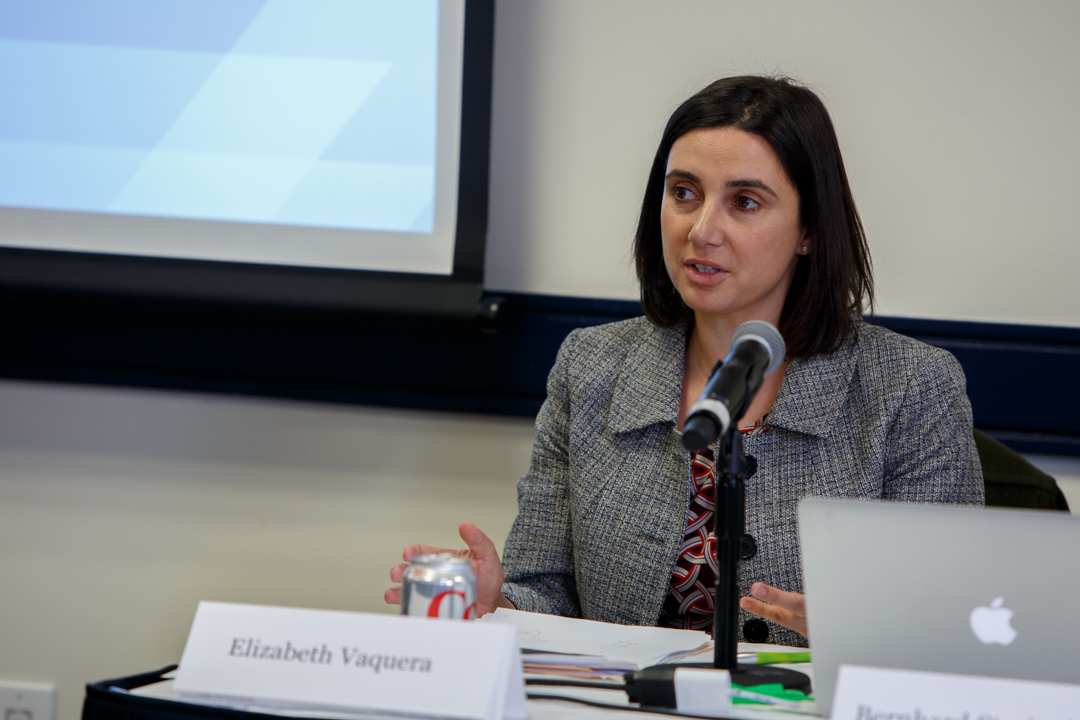 Elizabeth Vaquera's research revolves around undocumented immigrant youth and their sense of security in the United States. (William Atkins/GW Today)
---
Elizabeth Vaquera, director of the Cisneros Hispanic Leadership Institute at the George Washington University, and Cecilia Dos Santos of the Latin American Youth Center brought the discussion to a different part of the globe.
They spoke to the experiences of immigrants from Latin America, which include young undocumented people who were brought to the United States as children and have come of age fearing deportation. These anxieties have worsened as political rhetoric has become more anti-immigrant, Dr. Vaquera said.
"We're talking about young adults who still want to have their first date, who want to go to the movies, who are going on their first trip without their parents," she said. "These youth are going into those transitions, but also having a whole set of issues to take into consideration."
Following the presentations, the panelists took questions from the audience and analyzed how to harness research and continue illuminating issues around migrants and refugees.  
"Maybe the next step is to start looking outside of our own mini niches for the ways in which these themes [intersect] across multiple dimensions of people who work on youth, whether that's on the extremist side or vulnerable populations side," Dr. Miller-Idriss said.