As they created a classroom guide inspired by Malala Yousafzai's memoir, George Washington University faculty—and even Malala's father—began to reexamine their assumptions about the 17-year-old Nobel Peace Prize winner.
On one such occasion, the guide's writers were reviewing a passage with Malala's father, Ziauddin Yousafzai, and Jahan Zeb, a Pakistani scholar. Mr. Zeb stopped and said, "I'm not sure about this part that calls Malala a 'feminist leader.' Is she a feminist?" Mr. Yousafzai nodded in agreement. "I was wondering about that myself," he said. "So, I asked her."
Malala's response? "If feminism means equality for all people, then yes, I am a feminist," she told her father.
A full Jack Morton Auditorium erupted in applause on Thursday as GW's Global Women's Institute (GWI) Director Mary Ellsberg recounted this story. The event celebrated the launch of the institute's free online resource guide, created through a partnership between GW, Little, Brown and Company and the Malala Fund.
"I Am Malala: A Resource Guide for Educators"—which is targeted to high school and university students— includes lessons based on eight themes from the "I Am Malala" memoir. Malala's book chronicles the Muslim teenager's journey from schoolgirl to women's rights activist. The Taliban shot the Pakistani teenager in 2012, because she dared to speak up for the right of girls to be educated. Today, Malala is an inspiration to burgeoning activists, and, for many, a symbol of hope for the millions of children worldwide who cannot gain access to education.
Speakers at Thursday's event emphasized that the lessons in the resource guide give students the opportunity to challenge assumptions and to gain a greater understanding of Malala beyond the newspaper headlines.
"It is intended as a tribute to Malala to honor her courage and to further spread her message about girls' education," Dr. Ellsberg said. "Our hope is that the resource guide, along with her memoir, will be used here and in classrooms around the country and the world."
The highlight of the celebration featured remarks from Malala Fund co-founder Mr. Yousafzai, who contributed to the resource guide's production. Malala's father, a humble man with a soft smile, spoke eloquently about Swat Valley, his "peaceful" homeland that was invaded by the Taliban in 2009.
Mr. Yousafzai never thought that "the beautiful valley which was once a paradise for tourists from all around the world," would be turned into "the center of terrorism." The Taliban destroyed more than 400 schools in the valley, 70 percent of which were girls' schools.
Malala's father also reminded the audience that though his daughter's memoir may be about his family, it is "not one family's story."
"It is the story of the millions of children all around the world. Fifty-seven million children are out of school. Out of those 57 million children, half of them belong to conflict areas," he said. "It is the story of the children who are in the camps of Jordan, and who are the refugees from Syria. It is the story of the 300,000 children in Lebanon."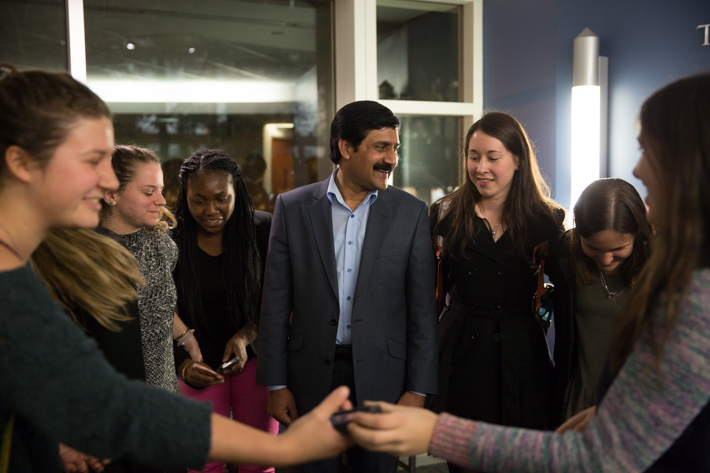 Ziauddin Yousafzai greets George Washington Unviersity students during a reception following the resource guide launch event.
---
Following Mr. Yousafzai's keynote speech, he was joined on stage by two GW alumnae: Politico editor Lois Romano, M.A. '78, and Catherine Russell, J.D. '88, U.S. ambassador-at-large for global issues. Ms. Romano moderated a discussion between Mr. Yousafzai and Ms. Russell about how to break down barriers that are preventing many girls around the world from receiving an education.
Ms. Russell said that supporting women and girls is central to U.S. foreign policy, not only as a matter of basic human rights, but also because the United States believes that when women and girls have opportunities in their country, they take full advantage of them. And, in turn, they make their countries more economically, politically and socially stable.
"You would never leave your best resources on the sideline when you're trying to do something effectively," Ms. Russell said. "Our view is that women have a tremendous amount to contribute, and that countries will never succeed and do their best if they don't take advantage of that."
The "I Am Malala" resource guide is the result of an interdisciplinary collaboration between GWI and a diverse group of faculty members from various academic departments. Faculty from the Columbian College of Arts and Sciences, the Elliott School of International Affairs, the Graduate School of Education and Human Development and the University Writing Program designed lessons and wrote essays for the guide.  
During a panel discussion, GW faculty members highlighted a few of the guide's themes, such as "Memoir as literature and history" and "Malala and the media."
Amira Bakir, a freshman in Elliott School of International Affairs, spoke about her reaction to reading "I Am Malala" in a GW course. As an Arab woman, Ms. Bakir said she was most impressed with Malala's "impressive degree of self-awareness." Her story, Ms. Bakir said, showed that a conservative lifestyle is not necessarily incompatible with professional success. 
"I think Malala proves to us that faith doesn't need to be compromised in the pursuit of your goals. I pray that one day, society can come to accept the success of a Muslim woman, not as a coincidence, or something in spite of her faith, but as the culmination of her unique identity—of all the parts that she is made up of," Ms. Bakir said. "And I think Malala's story is definitely the first stepping stone in that direction."
When asked what he would do in the next 12 months to reduce girls' barriers to education if he had a "magic wand," Mr. Yousafzai looked perplexed.
"There is no magic wand, to be honest," he said. "It's a long walk, and we have to do something every day."