By Ruth Steinhardt
July 2, 1881, began as an ordinary Sunday for William MacLeod.
"Bright breezy and pleasant," he wrote in his daily journal, going on to record some run-of-the-mill business letters he had received in his capacity as the original curator of the Corcoran Gallery.
But the day took a turn that would affect the entire country. Mr. MacLeod started a new page for the era-defining event, which he recorded in his even, elegant handwriting and underlined in red:
"Attempt to assassinate President Garfield!"
Charles Guiteau, whom Mr. MacLeod dismissed as "a broken down lawyer, spiritualist & impecunious wretch," had shot President James A. Garfield twice, but he survived initially.
So with national tragedy averted for the moment, Mr. MacLeod wrote, gallery founder William Wilson Corcoran ordered a return to business as usual:
"Mr. Corcoran called here early, & supposing the President was dead ordered the Gallery to be closed, but afterwards revoked the order."
Mr. MacLeod's journals chronicled President Garfield's three-month decline and eventual death from his wounds as faithfully as they did each day's weather, letters received and museum goings-on.
They are part of the nearly 2,000 boxes of historical documents, photographs, artifacts and advertising material that make up the archives of the Corcoran Gallery and the Corcoran College of Art and Design, now the Corcoran School of the Arts and Design.
This week, the Corcoran board of trustees announced that they had donated the archives in their entirety to the George Washington University.
The archives document nearly 150 years of the life of an American institution of art and art education. They include 17 letterpress volumes of outgoing correspondence concerning Corcoran activities, architectural drawings by Ernest Flagg of the gallery's historic Beaux-Arts building and documents related to a controversial, and ultimately canceled, exhibition by the artist Robert Mapplethorpe.
After nearly a decade in inaccessible storage, the archives will be available to the public at the Special Collections Research Center in GW's Gelman Library.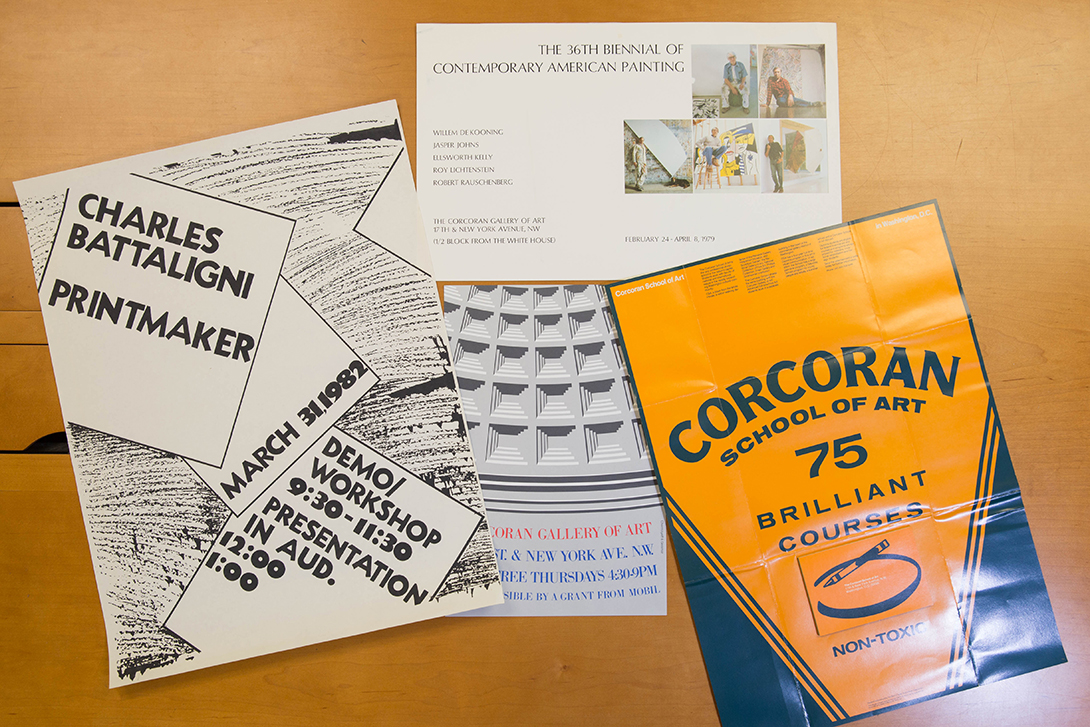 The Corcoran archives include decades of promotional material. (William Atkins/GW Today)
---
Geneva Henry, dean of libraries and academic innovation, called the archives an "absolute treasure."
For the glimpses they provide into the city's past, Ms. Henry said, the Corcoran Archives also are a valuable complement to existing GW library resources like its comprehensive Washingtoniana Collection. As part of that collection, Gelman's Special Collections Research Center holds the records of the PNC-Riggs Bank, which was co-founded by William Wilson Corcoran and provided the bulk of his fortune.
"The mission of libraries and archives is the preservation of the human record," she said. "So things like this really excite us, because archives are the primary source of materials that tell us, in original words, what history was."
The archives include photographs of exhibits mounted as early as the 19th century, showing how much curatorial and public tastes have changed. One depicts a display of the work of Edward Kemeys, who sculpted the iconic bronze lions guarding the Art Institute of Chicago. In the photograph, miniature panthers, bison, bears and other animals crowd by the dozens on several dining-room-sized tables.
To the modern eye, the effect is more like a vendor's stall at a flea market than a gallery in a prestigious art museum.
"It's a completely different aesthetic of how art is exhibited," said Elisabeth Kaplan, associate university librarian. "Can you imagine seeing sculpture presented like this in a museum today? It would be hilarious."
Corcoran School Director Sanjit Sethi, who referred to himself as "a bit of an archive geek," pored with interest over a ghostly, fragile 1893 architectural elevation of the museum's Flagg Building.
He indicated a spot on the drawing. There is now a sinkhole there, he said, created by a corroded steam line put in after the drawing was made.
"So this [plan] still has real purpose within our Division of Operations and Planning because the building is right now going through an incredible renovation," he said.
Mr. Sethi said the tactile experience of working with an archive was "something every student should be able to experience" that cannot be duplicated by any other kind of research.
"The excavative process of opening boxes—sifting through information, finding those interstitial but remarkable elements—is profound for me," Mr. Sethi said.