Commencement speaker José Andrés urged the George Washington University class of 2014 to redefine success to include making an impact on the world.
"The challenges we face today—hunger, poverty, inequality, war—have been around forever, but that doesn't mean it always has to be this way," said Mr. Andrés at the university's ceremony Sunday. "That's where we need you most. We need you to come up with new solutions, and to do that, new recipes for success must be written." 
"Success is no longer only about achieving your goals. It's about using your skills and talents to do something bigger in the world," he said. "This is the new American Dream." 
The world-renowned chef and activist received a standing ovation after speaking to an estimated 25,000, including graduates and their families, on the National Mall. GW is the only university that holds its ceremony on the iconic site.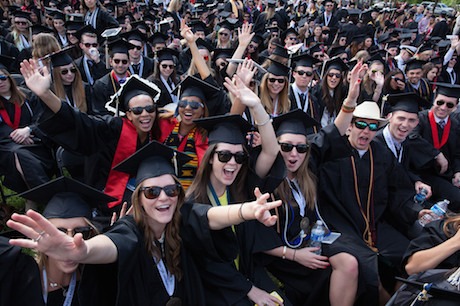 After a
star-studded video
purporting to show the university's first choices for Commencement speaker, including Gwyneth Paltrow, Owen Wilson, Eric Holder and Morgan Freeman, Mr. Andrés said he was honored and humbled to be selected.
He charted his nontraditional path to success, from a child in Spain who wanted to cook to a sailor with a desire to see the world, an immigrant in New York and an entrepreneur in Washington, D.C.
"I fell in love with the idea that no matter what your background, anything was possible here," said Mr. Andrés, who recently became a U.S. citizen. "I wanted to be part of the American Dream."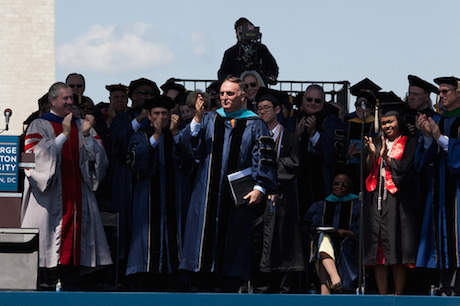 But, he stressed, the rewards for him were not immediate—and graduates shouldn't expect them to be either. "My story is not one of overnight success," he said. "When I found myself alone in a new country, I didn't buy a lottery ticket and hit the jackpot. I just kept going." 
The class of 2014, he said, has the opportunity to shape the new American Dream. "It's not about having high-paying jobs, big houses, fast cars," he said. "There's nothing wrong with those things. But the new American Dream is bigger. It's about how to achieve your success while also making an impact in the world."
He encouraged graduates to learn from criticism and unpredictability.
"Don't imitate what has already been done. Don't go along with someone else's expectations for what your life should look like," he said. "Don't assume that because things have always been a certain way, they will never be any different."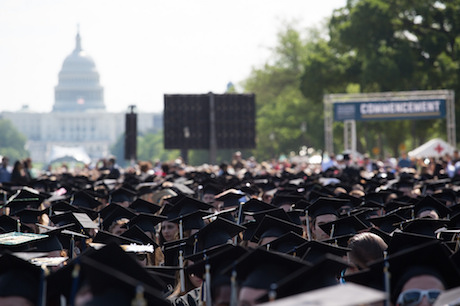 Mr. Andrés talked about how life-changing his service experiences have been, starting as a young volunteer decades ago at DC Central Kitchen to founding World Central Kitchen after Haiti's devastating earthquake in 2010.
"It's not about throwing money at the problem, it's about investing into solutions," he said.
"Each of you has unique talents," Mr. Andrés said. "Hone your skills. Build the fire. Embrace your passions and profession. Along the way, you'll find opportunities to serve in your communities and around the world." 
"Sometimes our journeys might feel uncertain and without purpose, but every step we take brings us closer to achieving our dreams."
The ceremony opened with remarks from Provost Steven Lerman.
"To gather here so close to the U.S. Capitol and the monument dedicated to the nation's first president is a fitting tribute to your achievement in completing your degrees," he said.
Dr. Lerman recognized winners of the GW Awards, one of the highest honors the university can bestow. This year's recipients, who joined Dr. Lerman on stage, were Edward McCord, associate professor of history and international affairs; Milken Institute School of Public Health graduating senior Jane Wallis; and medical student Samantha Margulies.
Board of Trustees Chair Nelson Carbonell, B.S. '85, and GW Alumni Association President Steve Frenkil, B.A. '74, remembered their time as Colonials and spoke of their lifelong connection with the university. They encouraged the graduates to keep close ties with GW and their fellow alumni, and Mr. Frenkil emphasized the Alumni Association's idea of "Colonials helping Colonials."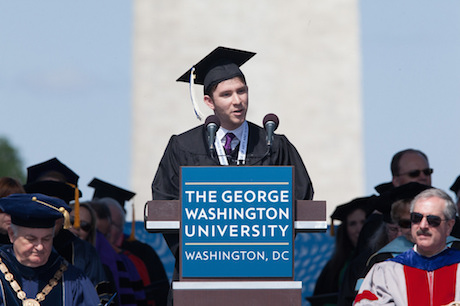 Gabriel Felder, B.A. '14, delivers remarks.
---
‪Student speaker and political communications major Gabriel Felder, B.A. '14, remembered being on campus with his father just after Colonial Inauguration. His father urged him not to waste his time at the university—advice Mr. Felder said he took to heart.‬‬‬‬‬
"To be a GW student is antithetical to 'wasting it,'" he said. "We're perhaps best known as those that don't just seize opportunities but make our own."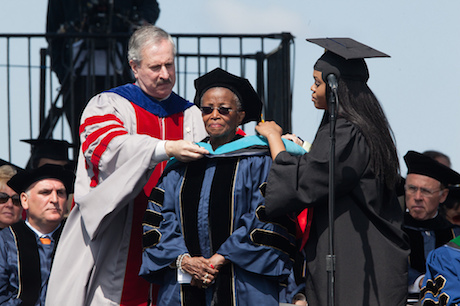 Maudine Cooper receives an honorary Doctor of Public Service.
---
George Washington President Steven Knapp conferred honorary Doctor of Public Service degrees upon social justice advocate Maudine Cooper, businessman and philanthropist W. Russell Ramsey, B.B.A. '81, as well as Mr. Andrés. 
"All of my life, I've wanted to help people in a small way," said Ms. Cooper, who led the Greater Washington Urban League for more than two decades. "As time went by, through the Urban League, I found a means of helping in a larger way. To those of you who are continuing in school to obtain additional study, good luck and full speed ahead." 
Mr. Ramsey also was recognized for his service and generosity to George Washington, where he served as chair of the Board of Trustees from 2007 to 2013. Under his leadership, the university developed its academic strategic plan, restructured its medical center and redeveloped several areas on campus.
"I don't believe I will ever be able to fully convey what this means to me," said Mr. Ramsey. "I was the first in my family to ever attend college—the first person. The older I get, the more I appreciate just how incredible the opportunity was to earn that degree from the George Washington University."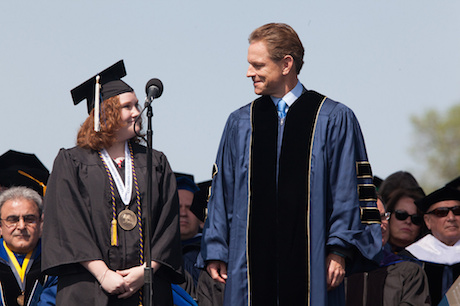 W. Russell Ramsey, B.B.A. '81, receives an honorary Doctor of Public Service.
---
Dr. Knapp delivered his charge to the class of 2014, urging the graduates to keep alive their energy, commitment to service, intellectual curiosity and respect for others. "You are exceptional men and women, and I am proud to call you graduates of this great university," he said. "You are our future."
The university ceremony was one of more than a dozen events—including individual school celebrations, a doctoral hooding ceremony, senior class toast, Phi Beta Kappa induction and Interfaith Baccalaureate—held during GW's Commencement week, May 13-18.