By Kristen Mitchell
The Mount Vernon Museum's curious guests looked on as George Washington University students spoke with authority about common objects that played a role in the first American president's life. In a few short weeks, these students have become experts on everything from nets used for the estate's lucrative fishing business to how George Washington took his coffee.
Undergraduate students in the Department of History's "George Washington and his World" class make it their mission to understand the finer details of Washington's life and examine his role in history. Through studying objects, documents and other relics of his life, they will add to the body of knowledge about a historical figure still not completely understood.
This isn't the kind of work that can be done only in a classroom. The class includes multiple trips to Mount Vernon, the Virginia estate about 20 miles south of Washington, D.C., that Washington called home, to learn more about the inner workings of the estate's mansion, mill, distillery, farms and gardens.
Having the opportunity to walk the grounds where Washington lived allows students to confront the complexities of his life head on. The class aims to peel back what students think they know about Washington's myth for a more nuanced understanding of him as a man, a soldier, a leader, a farmer and a slave owner.
"There's no better place in the world, I think, to study American history than Washington, D.C.," said Denver Brunsman, associate professor, who teaches the class.
The class works closely with historians throughout the D.C. area and has access to collections and experts at Gelman Library, the Society of the Cincinnati, the Library of Congress and the Washington Library at Mount Vernon.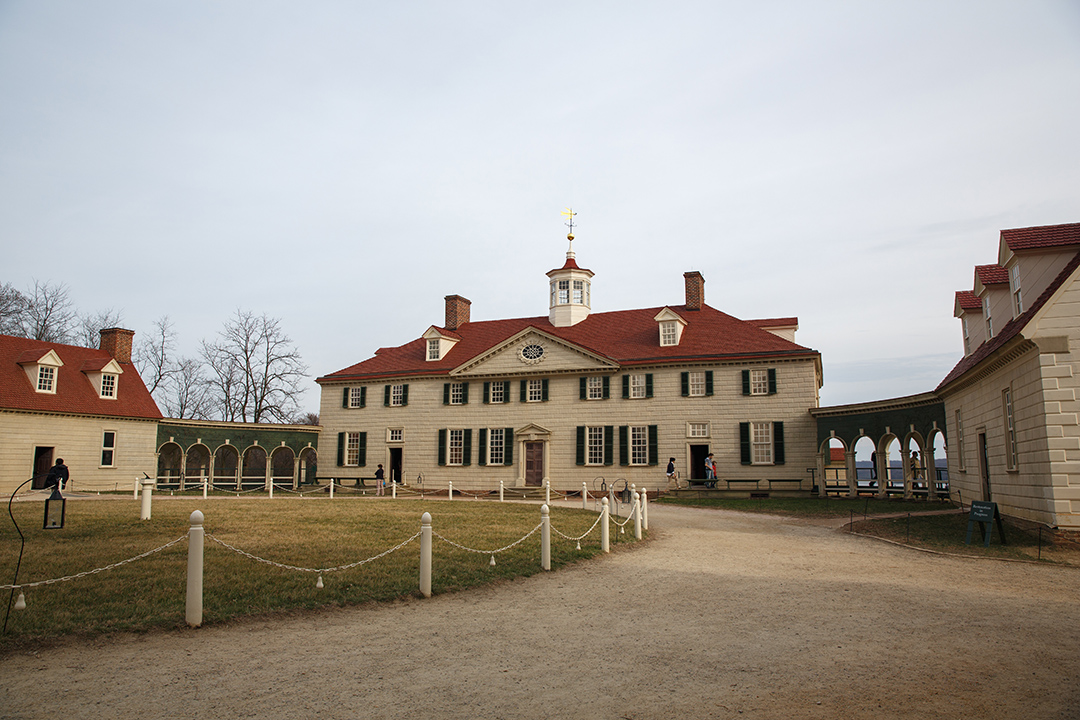 Undergraduate students take multiple trips to Mount Vernon, the Virginia estate about 20 miles south of Washington, D.C., as part of "George Washington and his World." (William Atkins/ GW Today)
---
History up close
Alex Todd, a senior majoring in international affairs with a concentration in security policy, wanted to take Dr. Brunsman's class to learn about Washington in his role as commander of the Continental Army and how his choices during the Revolutionary War sent signals to potential allies in Europe such as France and Spain. Mr. Todd is a member of the Army Reserve Officer Training Corps and will become a military officer following graduation.
"The French saw his military successes and that's what brought them into help backup the revolutionary forces. Ultimately, they were a big part of why we won," Mr. Todd said.
In addition to giving a short presentation on artifacts at the Mount Vernon Museum and creating an alternative display label, students will create a subject-matter entry on their own research for the George Washington Digital Encyclopedia maintained by Mount Vernon. Each student will also speak about their final paper research on Dec. 10 at D.C Mondays at the Museum, a weekly lunchtime series held at the George Washington University Museum and The Textile Museum that is open to the public.
Mr. Todd is writing his encyclopedia entry on the Battle of the Chesapeake and his final research paper will present a unified theory on Washington as a tactician and strategist. Having the opportunity to pursue his own research interests has been a rewarding experience, he said.
"This class more than almost any other I've taken has exposed me to what being an actual research scholar is," he said. "I've written tons of papers in other classes, but none have provided me with access to documents to do the true kind of research that an actual scholar would be doing."
Most of the students who take the Columbian College of Arts and Sciences course are history majors, but a few slots are always reserved for undergraduates from different disciplines, Dr. Brunsman said.
Students are required to write a short essay on why they want to take the class and then go through a competitive interview process before they can register. The class typically accommodates between 14 and 16 students every fall. The course mimics the work of professional historians—students are never asked to do any assignments they wouldn't tackle in the field, Dr. Brunsman said.
"People underestimate undergraduate students," Dr. Brunsman said. "Undergraduate research is a really growing concept in higher education, and GW is at the forefront of that in a lot of different ways."
Alexandria Cannon, a junior majoring in history with a concentration in American history, was drawn to the class's hands-on component. She typically focuses her coursework on Civil War-era history.
"Most history classes, you are in a discussion room talking about it, but with George Washington and his World, it's like we get to take the class on his estate and kind of almost relive through what he did in the 18th century," she said.
Ms. Cannon said a high point of the semester was visiting Anderson House in Dupont Circle, home to the Society of the Cincinnati, which maintains a vast collection of Revolutionary War-era artifacts and documents. Students visited Anderson House in September to learn how to use the collection as part of their research and see some of the collection up close. Ms. Cannon had the opportunity to look at journals belonging to representatives in the Pennsylvania Assembly dating back to 1780 and examine letters written by Washington himself.
"That was one of those hands-on experiences, actually looking at the crinkly pages and the ink smudges," she said. "It was just a really good experience having access to those rare items."
For her encyclopedia entry, Ms. Cannon is writing about the Act for the Gradual Abolition of Slavery passed by the Pennsylvania Assembly in 1780, which sought to phase out slavery. After visiting as a class, students are able to return to Anderson House to continue their individual research.
Washington in a new light
Dr. Brunsman came to GW in 2012 specifically to teach this class and to manage the department's relationship with Mount Vernon. The class was created by Ken Bowling, the now-retired editor of the First Federal Congress Papers Project, and his colleague William diGiacomantonio.
Dr. Brunsman admits he was concerned the class would become stale after a few years—after all, Washington has been dead for more than 200 years. However, new and exciting sources of information about the first president have continued to come to light.
Mount Vernon purchased Washington's copy of the U.S. Constitution at auction in 2013, which wasn't previously available to scholars. The George Washington Papers, a project led by the University of Virginia, has also continued to publish copies of Washington's correspondence. There are still years of letters written to and by Washington from the Revolutionary War era that have not been released.
"One of the really exciting things that has happened is for me to discover along with the students how much there is left to know," he said. "Maybe this won't be the case forever, but at least for now we have plenty of new things to explore."
History is also always being reinterpreted and reexamined as new issues come to light. When this happens, the focus of the class readings also shifts. Since 2012, the class has spent more time on the topic of Washington and slavery, and the hit musical Hamilton has provided a new lens to view Washington's presidency. The class also works with Stephen Hammond, a descendant of the enslaved community at Mount Vernon and Arlington House.
Washington is central to the class, but many students have chosen to focus their research on people who exist at the periphery of his life. To understand Washington's world, students must recognize the contributions of individuals in the founding era who don't get the designation of founder.
Students are often surprised to learn how human Washington was, Dr. Brunsman said. He had normal problems and made mistakes, especially in his early life. The opportunity to see how Washington grew over the trajectory of his life is a learning moment for students.
"We definitely teach Washington in a way that is hopefully honest, warts and all," Dr. Brunsman said. "I think he still comes out looking pretty good under that treatment."