By Kristen Mitchell
From long-term preservation of digital records to the spread of misinformation, Vint Cerf sees modern computing as rife with challenges. While speaking to a George Washington University crowd, one of the so-called fathers of the Internet said he's eager to see the next generation of innovators pick up the torch.
"I'm hoping, frankly, that some of the problems I will describe will grab someone's attention who will want to go out and do a dissertation on the topic or maybe start a business to solve the problem, because these really do need solutions," he said.
Computing has come a long way in the past 50 years, but there is still a lot of work to be done. Today's digital world relies on an "avalanche of devices that are programmable and networked" to run smoothly, Dr. Cerf said, and there are serious consequences when systems break down.
Dr. Cerf, vice president and chief Internet evangelist for Google, stopped by Jack Morton Auditorium Tuesday to kick off the Computer Science Department's Internet Distinguished Speaker Series. The event was held in collaboration with the GW chapter of the Association for Computing Machinery (ACM).
Dr. Cerf is widely known for his role in designing the architecture of the modern Internet and has been dubbed a "father of the Internet." President Bill Clinton awarded him and his colleague Robert Kahn with the U.S. National Medal of Technology in 1997, and President George W. Bush presented him with the Presidential Medal of Freedom in 2005. Dr. Cerf was also awarded the Turing Award in 2004, one of the highest honors in the computing field.
GW President Thomas LeBlanc, who has been a member of the ACM since 1974, said the event was an incredible opportunity for students to hear from a true pioneer of the Internet age.
"I couldn't think of a better speaker to kick this series off than Vint Cerf," Dr. LeBlanc said. "I know a lot of people claim to have been the father of the Internet, but the person who co-designed the transmission control protocol and the Internet protocol, TCP/IP, that is used to connect computer systems to the Internet is a true father of the Internet."
Samsara Counts, a senior in computer science and organizer for the GW chapter of ACM, said Dr. Cerf is one of the most important inventors of the second half of the 20th century.
"He fundamentally changed how humans interact, how people get access to resources and knowledge, so it's really cool to hear from his perspective how it was formed...and a little bit of his journey to becoming a researcher and pursuing topics on networks," she said.
The GW ACM members hope this event inspires students to pursue opportunities to learn and engage more with themes of technological advancement.
Dr. Cerf encourages the field to consider how to best preserve digital records when media used to store information has shorter and shorter lifetimes. Five-thousand years ago humans stored information on clay tablets that can still be deciphered, but today it's a challenge for anyone to read files stored on an old floppy disk. If digital memories are not preserved as technology evolves, 100 years from now historians will not be able to access emails, spreadsheets and other records that make the modern world run.
"It is important to recognize our increased dependence on digital materials," Dr. Cerf said. "Even the active effort to take existing works of art and digitize them, thinking that the bits will last forever, is very wrong."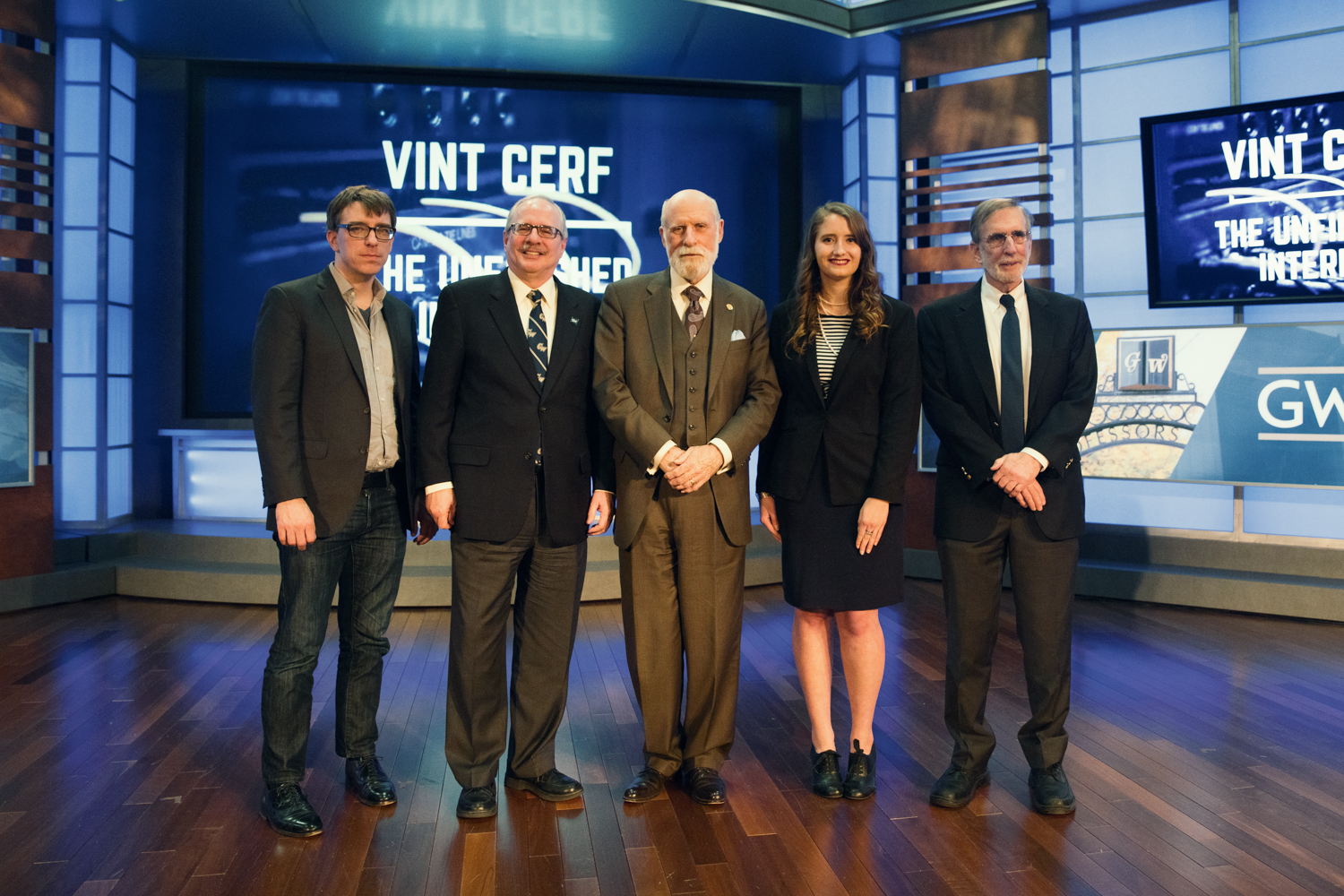 Computer Science Chair Robert Pless (left); GW President Thomas LeBlanc; Vint Cerf; senior computer science major Samsara Counts; and Larry Landweber, the John P. Morgridge Professor Emeritus of Computer Science at the University of Wisconsin, Madison, kick off the Computer Science Department's Internet Distinguished Speaker Series on Tuesday. (William Atkins/ GW Today)
---
As more of the world moves online, it's also important to promote critical thinking and digital literacy where misinformation and disinformation are rampant. When they encounter new information online, users need to ask themselves where information comes from, who put it online and why.
"It takes work to try to figure out what to accept and what to reject," Dr. Cerf said.
Another challenge computer scientists need to deal with is the pervasiveness of software bugs. It is risky to allow software that has bugs to make decisions for humans, he said. Errors are expected in software development, but if the software used to control self-driving cars is flawed, these mistakes can be fatal.
"It is unethical for people to produce software that others rely upon without being cognizant of some of these risk factors, taking responsibility and accountability for the quality of that software, [and] it's maintenance, particularly when bugs are found," he said.
As artificial intelligence penetrates our world, these systems must become more ethical, transparent, trainable and human-led.
"We are using computers to do things to augment our intellect," Dr. Cerf said. "Yet if we're not careful about things like this, we will allow ourselves to be beguiled by the power of computers and their apparent depth."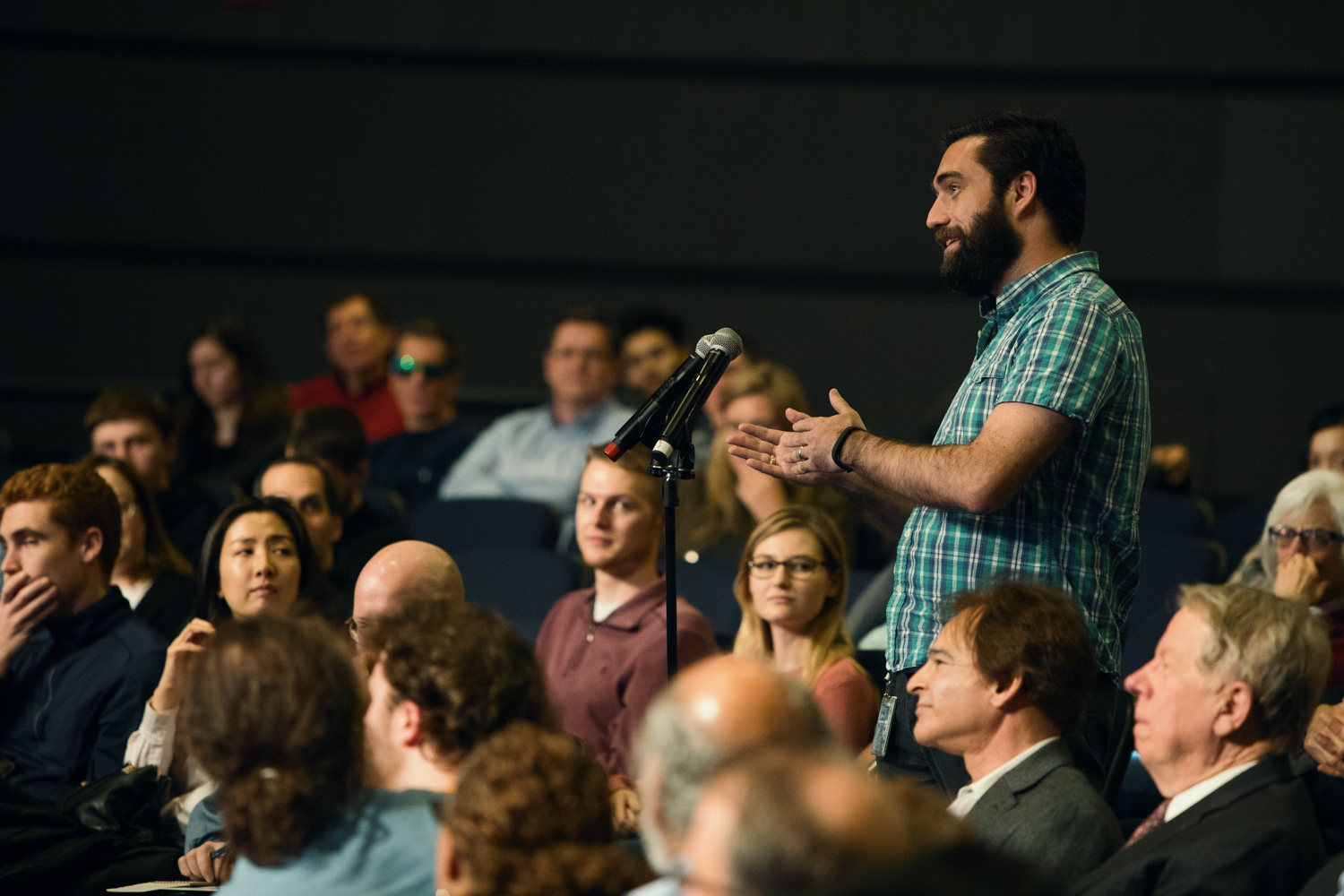 Attendees had the opportunity to ask Dr. Cerf questions during a Q & A portion of Tuesday's event. (William Atkins/ GW Today)