By B.L. Wilson
The first-year George Washington University students in Daniele Podini's Forensics Molecular Biology master's program were given the bare bones of material evidence from a rape scenario that, even in its abbreviated version, was horrific.
A mother was abducted along with her two small children, taken to a secluded area, repeatedly beaten and raped and forced to withdraw money from an ATM. She was convinced the assailant was clever enough to destroy all evidence of the crimes.
The student forensic analysts were given samples of DNA taken from a victim and a blood-stained T-shirt that contained other DNA as well.
"We had to figure out where the stain was because you couldn't see it just from looking at it with your eyes," said GW student Niamh Fennessy. "Using an alternative light source, we were able to find the DNA on the shirt."
The stain contained the DNA of the survivor and the perpetrator. The students completed the assignment successfully, separating out a clean male DNA profile that could be used to identify the assailant.
A significant portion of the forensics class assignment was the presentation that took place in an Ames Hall classroom on the Mount Vernon Campus Monday afternoon.  The students explained every process they went through to reach their findings.
Only then did they learn that the assignment recreated and mimicked evidence of an actual Florida rape case and that the survivor, Julie Weil, was among those in the audience watching their presentation.
Ms. Weil described the horrifying sequence of the crime, being assailed from behind, a knife held to her throat, and her children screaming as she was driven to a remote location in the Florida swamps.
"I was so closed to getting help, but no one helped me," she said.
All along the way, she said she passed people who should have recognized her, in the church parking lot, across the street from her mother's house and in the parking lot of the bank.
"He bragged that he would never get caught, and that he had raped tons of women and never gotten caught," she said.
---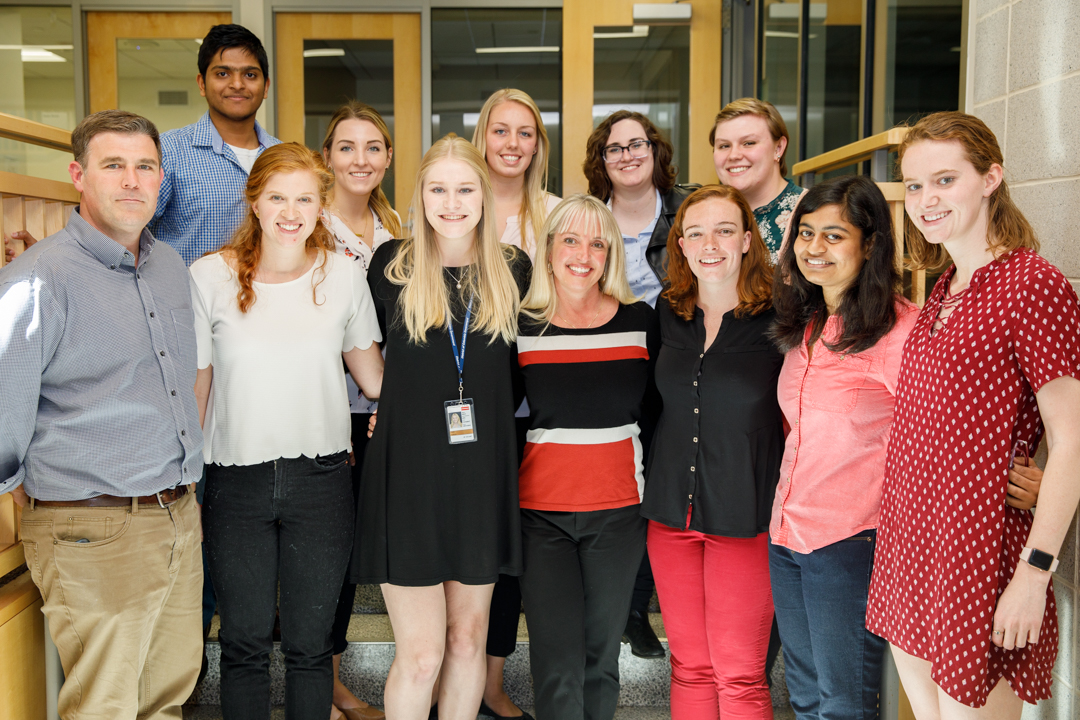 Professor Podini and members of his Forensics Molecular Biology master's program with assault survivor Julie Weil (front row center).
---
At one point during the ordeal, the man let her put her clothes on to go into the bank. That is when a trace of his DNA became smeared on her blouse.
The DNA was searched in CODIS, the combined DNA index system, a database that allows law enforcement to link violent crimes to known offenders and to hunt for missing persons. There was a hit. Her attacker was convicted and sentenced to seven consecutive life sentences for abduction and rape largely due to the DNA.
"We were able to go through the analysis as if we were real analysts on this case," said GW student Sathya Prakash. "Once we analyzed the data, we were able to put it through (a simulated) CODIS data base, exactly like the analysts did 16 years ago."
Student Noelle Anna, who gave the summation during the class presentation, said she has long had an interest in the real-life application of forensic science.
"It was really cool to hear Julie's story. It is a good reminder. We get swabs and bloody pieces of clothes, and it's hard to remember that it does come from an actual case," she said.
Ms. Weil, the survivor, became an advocate for the 2013 Sexual Assault Forensic Reporting Act passed by Congress. It called for the audit of a backlog of rape kits in police storage units across the county—an estimated 400,000 untested rape kits. She discovered that her assailant had raped two other women whose rape kits were never tested.
"I want to get across to you that what you do is so important. It saves the lives of people like me," Ms. Weil said, describing the man who assaulted her as an ordinary person on the surface, the son of a federal law enforcement agent and church secretary, a man who volunteered at an elementary school. "What convicted him? The DNA."
In the past, Dr. Podini, associate professor of forensic molecular biology in the Columbian College of Arts and Sciences, invited to the class a man who had been on death row and was exonerated due to DNA and featured a case involving an abducted a child who was identified 15 years later.
"I want them to remember, every single case has a family, a person behind it, an innocent suspect, a victim that needs closure, a person that is going to hurt other people," he said.