By Kristen Mitchell
George Washington University researchers are analyzing the Foggy Bottom Campus' energy management system—studying the university's energy needs to determine how urban centers with diverse energy sources can integrate new technology and tackle modern energy challenges.  
Like many cities, GW's Foggy Bottom campus draws and creates energy from both traditional and renewable sources. The university employs its own combined heat and power plant located in Ross Hall, solar thermal heating, rooftop solar panels, battery and thermal storage, and draws energy from the grid.
Saniya LeBlanc, associate professor in the School of Engineering and Applied Science, is using the campus's energy management system as a "living laboratory" to build a framework that can determine how an urban energy system will hold up to challenges like a major heatwave that taxes the system or a storm that causes a grid outage. Her research team uses modeling to determine the system's reliability, resiliency and vulnerability. Associate professor Ekundayo Shittu and assistant professor Payman Dehghanian also work on the project.
"We have this really diverse energy system, and what we're doing is we're taking in all of that data and then saying, 'OK, how are we operating now as a campus and what would happen if we changed the way we operated,'" she said. "What would happen if we incorporated new technologies?"
This two-year project is funded by the U.S. Department of Energy's Office of Energy Efficiency and Renewable Energy. It builds on five years of previous work analyzing and modeling the Ross Hall power plant, which provides electricity, heating and cooling for four campus buildings, and building collaborations across GW and Washington, D.C. Dr. LeBlanc's team also works closely with the GW Division of Safety and Facilities and the GW Office of Sustainability.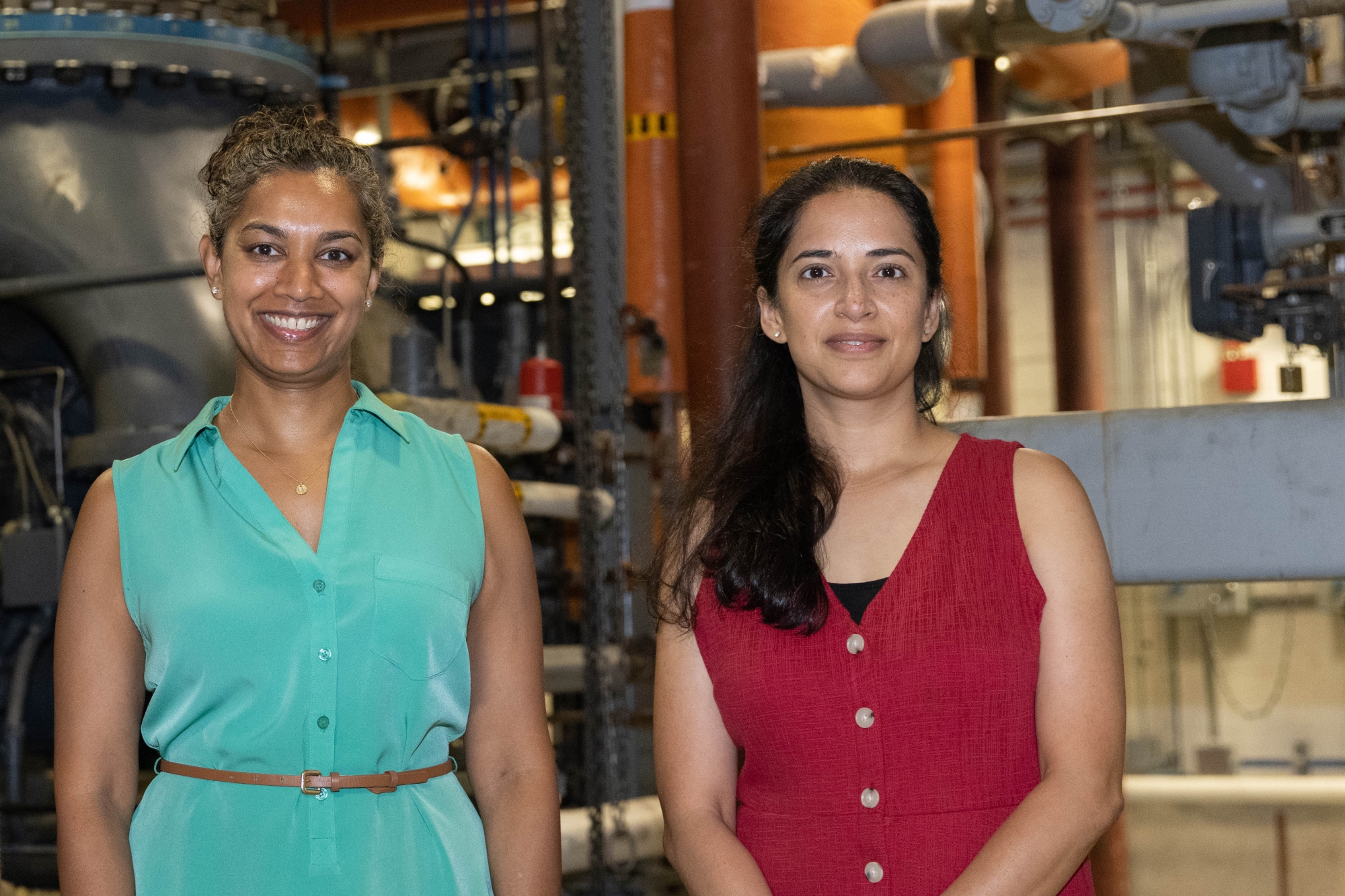 SEAS Associate Professor Saniya LeBlanc (left) and Mansi Talwar, GW's executive director of engineering, utilities and energy, pictured in Ross Hall. (William Atkins/ GW Today)
---
The team has gathered data about water, natural gas and electricity being used by many buildings on campus, often manually checking meters and sifting through utility bills to collect the information they need. As part of their research, the team has created a clickable map that shows key buildings on campus and the energy they use. That data is shared with the university to inform decisions about future sustainability initiatives and real-time decision-making about how to respond to weather events or power outages. 
Mansi Talwar, GW's executive director of engineering, utilities and energy, said the beauty of this partnership is that it combines the university's core missions of teaching and research with its ambitious sustainability goals.
"We are excited about this partnership for several reasons, in particular to understand our data gaps through this project so we can plan for the future and ensure we are operating our campus and buildings in the most energy efficient and sustainable way," she said. "We love the fact that our students are involved in ensuring we are on the right path to reach our ambitious goals"
The university continues to make progress toward its goal of carbon neutrality by 2040.
 GW has reduced its carbon footprint through energy efficiency initiatives and clean energy purchases, including installing solar panels on the rooftops of five Foggy Bottom campus buildings last year. 
GW's other renewable energy projects include the Capital Partners Solar Project with Duke Energy Renewables, which began in 2015 and provides GW with half of its electricity from three solar farms in North Carolina. Solar thermal systems are used on the Foggy Bottom campus to heat water in residence halls, and in February, GW announced a plan to eliminate single-use plastics.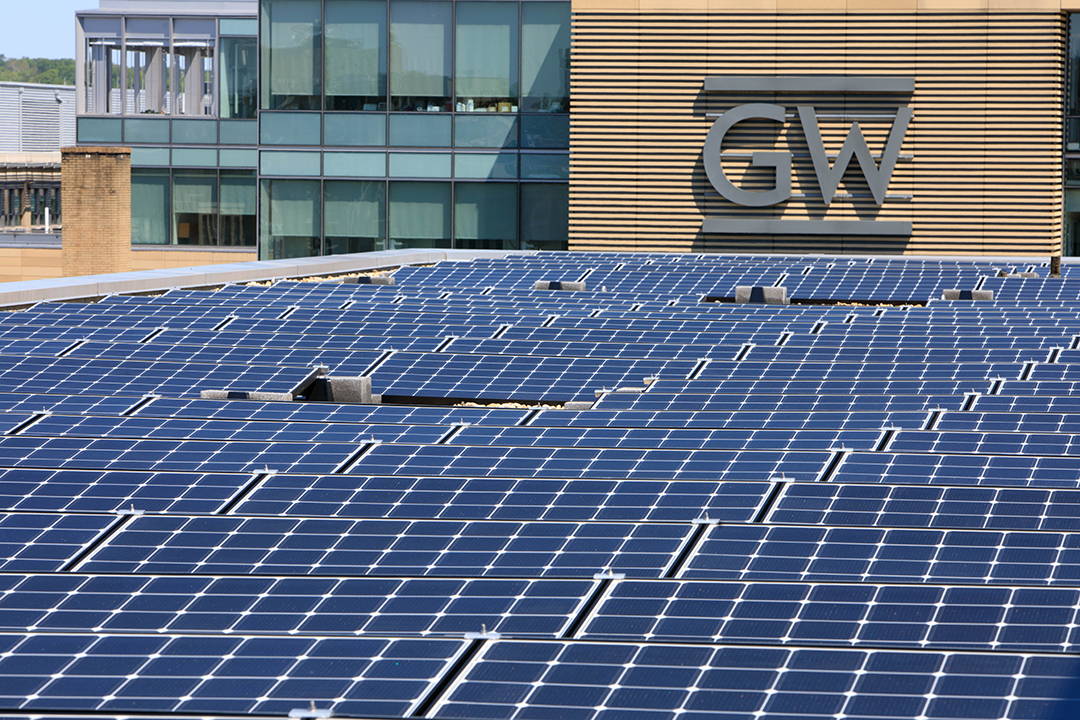 Last year the univeristy installed solar panels on rooftops of Funger and Duquès halls, the Charles E. Smith Center, Monroe Hall and Hall of Government, Lisner Auditorium and the Media and Public Affairs Building. (William Atkins/ GW Today)
---
Living Laboratory
The campus energy system project fits into Dr. LeBlanc's larger experiential framework to support hands-on learning for students interested in the energy sector. Rachel Gray, B.S. '20, a Ph.D. student in mechanical engineering, got involved in Dr. LeBlanc's lab as a first-year undergraduate student. Working on various projects over the years has provided context "you can't learn by reading a textbook or a journal article," she said. 
As an undergraduate Ms. Gray worked on a senior design project to model the energy system within a building. She learned how to use computational modeling to combine her passion for engineering and urban development. Now as a Ph.D. student, she uses modeling to study GW's energy system and an additional synthetic city the team developed as part of the Department of Energy project to study diverse energy systems in an urban environment.
"I really fell in love with modeling and how technical it is, how challenging it is," she said. "You really have to face it head on and can't be scared to try something you know absolutely nothing about."
As an undergraduate, Ms. Gray also participated in the Energy Fellows Program, which provides opportunities for students to get exposure to the energy sector through development workshops, networking sessions and events with industry professionals. This gives students the opportunity to confront real-world challenges and work through the complexity that comes with managing different types of energy sources, Dr. LeBlanc said. 
These combined opportunities give students the opportunity to learn how to navigate an industry where regulations often have not caught up to the latest technological developments.
"We've actually been able to see how valuable it is for their education, training, professional development, and how ready they are to take that step in their careers once they leave GW," Dr. LeBlanc said. "They have gotten this really cutting-edge training in sustainable energy when they've done these projects."