By Briahnna Brown
For Skye Blanks, being a first-generation college student is all about giving back.
The George Washington University senior from Keyport, N.J., takes every opportunity to serve as an example for other first-gen students—from advising first-year students and sophomores to being president of First Gen United.
Those moments where he can be a mentor are some of his proudest from his time at GW, Mr. Blanks said, because being a first-gen student comes with pressures that other students do not have to deal with.
"First-gen students, we're just starting from scratch," Mr. Blanks said. "Me being the oldest son in my family, and having two younger brothers, it's even more pressure of, 'you can't mess up. You have to be that trailblazer."
Mr. Blanks is one of 320 first-gen students projected to graduate from GW in the 2020-21 academic year. About 14 percent of GW's undergraduate population consists of first-gen students, according to self-reported data from the Common App. Both President Thomas LeBlanc and his wife, Anne, were first-gen students as undergraduates and have made the community a priority of his administration.
The Center for First-generation Student Success recognized GW as a "First-Gen Forward Institution" in 2019 for the university's demonstrated commitment to advancing first-gen student success. The First Friday Dinners, a First Gen United tradition, continued virtually throughout the pandemic.
One of the first things Mr. Blanks hopes to do once he graduates with his B.A. in international affairs from the Elliott School of International Affairs, he said, is to help his 16-year-old brother prepare for college with all the lessons Mr. Blanks learned during his time at GW. These include everything from knowing when to ask for help, avoiding responsibilities overload and finding community with people from similar backgrounds—all things that can make the journey easier.
After graduation, Mr. Blanks plans to pursue an M.B.A. in GW's School of Business. He said he will continue paying it forward whenever he has the chance. He also wants to show that anyone can make a positive impact on campus and change it into what they want it to be.
"When we're back on campus is a good opportunity for all the student leaders and administrators that I've talked with to set a new path forward and make GW a more inclusive place that supports all communities—from first gen to international to everyone else," Mr. Blanks said.
---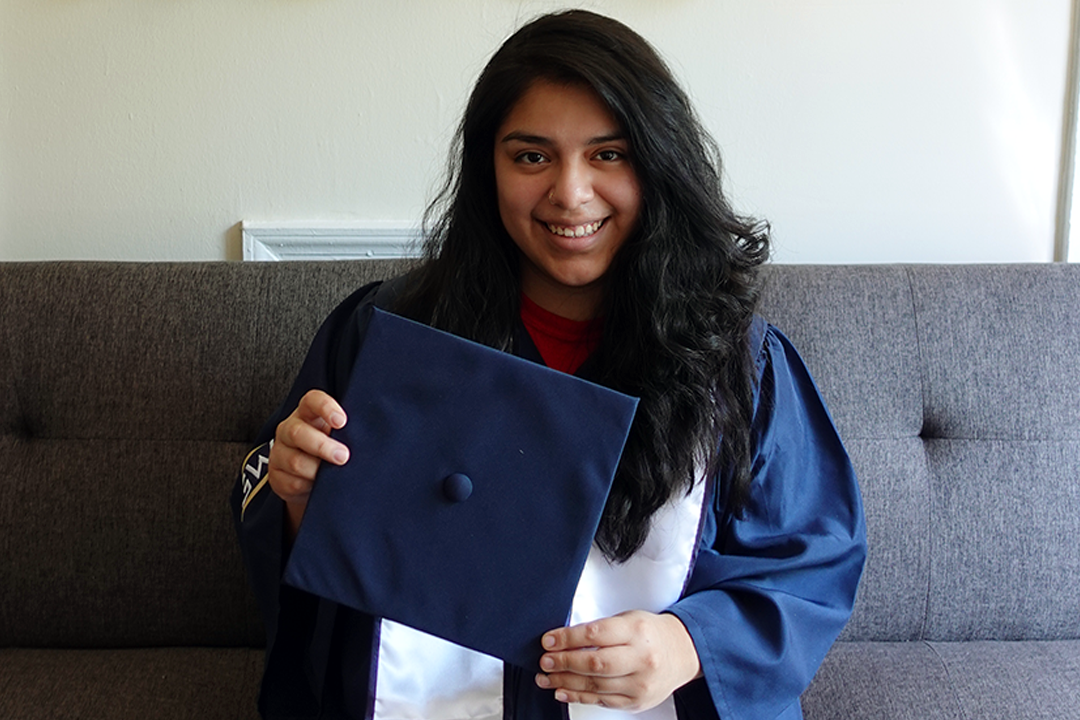 Ruby Cheresnowsky will graduate with a B.S. in public health from the Milken Institute School of Public Health. (Courtesy photo)
---
GW's Multicultural Student Services Center is another resource for many first-gen students to help students find community with their peers. Much of the MSSC's programming is mindful of the first-gen student experience, the center's director, Michael Tapscott, said.
"First-generation students have surmountable challenges; however, it is critical for every staff and faculty member to be vigilant about their own beliefs and life experiences around 'college' awareness when it comes to building connections with first-generation students," Mr. Tapscott said. "We should be mindful of the impact of our beliefs and experiences have on every student. We know that thoughtful, mindful, culturally sensitive practices affirm the sense of possibility in young people." 
Taking advantage of GW's resources allowed Ruby Cheresnowsky, a senior from Guatemala by way of Salem, Mass., to change her GW journey for the better. She arrived at GW planning to become a doctor, but after some difficulty with a chemistry class during her first semester, she worked with her professor, LaKeisha McClary, to figure out how to best pursue her true passions. Their talks led to Ms. Cheresnowsky studying public health in the Milken Institute School of Public Health instead, and now, after earning her B.S. in public health, she plans to attend NYU in the fall to pursue a Master of Social Work.
For Ms. Cheresnowsky, who self-identifies as an "Indigenous-Latina First-Generation-Low Income Transracial Adoptee," finding community at GW encouraged her to stay and improve her academic performance. Her birth mother in Guatemala never went to formal school, and her white adoptive mother also could not teach Ms. Cheresnowsky how to navigate being at a predominately white institution as a Latina.
"It was not only that I was new to D.C., that I was new to GW, that I didn't know my academics," Ms. Cheresnowsky said. "All of this combined was like, 'why am I not prepared?'
"I thought I was good," she said. "I got the GPA, I got the recommendations, I got in, I thought that was the battle. That was because no one sat me down and said, 'this is what it's going to be like."
She spent her summers in the Office for Student Success' Summer Academy where she had the opportunity to improve her academic outcomes. She gained more confidence in her academic skills and finding her place at GW because of the coaching in Summer Academy, she said. Those summers made her more comfortable speaking her mind in class, which, looking back, she said make her the proudest.
---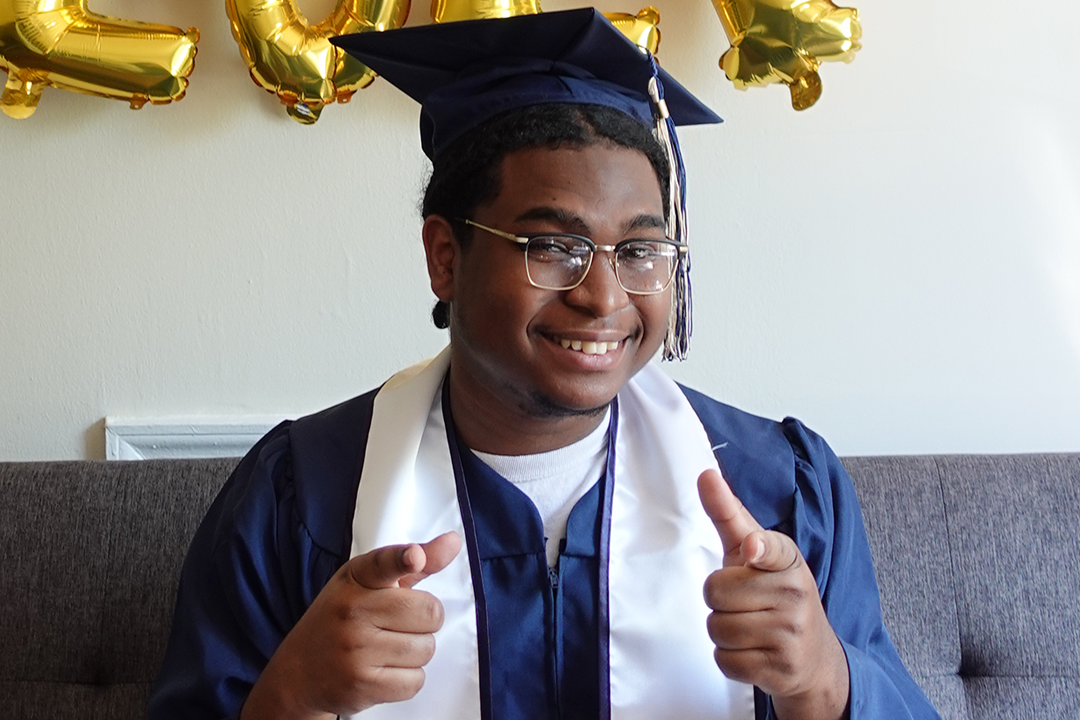 Francisco Cabrera will graduate with a B.F.A. in interior architecture from the Corcoran School of the Arts and Design. (Courtesy photo)
---
Francisco Cabrera, a senior from the Bronx, N.Y., studying interior architecture in the Corcoran School of the Arts and Design, was also able to turn his academics around through Summer Academy. When he first came to GW, he had to deal with a culture shock and feeling that there was no one around with whom he could relate. This led to him feeling isolated, which soon took a major toll on his academics.
Attending Summer Academy was a changing point in his life, Mr. Cabrera said, because it not only helped him make up the work from his classes, but he was finally able to connect with other people.
"I started to form really long-lasting relationships and get to know people better," Mr. Cabrera said. "I feel like that ultimately changed the course of my path at GW, just because it helped to create an environment that I wanted to be in."
Mr. Cabrera came to GW originally planning to pursue dentistry, but he was able to find his passion through interior architecture. He found inspiration to change majors from childhood memories of building furniture with his father, who used to do construction work in the Dominican Republic where Mr. Cabrera's family is originally from. After graduation, Mr. Cabrera plans to take some time off to figure out what he wants to do next with a career in the design field.
---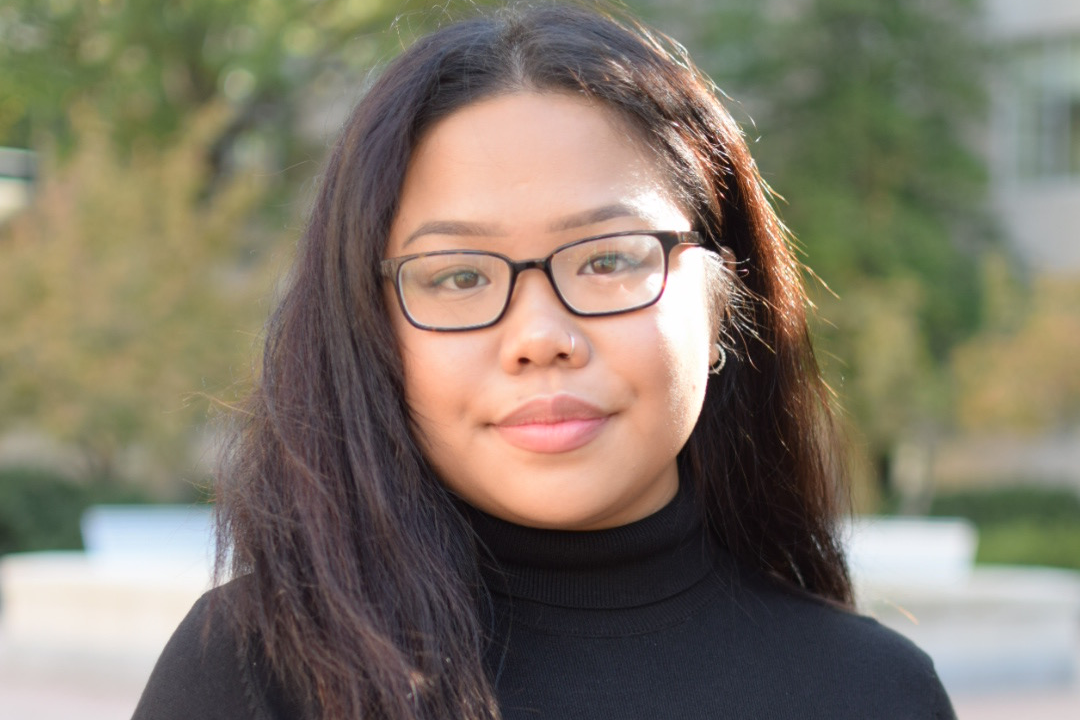 Kristy Pham will graduate with a B.A. in political science from the Columbian College of Arts and Sciences. (Courtesy photo)
---
When Kristy Pham, a graduating political science major, first arrived on campus from Houston, she thought academics were the most important and the only thing that mattered. She knew that GW was a unique school in the opportunities it provides for students, many of whom think seriously about ways to change the world. She wanted to take advantage of those opportunities and pushed herself as hard as she could.
Through her time at GW, Ms. Pham said, she learned that even though academics are a priority, it also is important to allow time for personal growth. After she graduates this summer, she plans to return to Houston with Teach for America, where she plans to infuse her history classes with subjects that curriculum often omits or ignores.
She looks back at her first year at GW and remembers that it was especially difficult, she said. But she sought help in areas where she knew she needed assistance by reaching out to the network of friends she had made during her sophomore year.
"Whenever I meet college students, but specifically first-gen students, I'm like, 'get it through your knuckle hard head and ask for help,'" Ms. Pham said. "'You do not seem any weaker when you ask for help. If anything, it is brave, and it's courageous to ask for help. It means that you don't know something, and you're willing to go after it.'"