By Briahnna Brown
In the 50th year since the 1968 Fair Housing Act was passed, researchers launched a digital history project on Wednesday to unveil discriminatory patterns in housing that shaped Washington, D.C.
In collaboration the George Washington University's Center for Washington Area Studies, "Mapping Segregation in Washington DC" serves as a resource to provide context for discussions of race and gentrification in D.C. It reveals a detailed look at the impact of racially restrictive housing deed covenants that prevented African Americans, and sometimes other groups, from living in certain parts of the city and therefore controlling where they could reside.
Project directors Sarah Shoenfield and Mara Cherkasky, with Prologue DC, said that several stories emerged through their thousands of hours of research into D.C. real estate records. Ms. Cherkasky, M.A. '85, who earned a master's in American studies from GW, said the data showed how many and where legal challenges to these restrictive covenants took place, and how private developers defined the city's racial landscape through these covenants.
"One thing we learned about this is that if a picture tells a thousand words, a map can tell stories that no words can tell," Ms. Cherkasky said.
In a panel discussion moderated by Sasha-Ann Simons of WAMU on Wednesday night at the George Washington University Museum and The Textile Museum to coincide with the website's launch, local experts in fair housing and Washington, D.C., history talked about how the District got to where it is today, and what steps need to be taken next to rectify the pervasive problems facing residents of color.
Gregory Squires, a sociology and public policy and public administration professor at GW who has written extensively on issues of race, class and housing discrimination, said during the discussion that there is no evidence that the United States has been firmly committed to fair housing.
He acknowledged that things are better today than in 1968, but issues like redlining and reverse redlining by mortgage lenders, as well as aggressive over-appraisal during the foreclosure crisis, still prevail in metropolitan areas like D.C.
"I think the important thing is to understand that we're more segregated today than we were 100 years ago," Dr. Squires said. "And it's because of the combination of these public policies and private practices that created the segregation that we see."
---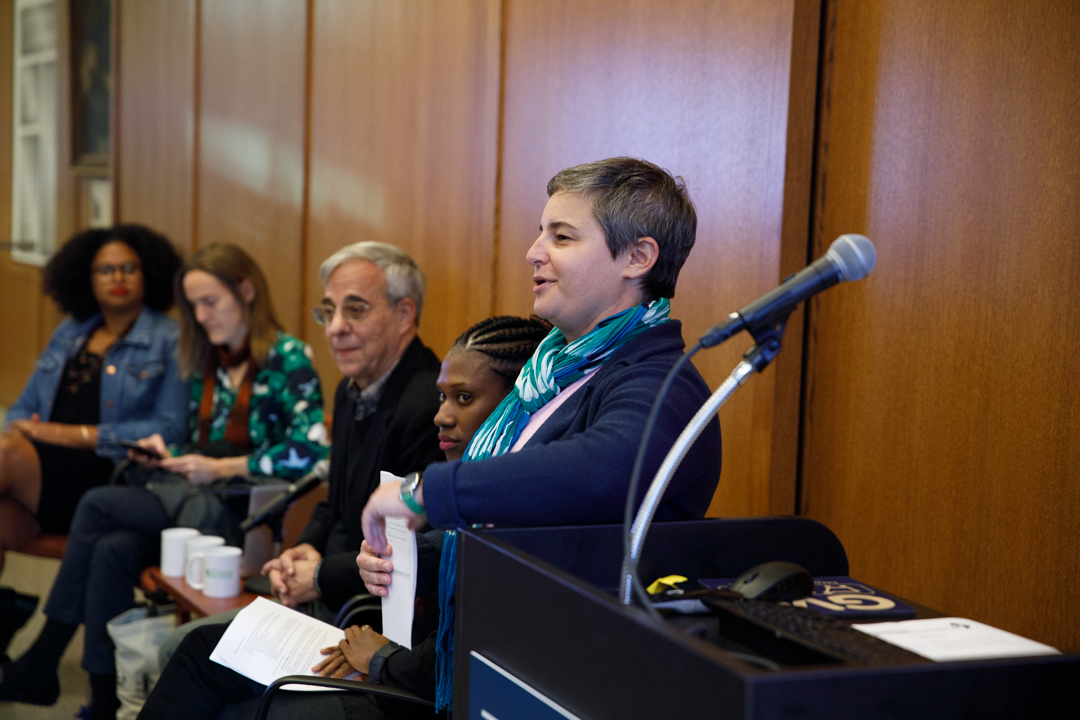 (From left) Natalie Hopkinson, Amanda Huron, Gregory Squires, Sasha Ann-Simons and Center for Washington Area Studies Director Leah Brooks discuss the "Mapping Segregation in Washington DC" history project.
---
Dr. Squires also argued the case that having a place to live should be a human right and that would help to break through the persistent barriers to equitable housing. Without stable living conditions, Dr. Squires said, a family cannot effectively plot out a job search.
Amanda Huron, an associate professor of interdisciplinary social sciences at the University of the District of Colombia, echoed those statements, noting that 6,000 children in D.C. public schools do not have stable housing.
She said that multiple organizations such as ONE DC and Neighbors, Inc. have been working diligently to demand rights and fight against housing discrimination but are facing an uphill battle.
"We have some of the best tenants' rights laws on the books in any city in the United States. That said, we still see enormous waves of gentrification and displacement," Dr. Huron said. "That tells us what a stiff problem we're up against here when we do have great rights and good levels of organizing, and we still see massive levels of homelessness and displacement, even of slightly higher income people in the city. I want to be hopeful, but there are some serious challenges when we have this intense real estate market." 
Natalie Hopkinson, a writer and an assistant professor at the Department of Communication, Culture and Media Studies at Howard University, said that this project is part of the path forward. The data tells a bigger story of segregation, she added, which happened intentionally, so undoing the segregation must also be done intentionally.
"All these lines that were sort of drawn a long time ago, technically they're not there, but they still are there culturally," Dr. Hopkinson said. "It has to be part of undoing that or part of recognizing and figuring out how to address it is to actually see it, understand it in a very specific way. I think this [project] is part of moving forward—looking back."