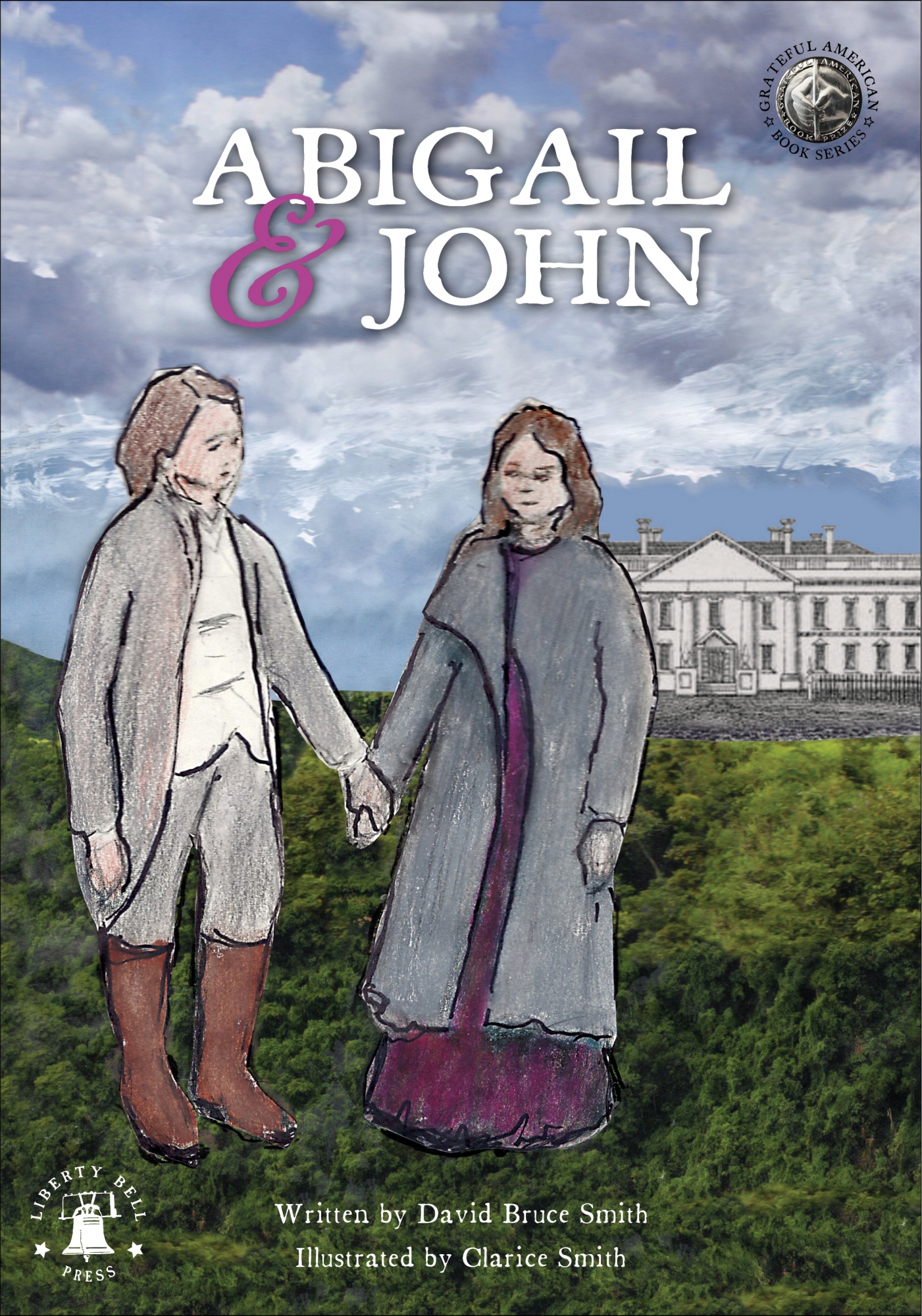 When David Bruce Smith, CCAS BA '79, was six years old, his grandfather told him that it was vital to read books about important people. "When I asked why, he replied, 'Because if you read about important people – like Mark Twain, Golda Meir, George Washington – when you grow up, you will have a pool of wisdom from which to draw,'" says Smith. "That made a huge impression on me."
Smith took his grandfather's counsel to heart by becoming a voracious reader, as well as author and publisher at David Bruce Smith Publications. Abigail and John—the most recent book written by Smith and illustrated by his mother, Clarice Smith, CCAS BA '76, MFA '79, Hon. PhD '12, a world-renowned artist—offers young readers insights into American history through the lives of Abigail and John Adams.
Writing and illustrating the books is a family affair. "My mother is my only collaborator," says Smith. "To me, she is the best of the best." In fact, she earned her master's degree at George Washington University while David and his brother were undergraduates at the university and later served as a member of the university faculty.
Abigail and John is Smith's inaugural book in the Grateful American Book Series, which Smith created to write about presidential and historical marriages that were partnerships, and influenced American history. "I noticed that when I would go to a place like Mount Vernon or Montpelier, it would be described as 'George Washington's Mount Vernon' or 'James Madison's Montpelier,'" says Smith. "It bothered me because I felt like little girls were being left out of history, and if they were not included, these historical homes would be seen—by them—as homes from the olden days, where dead men once lived."
Abigail and John Adams were one of the first powerful political couples.  "Without her, he never would have made it to the White House (as president)," says Smith. "She was his number one advisor and more politically savvy than he was."
Smith notes that the couple spent more than 10 years apart throughout their marriage as she raised their children and ran their farm while he was rising in politics. "She's the one who told him to 'remember the ladies' when he was writing the Declaration of Independence," he says. "They exchanged more than one thousand letters during his absences from home, with hers considered the best record of pre-and post-Revolutionary War America."
With Abigail and John and future books, Smith wants to empower young girls (and boys) and also raise the level of historic literacy in the country. "When people say, 'kids don't like history,' I think that's inaccurate because millions of kids are involved in 23AndMe or Ancestry.com," he says. "History needs to be taught by somebody who is enthusiastic about it."
Smith's commitment to reinvigorating the teaching of history goes beyond his writing. In 2015, he and Bruce Cole, the former chair of the National Endowment for the Humanities, created the Grateful American Book Prize. The prize is the only award for excellence in writing and storytelling in the genres of historical fiction and non-fiction for seventh to ninth graders about the events and people who shaped America since its founding. The winner receives a $13,000 payout to honor the original 13 colonies, and a medal created by Smith's mother.
"The first year of the prize—2015—I was told that we'd be lucky to get 35 books submitted, but we received 140; of those 32 qualified," says Smith. "This past year, Associate Supreme Court Justice Sonia Sotomayor won for her memoir, The Beloved World of Sonia Sotomayor, an adolescent adaption of her best-selling adult autobiography."  
The Grateful American Book Prize is an extension of the Grateful American Foundation, which Smith launched on Presidents' Day in 2014 to reinvigorate enthusiasm in children and adults about American history with podcasts, radio interviews and an interactive website.
The name for the book and foundation were inspired by Smith's father, the late Robert H. Smith, who described himself as a grateful American. David Bruce Smith's grandfather, Charles E. Smith, emigrated from Russia to the United States as a boy in 1911, without knowing any English.  He became a successful businessman who founded Charles E. Smith Cos., one of Washington's largest builders, developers and property managers. Later, he became a philanthropist. In 1979, Charles E. Smith was awarded an honorary doctor of public service degree from GW.
David Bruce Smith spent the first 20 years of his career at Charles E. Smith Cos., starting as a residential property manager and rising to senior vice president in commercial management before leaving to pursue his love of writing and history.
That's a passion that was fostered during Smith's undergraduate years at GW, where he majored in American literature. "I came to GW having read a fair amount, but as an American literature major, I read so much," he says. "During the second semester of my freshman year, I read 65 books."
He says that the depth and breadth of his collegiate reading continue to impact him. "I was always reading four books at once, not only in American literature, but in philosophy, music, psychology and the humanities," says Smith. "My freshman advisor once gave me great advice when she said, 'just read, enjoy it, let it wash over you and know that you are learning more than you think you are.' I received a really, really good education."
In appreciation of that education, Smith served on GW's board of trustees, as his father and grandfather had. The Smith family are longtime benefactors to GW. Their support spans numerous areas of the university, including student aid, arts-related initiatives, Jewish academic and cultural programs and the Charles E. Smith Athletic Center.
"Our family is very community oriented," he says. Smith says that his grandfather—the subject and co-author of the first book he wrote and his mother illustrated—is always on his mind. "He has had a bigger impact on my life than anybody else and inspires much of what I do," he says.