By James Irwin
Bernard Amadei was in San Pablo, Belize—a small jungle village of approximately 250 people—in 2000 when he met a young girl with the sort of problem that prevents progress in the developing world.
"She told me her job every day was to carry water from the river up to the village, and as a result she could not go to school," Dr. Amadei said.
It was a basic need that required a better fix. Dr. Amadei, a civil engineer by trade, wanted to help.
"The problem was presented to me not from an engineering point of view, but from a social point of view: improve the life of that little girl," he said. "It was interesting because a project had never been presented to me in that way."
Shortly after that first visit, Dr. Amadei returned to San Pablo with eight of his engineering students from the University of Colorado. They fashioned a pump and installed a clean water system powered by a local waterfall.
When they returned to the United States, the students wanted to do more.
"They got really excited," Dr. Amadei said. "And that's how Engineers Without Borders was created."
Today, what began in Dr. Amadei's classroom has expanded to more than 16,000 members. EWB-USA works with local communities to meet basic human needs, often operating in the world's toughest places. Tuesday night, Dr. Amadei spoke of the organization and his personal philosophy on "engineering with soul" at the George Washington University's annual Frank Howard Lecture, hosted by the School of Engineering and Applied Science.
Global and local challenges
The experience in Belize changed Dr. Amadei's outlook on engineering. He started to think about the needs of the 3-4 billion people who don't live in the developed world, who are just trying to make it through the day alive.
He didn't have to look hard.
"We are looking at an interesting planet—2.5 billion people do not have access to sanitation, 1.2 billion people don't have adequate housing, 1.6 billion people do not have electricity," he said. "These numbers are made up of real people like you and me. They are not just statistics in a PowerPoint presentation."
Global problems are the accumulation of local and regional ones, Dr. Amadei said. A shortage of electricity is common in sub-Saharan Africa. In Pakistan, geopolitical issues in the Indian subcontinent cloud economic decisions and filter down to the millions of people living off of $1 a day.
Dr. Amadei believes these issues are opportunities for innovative, "disruptive" solutions, and that those solutions must come from the developed world and emerging markets.
"If you wake up in the morning and your challenge is to stay alive, how are you going to have time to invest in education to lift yourself out of poverty? You don't have light, you don't have clean water," he said. "There is a huge need here for engineering innovation."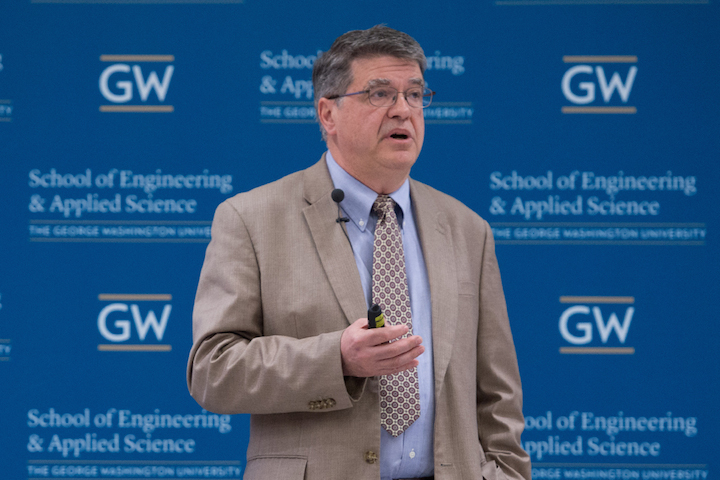 A trip to Belize in 2000 started Dr. Amadei on the path to creating Engineers Without Borders. (Eleanor Kaufman Khan/For GW Today)
---
Engineering 'with your heart'
Dr. Amadei isn't a typical engineer. On Tuesday he quoted liberally from Benjamin Franklin's "The Way to Wealth." He poured over a Gapminder chart showing the relationship between a nation's gross domestic product and the life expectancy of its citizens. He spoke of a water project he is contributing to that is fostering cooperation between Israelis and Palestinians in the Jordan Valley.
At times, he sounds like a global development expert. It is not surprising then to hear him advocate for a new type of engineering education model—one that combines elements of international affairs, social entrepreneurship and systems engineering. He calls it "engineering diplomacy" and believes it will help with international development and poverty reduction.
"We need to develop a new generation of engineers. We can do it the traditional way and create a bunch of nerds who know nothing about the world or themselves, or we can create a new generation of engineers who are excited about making the world a better place," Dr. Amadei said. "We need to train engineers in theory and practice. We need to teach diplomats about science and technology and teach diplomacy to scientists and engineers."
This way of thinking—replacing textbook problems with problems that affect the lives of people—is a big piece of "engineering with soul," Dr. Amadei said. Innovation and technical prowess needs to be combined with empathy and the will to improve the planet.
"The first step to change is becoming aware," he said. "And once we are aware, we can do something about it. I'm not talking about engineering from the top two inches of the head. I want to bring the heart into the equation."