The George Washington University Center for Excellence in Public Leadership (CEPL) hosted the 19th and 20th Annual Morris and Gwendolyn Cafritz Awards Gala, which was held June 30 at the University Student Center to honor outstanding D.C. government leaders and innovative teams. This combined event honored 2020 and 2021 recipients as no gala was held the previous year due to the COVID-19 pandemic.
Established in 2000, the awards honor individuals and teams whose commitment and professionalism demonstrate the best in public service. The program is made possible by a grant from the Cafritz Foundation and was created by DC Agenda and GW's (CEPL), which currently manages the awards.
These winners have made an extraordinary impact in the lives of those who live, work and travel in D.C. For example, Aisha Williams set up mass COVID-19 testing sites—of which GW was a key partner. Another winner, Thennie Freeman, runs a program for 10,000 youths throughout the District—a program GW Provost Christopher Alan Bracey once went through.
Individual winners received a $7,500 cash prize, and the winning team received a $15,000 cash prize. Their stories are available on the Cafritz Awards website, and a recording of the ceremony is also online and was featured on the District of Columbia Network.
"When the Cafritz Awards were established in 2000, the Foundation wanted to shine a light on the contributions of extraordinary government employees," said Calvin Cafritz, president and CEO of the Cafritz Foundation. "We hoped to let the public know about these outstanding individuals and also to send a message to other excellent government employees that their dedication and considerable accomplishments are valued."
Jim Robinson, CEPL executive director, served as master of ceremonies, and mentioned how CEPL was created 25 years ago to train leaders in D.C. government, especially at a time when it "well known D.C. would have to make some major changes in how it governed."
"Overall, the mission for the center is to develop public leaders who make a positive difference not only for their organizations, but for the people their organization serve," Robinson said.  "We have many graduates of our program who have gone on to do great things and to be part of the senior leadership team within the District."
GW President Mark S. Wrighton also delivered remarks and noted his own passion for public service and the high amount of pride he has in GW students pursuing careers of meaning and purpose serving the public, which all honorees have also done. 
"All of you are an inspiration to our community, and I know all of you are working tirelessly for the District and all of those who live and work here," Wrighton said to the award winners.
D.C. Mayor Muriel E. Bowser offered closing remarks.
"In public service, we have the opportunity to make a difference every day, and every day, I am grateful for and inspired by the work of our 37,000 strong team of D.C. government employees," Bowser said. "Our Cafritz honorees go above and beyond to protect our D.C. values, build a safer, stronger D.C., and ensure every person in D.C. gets their fair shot."
---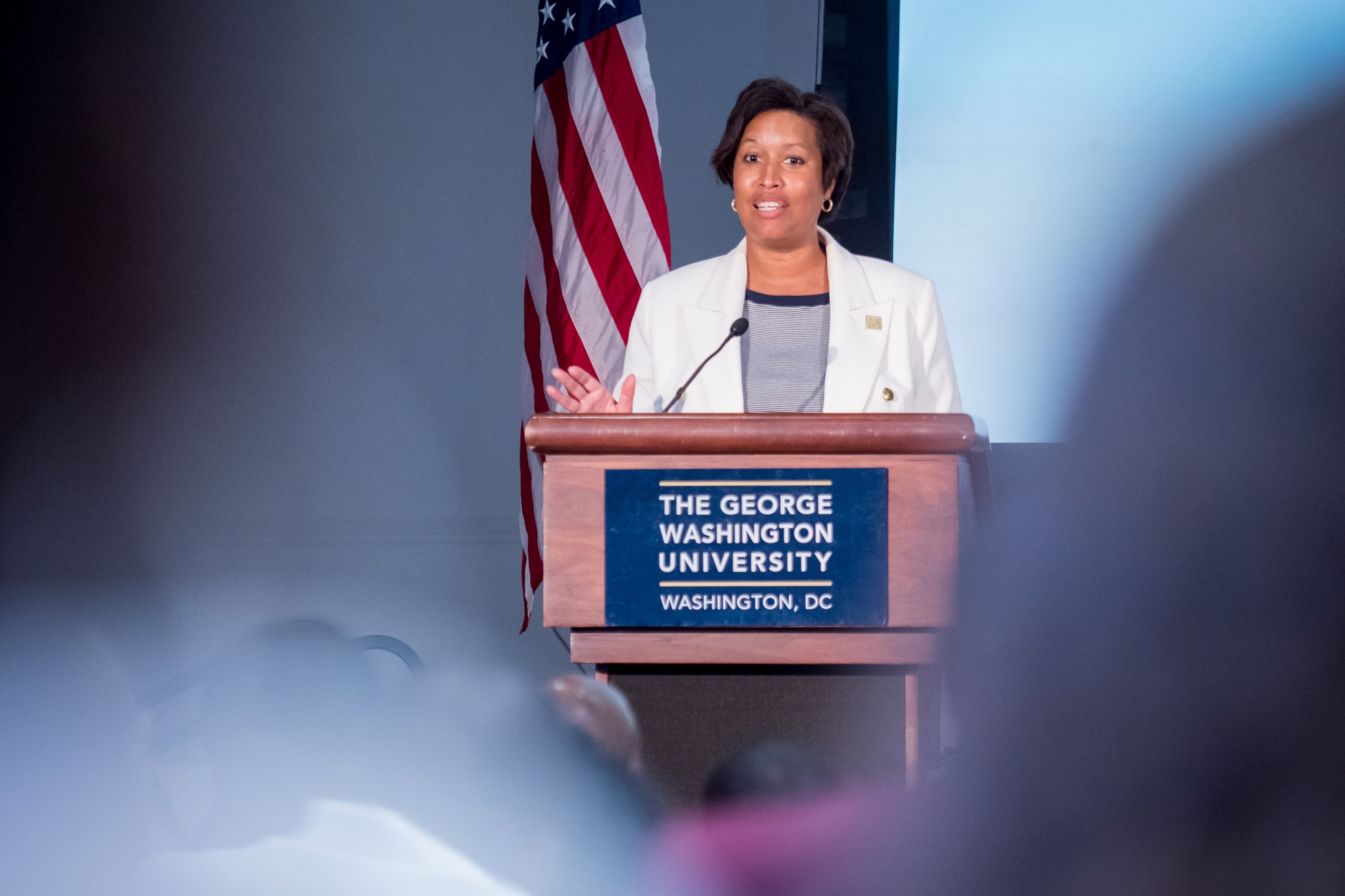 D.C. Mayor Muriel E. Bowser delivered closing remarks. (Photo by Jessica Yurinko)
---
This year, the Foundation granted a special "Leadership in Crisis" Cafritz Team Award, with an accompanying $10,000 cash prize to a team that went above and beyond the call of duty to serve D.C. residents during the COVID-19 pandemic crisis.
That award went to the Pandemic Emergency Program for Medically Vulnerable Individuals (PEP-V) Team at the D.C. Department of Human Services (DHS): Kimberly Baxter, Lauren Bunns, Ashlee Burks, Chicora Chatmon, Derrick Hampton, Dena Hasan, Christian Howard, Omar Jones, Sheila Jones and Anthony Newman.
Individual winners of the 19th Annual Cafritz Awards were:
Thennie Freeman, associate director, Office of Youth Programs, D.C. Department of Employment Services 
Anthony Hall, community response team director (ret.), D.C. Department of Behavioral Health 
Shae Harris, senior strategy and project manager (ret.), Office of the City Administrator 
Gail Kohn, age-friendly D.C. coordinator, Office of the Deputy Mayor for Health and Human Services 
Dr. Kasey Maria Yturralde, Ph.D., Forest Health, and community outreach specialist, District Department of Transportation 
The 19th Annual Cafritz Team Award winner was Language Acquisition Division Team (LAD) at D.C. Public Schools: Rosanna DeMammos, Ivy Chaine, Salem Lemma, Margaret Miller, Elba Garcia, Asuncion Alvarado, Jo-Ann Perez Ramirez and Vicki Javier.
The 20th Annual Cafritz Awards individual winners were:
Amanda Davies, grants management specialist at the D.C. Fire & Emergency Medical Services Department's Special Operations/ Homeland Security Division
Donna Henderson, administrative law judge at the D.C. Department of Employment Services' Labor Standards Bureau
Kimberly A. Lassiter, supervisory forensic mortuary technician at the D.C. Office of the Chief Medical Examiner's Medical Examiner Transport Team Unit
Scott Sibley, community liaison specialist at the D.C. Department of Human Services' Office of the Director
Aisha Williams, emergency preparedness planner specialist at the D.C. Department of Health's Health Emergency Preparedness and Response Administration
The 20th Annual Cafritz Team Award winner was PaveDC Team at the District Department of Transportation (DDOT): Srinath Ananth, Michaud Gray, Yuan Han, Blake Holub, Andrew Kaufmann, Ting Ma, Ian Maggard, Eric Onekon, Robert Smith and Delante Toyer.